1. You have been leading campus planning and development since 2009. What kind of challenges have you encountered?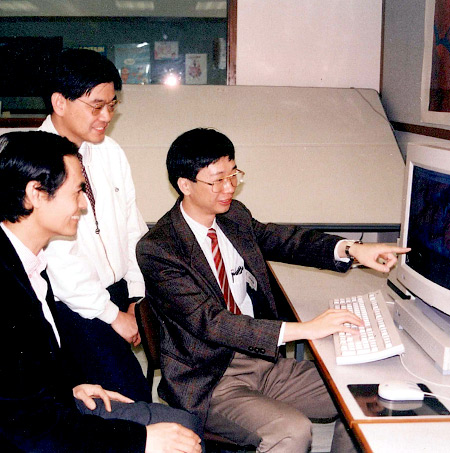 In the first few years, to cater for the reversion to the four-year undergraduate curriculum, campus planning focused on the construction of 12 buildings, including the Two Integrated Teaching Buildings, the University Library Extension and five new Colleges. To ensure timely provision of facilities for the 2012 academic year, building works proceeded at full throttle, on a virtually round-the-clock basis. It was only through concerted efforts of the Campus Development Office, Estates Management Office, together with the Campus Planning and Sustainability Office established at a later stage, that the project was completed on schedule.
Following transition to the four-year curriculum, the development of the University picked up further momentum. Given the booming research activities, research centres were founded one after another. However, due to reduced public funding for university hardware development, construction works in support of research activities have been confined to the postgraduate halls located on the northern campus. The prospect of a second research block in Area 39 remains remote. In light of the relatively limited space available on campus in the next few years, maximizing land use would call for collective wisdom and efforts.
2. What is your most memorable experience at CUHK?
There are so many of them. But the most unforgettable of all is the protection of house swifts nesting on the facades of the University Library during the construction of the Library Extension. As Chairman of the Building Committee, I was particularly indebted to Dr. Tsim Siu-tai, an avian specialist and an alumnus, for studying the swifts' living habits and coming up with an ingenious solution, installing artificial nests to accommodate them. The design of the exterior glass wall was just as challenging. To prevent the swifts from colliding with the glass, we had numerous meetings with the experts and even went on an inspection tour of glass factories in Shenzhen. Only after extensive experimentation did we decide on a polka-dot design. So far it has been quite effective in protecting the swifts.
3. What are the achievements in campus development that give you the greatest sense of pride?
Over the past eight years, the University has strictly adhered to sustainability guidelines in its building design and estates management, and has launched a series of energy-saving and waste-reduction measures well recognized by the government and various sectors. We have garnered the highest Gold Awards of the 'Hong Kong Awards for Environmental Excellence' in 2009 and 2013; and three grand awards including the 'Hanson Supreme Grand Award' in the inaugural energy-saving contest organized by the Environment Bureau and the Electrical and Mechanical Services Department. So far 14 building projects of the University have attained BEAM or BEAM Plus certification, including the highest Platinum Rating for seven of the building projects, Gold Rating for another five, and Bronze Rating for two. These are the CUHK community's fruits of labour.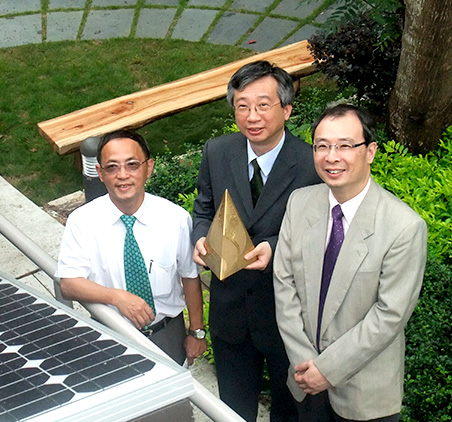 4. You have been teaching geography at CUHK for 29 years. What's the driving force behind you?
Geography was the subject of my undergraduate, postgraduate, and doctoral studies while remote sensing application, i.e., using satellite imagery to analyse land-cover change, has been my research speciality. I joined CUHK right after graduating from the University of Waterloo in Canada. Back then, with the rise of geoinformation science, paper maps were gradually replaced by digital ones, which could be consolidated as databases to facilitate spatial management. I introduced geoinformation technology into the Department of Geography and Resource Management and launched related undergraduate, postgraduate diploma, and master of science programmes.
My research interests lie in land-use change, urban expansion, and mangrove change. Projects covering these areas involve advanced data mining and pattern recognition technologies in gathering spatial information, with the help of—in the early days—aerial photography and high-quality satellite information today. With increasingly sophisticated satellites, the images captured find ever-widening applications. It seems that 30 years of teaching and research just whizzed past me in the blink of an eye.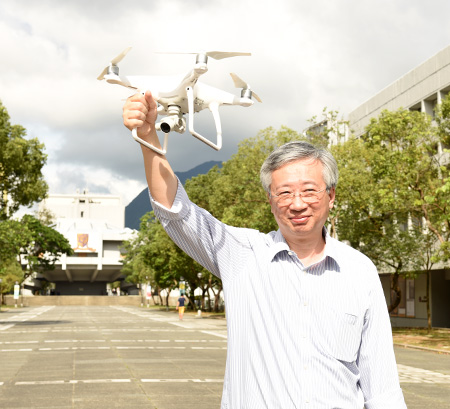 5. Tell us about your initiative on drone-mapping the campus vegetation.
Our Department of Geography and Resource Management has been using satellite imagery to map the extent of vegetation on campus. In recent years, we have been attempting to use drones for the same purpose. Unlike ordinary drones which can only capture the blue, green and red wavelengths of the visible spectrum, our drones can simultaneously capture 200 wavelengths, from blue, green and red all the way to near infrared (NIR). NIR can enable us to identify and monitor the health conditions of vegetation, as dehydrated or pest-infested vegetation reflects less NIR energy. Drones with hyperspectral cameras can collect vegetation data with greater accuracy.
6. What are your plans after stepping down as Associate Vice-President?
Apart from my ongoing research in the Department, I will also engage in smart cities research in collaboration with the Institute of Future Cities. Having been in charge of campus development and estates management over the past few years, I have gained some experience in the management of building information. And now I am interested in pursuing the frontiers of smart cities, exploring ways of optimizing power consumption in buildings, waste management, and resource sharing through information and communication technology.
7. How can members of the CUHK community contribute to campus sustainability?
From my geography studies over the past 30 years, I have come to realize that nature is a system both enormous and complex. Human beings may pale by comparison but they can still wreak havoc on nature. Climate change and sustainability are major issues facing us all. Environmental protection is not just the job of some professors or departments, but the responsibility of each and every one of us. I hope students and colleagues are up to speed on all the environmental protection measures on campus. We must change our lifestyle habits by walking more, saving electricity and using less paper. Such changes may seem trivial but only by doing so will we be able to fulfil our responsibility to the next generation.