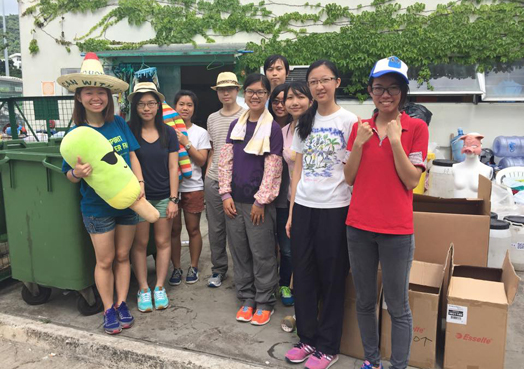 Hostel Check-out Recycling
To minimize waste when students move out of their dormitories during the summer, all CUHK Colleges have recycling programmes in place. Student organizations such as the student unions of the Colleges, CU x Rubbish, Shaw Greening Group and the Green Life Ambassadors of Lee Woo Sing College helped to coordinate these efforts. Some hostels teamed up with NGOs to ensure useful items can reach those in need in the community, and materials are professionally recycled. At the very least, Colleges have collection bins supplied by the Estates Management Office of the University in communal areas so outgoing students can conveniently donate unwanted belongings.
CU x Rubbish
CU x Rubbish, a student organization set up two years ago to promote recycling and waste reduction on campus, operates recycling activities in the hostels of several Colleges like United College, Shaw College and Wu Yee Sun College to collect unwanted items for distribution to students moving in in the new academic year. Volunteers from CU x Rubbish also go through discarded items that otherwise would end up in landfills, to retrieve usable ones. These are then cleaned, categorized, and stored for eventual distribution to students moving in. Items thus recycled usually include books and CDs, stationery, kitchenware, small-sized electrical appliances, clothing, bags and beddings.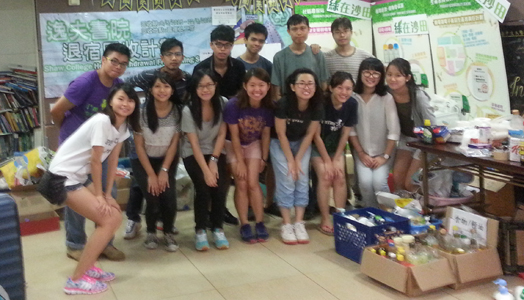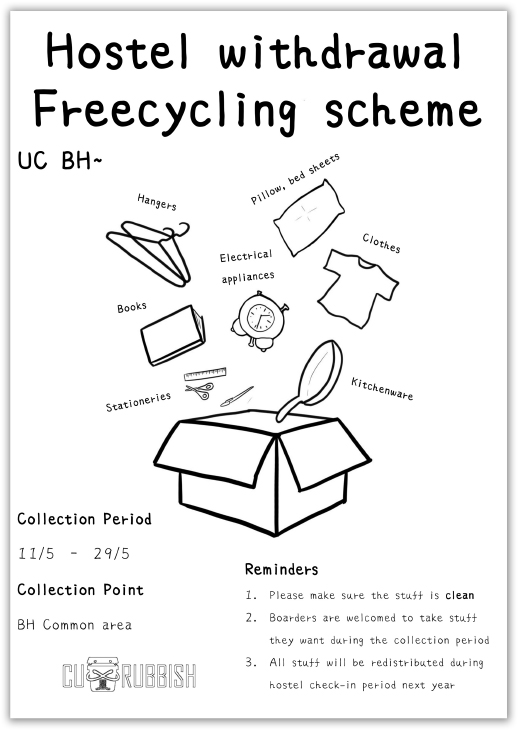 Community & NGO Partners
Besides partnering with CU x Rubbish, Shaw Greening, a student group of Shaw College, also worked with Shatin Community Green Station (SCGS) to collect unwanted but usable items. The electrical appliances, computer devices, rechargeable batteries, and glassware were delivered to SCGS which passes them to qualified recyclers for proper treatment and, where possible, for turning into resources. SCGS is the first of Hong Kong's commumity green stations which serve to promote environmental education at the district level. Other household items such as eating utensils, cooking condiments, clothes and stationery were given to service units under the Christian Family Service Centre and to families in need.
Chung Chi College partnered with SCGS and the Salvation Army to collect and give away electronic home appliances, clothing, handbags and accessories, toys, stationery, and books.
Helping Low-income Families
New Asia College teamed up with Community Recycling Coop, an NGO, for its recycling programme. Materials collected were given to the latter which sold them at very low prices or gave them away to low-income families in Hong Kong. One of New Asia's student hostels also ran its own recycling activity that included selling collected items at low prices to resident students.
Nepal Earthquake Relief
Besides the usual collection bins installed at lift lobbies, the student union of CW Chu College placed a donation bin outside its committee room to collect relief materials for the victims of the earthquakes that struck Nepal in April and May. Residents were encouraged to donate items needed by the victims, such as blankets and towels, upon checking out. The collected materials were then sent to Nepal via charitable organizations and consulates.
Flea Market
Lee Woo Sing College has a detailed recycling programme initiated by its green life ambassadors and hostel staff team. All items collected were meticulously cleaned and repackaged, with the exception of packaged food and beverage items without expiry dates, or clothing and beddings which were damaged or filthy. Cleaned and repackaged items are distributed or sold at very low prices (to subsidize operation costs) during hostel check-in periods. The College will organize a large-scale flea market in September during the check-in period for the 2015–16 academic year.
Morningside College and S.H. Ho College, on the other hand, expect donating students to be proactive in cleaning recyclables and placing them according to their respective categories.
But whatever the approach to check-out recycling, the mountains of still usable items collected at all the Colleges have shown students how much wastage affluent societies like ours create and the importance of not allowing it to happen.