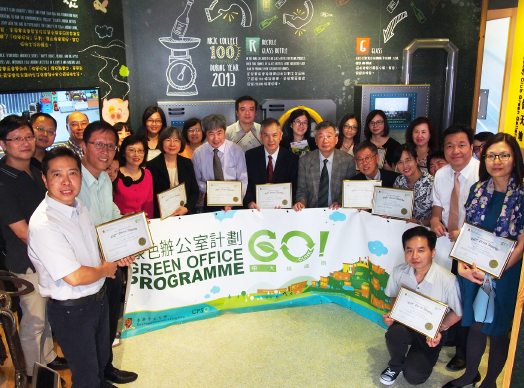 13 Offices Awarded on World Environment Day
World Environment Day 2015, observed worldwide on 5 June as a day for raising environmental awareness, was celebrated at CUHK with the presentation of the 'GO!' Green Awards to 13 CUHK offices with outstanding green performances. The heads and representatives of the winning offices were honoured at a ceremony officiated by Professor Fung Tung, Associate Vice-President and chairman of the Committee on Campus Sustainability, and Ms Vivian Ho, Director of Campus Planning and Sustainability, at the CUHK Jockey Club Museum of Climate Change.
'Reaching individuals and engaging them at a personal level is one of the biggest challenges promoting green practices in the workplace,' said Professor Fung, who acknowledged the winning offices' achievements. 'Leadership and commitment are key to raising awareness and building a green culture. We are thankful to the heads, 'GO!' contact persons and other colleagues of our green offices for taking the initiative to make a long-term difference.'
Sharing of Green Practices
'GO!' Green Awards was a project launched last year under the University's Green Office Programme (GO!). While 'GO!' requires all CUHK offices (participation in 'GO!' became mandatory for all offices in 2014) to report on green actions they have implemented by submitting a 'GO! Checklist' at the end of each year, 'GO!' Green Awards engaged individual members of these 'GO!' offices to suggest eco-friendly measures suitable for most offices, provided that they are not already on the 'GO! Checklist'. The most popular actions suggested were listed in an online survey, and 'GO!' office individuals were invited to complete this survey to report what actions their own offices were implementing. The survey received a total of 161 responses from members of 83 CUHK offices and student bodies.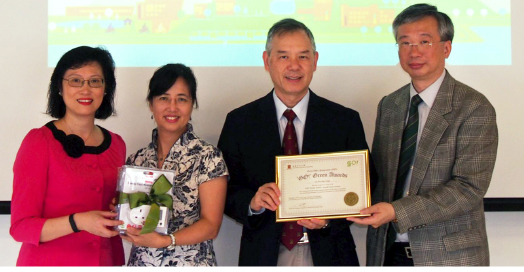 'GO!' Green Awards
Prizes were awarded to offices implementing the highest sum total of actions reported via the survey by individual office members plus the number submitted officially by the office via its 'GO! Checklist' last year. There are five types of awards – awards for offices that have implemented the highest number of actions in the categories of Energy Conservation, Waste/Paper Use Reduction, Green Event Organizing and Green Purchasing respectively, and an overall award. The winners were also awarded 'smart sockets' that can be used to monitor the energy consumption of office equipment.
Winners
Offices that have implemented the highest number of actions in the categories of Energy Conservation, Waste/Paper Use Reduction, Green Event Organizing, Green Purchasing and on the overall are as follows. Also, the ITSC, winner of the first prize in the 'overall' category, shares their experience in greening the office's operations in the 'Activist' section of this Newsletter. Check it out!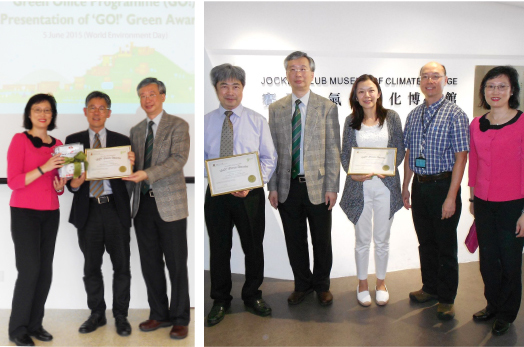 | | | |
| --- | --- | --- |
| Lee Woo Sing College | Estates Management Office | School of Accountancy |

Faculty and Planning Office
of the Faculty of Medicine

Department of Computer
Science and Engineering

School of Continuing
and Professional Studies

Lee Woo Sing College

CUHK Library

Personnel Office

Department of
Social Work

Office of Summer
Programmes

Office of Academic
Links (China)

Information Technology
Services Centre

Personnel Office

First prize:
Information Technology
Services Center

Second prize:
Campus Development Office

Third prize:
Lee Woo Sing College
Survey Findings
According to the survey, the actions implemented by the most offices are as follows:
40%

Switch off non-essential lighting and air-conditioning (e.g. AC in lift lobby areas).

29%

Encourage members of the office to walk instead of driving or taking the bus.

27%

Remove or unscrew excessive lamps if working areas are perceived to be bright enough.

43%

Use scanning instead of photocopying function of multifunction printers to save paper.

46%

Share documents via shared driver / file server / USB stick to reduce printing of drafts.

43%

Send electronic invitations and e-cards (e.g. Christmas cards, New Year cards and thank you cards).

45%

If food and beverages must be provided at an event organized by your office, encourage participants to bring left food back to hostels or homes.

43%

Reuse name badges, table cards, banners, etc. at meetings and events organized by your office.

27%

Upload conference papers to website instead of giving printed copies to participants at events organized by your office.

40%

Use cutters with refill blades.

32%

Use correction tape with refills.

26%

Use toilet paper / paper towels made of recycled paper.
We are grateful to our 'GO!' members for the variety of green ideas contributed, and to offices for taking the initiative to implement these measures. With their support and inspiration, CUHK will continue to progress towards sustainability with many more good practices and success stories in store!