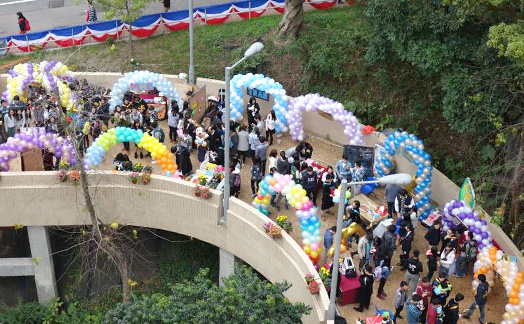 Photo Day: A Green Awakening
Against a backdrop of azaleas in full bloom, the Photo Day is organized at CUHK's various Colleges around March and April each year. It is a time for our graduates to wear their mortar boards for the first time before graduation day, and share a photo op with teachers and fellow students to capture cherished memories from university life. Needless to say, bouquets, plush toys, balloon arches, photo backdrops, banners can be seen everywhere on campus, while roast suckling pigs, paper fireworks, and champagne are also de rigueur for the festive occasion.
It is a pity that, after the fleeting fanfare, all the fresh flowers, toys, balloons, etc., which inevitably end up in the dumpster, will invariably become an eyesore and a virtual environmental catastrophe. To redress the consequences of a wasteful culture, different student groups are trying to come up with all sorts of creative ideas to urge fellow students to rethink the meaning of graduation.
CUAgro: Seasonal Veg in Lieu of Flowers
In early March, an ad for 'Graduation veg bouquet pre-orders' generated a huge response on social media. All the 20 vegetable bouquets offered by the Agricultural Development Group were snapped up in less than two hours.
Ko Cheuk-hong, CUAgro's president and a second-year student from the Department of Computer Science and Engineering, recalls, 'We would have been happy to sell just five veg bouquets. Who would have thought they would sell like hot cakes? Together with other Group members, I immediately rushed to the local farms and sourced the right veg to meet extra demand.'
The colourful and presentable vegetable bouquets consisted of five kinds of seasonal organic vegetables—red cabbages which had yet to form heads, kale, lettuce, carrots, and Indian lettuce. After the photo op, the vegetables could be taken straight back to the hostels, and then washed and cooked as hot-pot ingredients. Not only did they look good but they also tasted good!
'The whole idea is to convey the message that bouquets of fresh flowers are not a must for taking graduation photos. We can think out of the box and celebrate graduation in our own ways,' says Cheuk-hong.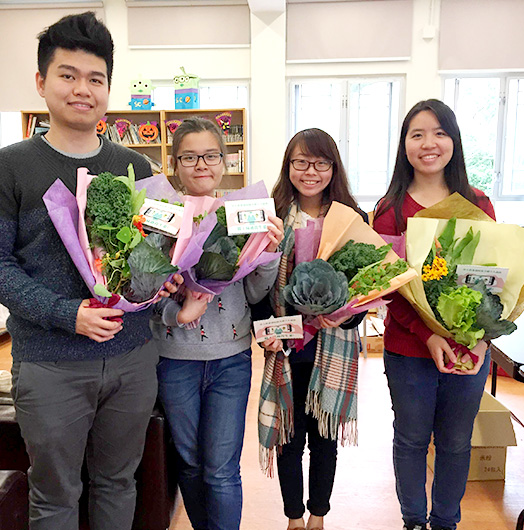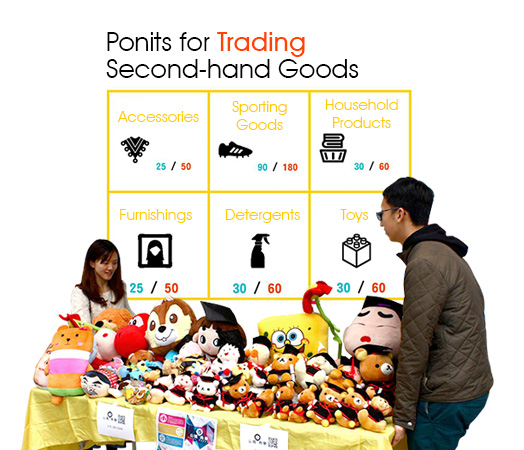 CU x Rubbish & CU Happy Corner: Stuff Exchange
Last year, another student society, CU x Rubbish, managed to gather over 60 graduation plush toys from its Hostel Withdrawal Freecycling Scheme. This year, upon hearing about the pilot second-hand goods recycling platform organized by CU Happy Corner, the two student groups joined hands to launch a second-hand stuff exchange marketplace. This provided an opportunity for participants to bring along their used stuff including clothes, stationery items, and electrical appliances, for exchange at the market stalls. Depending on the type of item, a number of points would be awarded for each item contributed, and accumulated points could be redeemed for graduation plush toys.
Lam Sin-ting, a member of CU x Rubbish and a fourth-year student from the Department of Geography and Resource Management, remarks, 'Graduates typically get 30-plus plush toys on Photo Day. Figuring out what to do with them afterwards is a real headache. With the exchange platform, they can now leave the toys there to be redeemed by others with accumulated points. That's what I call a responsible approach.'
Words from the Gift Recipients
Under the GradGreen! scheme initiated by Sin-ting with four other students, an online questionnaire survey has been conducted to gauge local university students' views on Photo Day.
Of the 133 respondents, 77.5% were aware of the waste problem and close to 50% even regarded waste as a serious problem.
All university graduates who responded to the survey said they received plush toys as gifts on Photo Day while nearly 37% said they preferred to throw away all or some of the toys mainly because of a lack of storage space and practical use for them.
As for those who have received flower bouquets, 66% admitted that they would dispose of them afterwards. Only less than 4% knew how to recycle the flowers by creating compost, enzymes or dried flowers out of them.
Particularly noteworthy is that over half of the respondents regarded a handmade card rather than a plush toy or a bouquet as their favourite gift for Photo Day. 20% of respondents would rather not get any gifts on the day to avoid waste.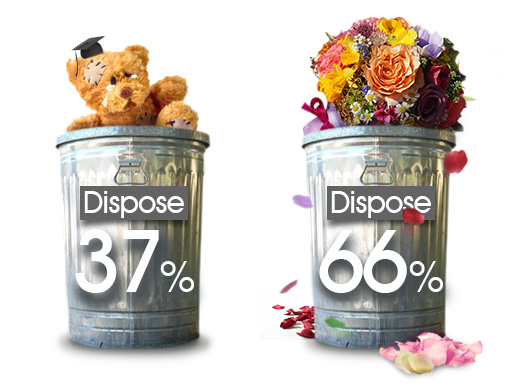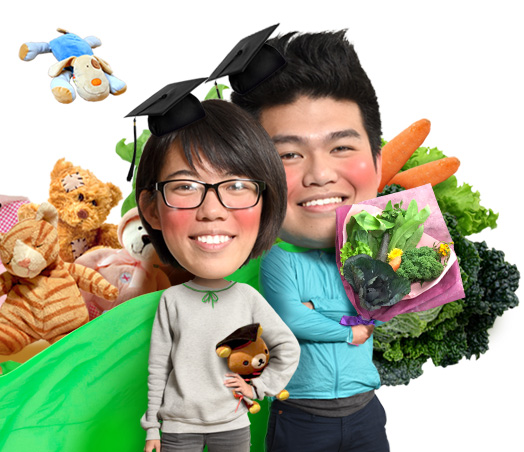 The Meaning of Graduation
Having been to several seniors' Photo Day celebrations, Cheuk-hong has this reflection to share: 'Photo Day shouldn't be about gifts. What matters are the fond memories. There is so much greenery on campus that the beauty of nature can be found just about everywhere. Why be limited to a bunch of lifeless flowers?'
As one of the graduates this year, Sin-ting will not look upon Photo Day as the only way to celebrate graduation. She adds, 'As graduation is near, what I cherish the most is the University and the days I spent with my friends on campus. Photo Day is a great party for us to take pictures and have fun together. Of course I'm happy to be part of it. But, it's more important for me to have my friends over cooking dinner or enjoying a picnic lunch, and have a heart-to-heart along the way. That's the way to bond and create lasting friendships.'