When one sees mini storage is on offer everywhere in Hong Kong, one knows that material goods and possessions are very much in abundance but the space for storing them is not. A library of things is the converse of mini storage. It offers a communal space where practical tools and items are put up for loan, usually at no cost at all.
Libraries of things
As traditional libraries are buying more online resources than actual tomes, their shelves can make way for other concrete and lumpy stuff. Under its 'Library of Things' programme, the Sacramento Public Library, in addition to fulfulling its mandate of lending out books and audio-visual materials, are loaning out tools and appliances such as musical instruments, digital cameras, sewing machines, etc.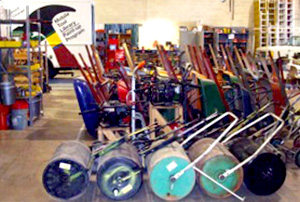 The sharing and recycling concept is nothing new, however. The library of things has its origin in the tool libraries which first appeared in 1979 in Berkeley, California. It is estimated that there are now over 40 such tool libraries in the US. The RTCO Tool Library in Columbus, Ohio, for instance, has more than 5,000 household or other tools that can be loaned for no fees. Training and instructions on how to use the loaned tools are often offered, too. Not only can one check out tools and utensils but also art objects. The Flinn Gallery at the Greenwich Library in Connecticut has been lending artworks to their patrons for decades.
The new face of sharing economy
Libraries of things can be considered the latest facet of sharing economy, a term coined by Harvard economist Martin Weitzman in 1984. Better known examples of sharing economy are Uber and Airbnb. It's a check on and countercurrent to runaway capitalism and consumerism which is being blamed for the depletion of the world's resources and a cause of climate change.
The Libraries of Things movement also signals a change in people's attitude towards private ownership and challenges them to rethink what they really need to maintain a decent living and how to do with any surplus or little used possessions. Saif Benjaafar, professor of engineering and director of the sharing economy initiative at the University of Minnesota, expected that, in the long run, 'the ownership of many categories of products to go down, in favour of accessing these products on an on-demand basis.'

From the people, for the people
While the idea for change originated from the libraries, some of its proponents are individuals committed to finding new ways to order the material world around them. The movement is bottom-up and depends on public funding or donations for startup and running. Two activists in environmental and economic causes, Ryan Dyment and Lawrence Alvarez, started the first tool library in Toronto in 2012 after getting a grant from Canada's Centre for Social Innovation. The projects they launched under their Institute for a Resource Based Economy (IRBE) challenge existing economic models with resource sharing initiatives and emphasize on local community empowerment. To date, their projects have accumulated over 2,200 members and loaned over 25,000 items to their communities.
Leila in Berlin is the German equivalent of a library of things. It was founded in 2012 by Nikolai Wolfert who was searching for a new political platform after the Green party failed to win the Berlin elections in 2011. At Leila, people can simply drop off an item of their own to enjoy membership and start enjoying access to anything from wine glasses to electric drills. Libraries of things or tools have seen instant and widespread successes in the US, the UK, Germany and the Netherlands.
New fun, new hubs
This new facet of sharing economy serves a community-building function in addition to utilitarian ones. SHARE, a UK library of things, aims to encourage residents in Frome, Somerset to spend less, waste less, and connect more. De Deelkelder in Utrecht, the Netherlands, aspires to building an ecosystem of things where each district has a space for people to meet, gather and exchange experiences. Dyment and Alvarez in Canada are setting their sight on expanding the library concept to condos and other urban buildings to be new hubs for the things, the skills and the people.
In the words of Gene Homicki, co-founder and CEO of MyTurn, a platform that enables people to create their own lending platforms, 'The most successful Libraries of Things are the ones which do more than just lend items, and create a strong sense of community.'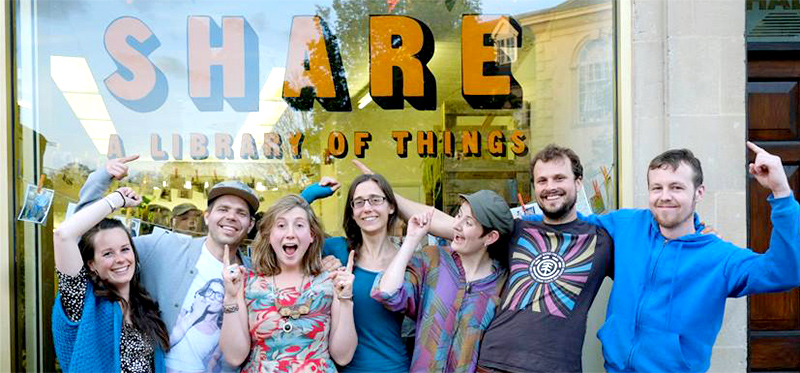 Hello again, 3Rs!
Libraries of things can be viewed as organized Reuse and Recycle, the two Rs in Environmental Protection 101. But it's also about Reduce. In car-sharing, it is arguable that more users would cause greater atmospheric pollutions. But as far as ordinary household items and consumer goods are concerned, fewer owners and more users would definitely reduce waste. Back in Hong Kong, there appears to be no alternative other than storing and dumping. But a new breed of pioneers may be nurtured at CUHK, as our student co-op CU Happy Corner is running a rudimentary library of things.