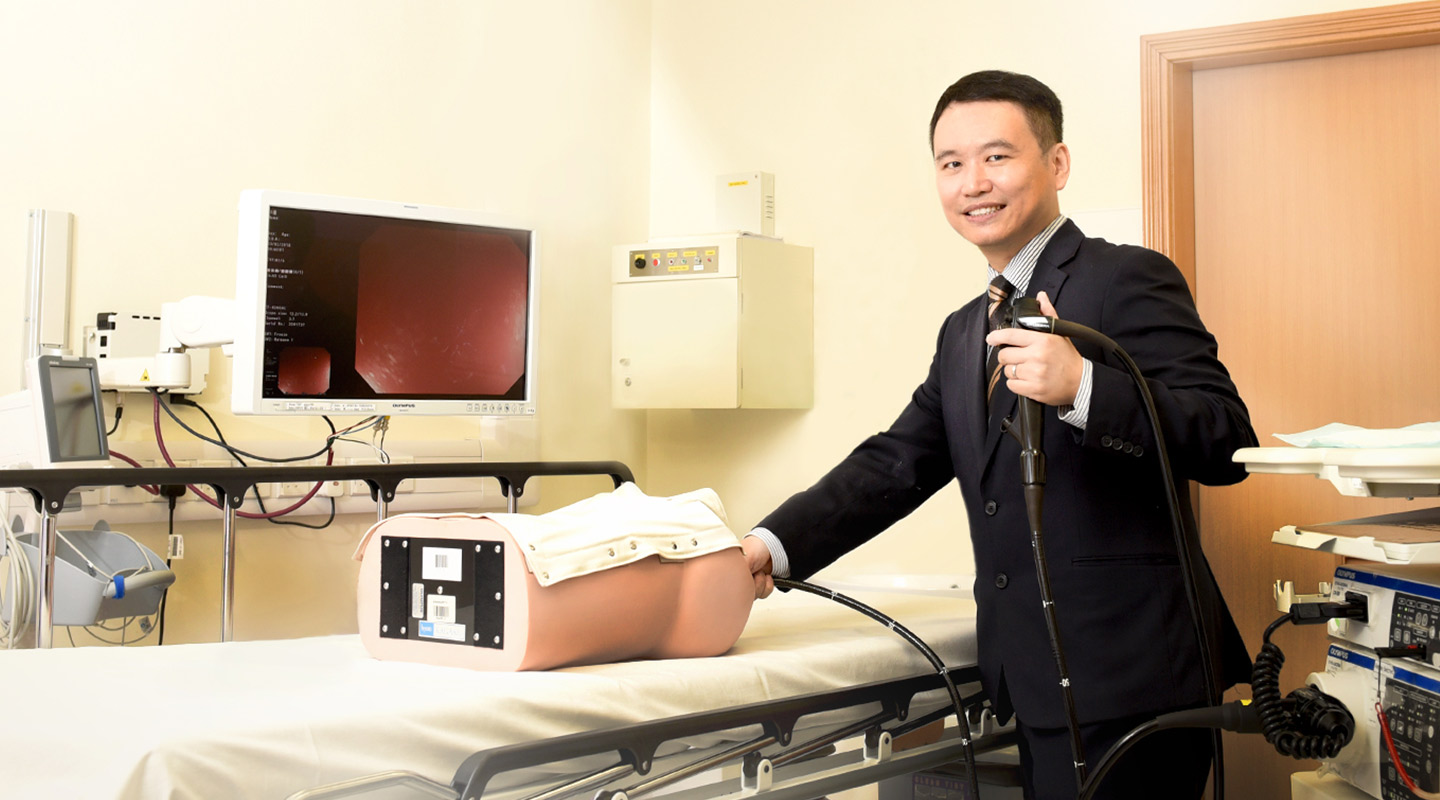 Prof. Martin C.S. Wong, the director of the CUHK Jockey Club Bowel Cancer Education Centre, is on the frontlines of the fight against the most-common form of cancer in Hong Kong.
Only you wouldn't necessarily notice. He is a specialist in family medicine, aiding family doctors and primary-care physicians in their bid to avoid people becoming sick in the first place.
Those 'upstream' medical functions serve a vital purpose. But it's much easier to realize that a surgeon has 'saved your life' with a last-minute operation.
'Prevention is better than cure,' Professor Wong notes. 'Those engaged in preventative medicine are silent heroes.'
In Hong Kong, the work of the Bowel Cancer Education Centre has already driven public policy, leading to the creation of a territory-wide scheme to fight colorectal cancer. The multidisciplinary team is led by Prof. Joseph Sung.
Bowel cancer in 2012 surpassed lung cancer as the most-prevalent cancer in Hong Kong. Whereas incidence of lung cancer has plateaued, with a slight recent increase, there has been a sharp rise of colorectal cancer since the turn of the century.
Besides genetic causes, a lack of exercise, widespread obesity, and increased consumption of red meat and alcohol are risk factors driving the rise.
A sedentary lifestyle and heavy diet have led to a huge increase in average weight. Currently, 38% of Hong Kong men and women, with the exception of young women, exceed the recommended body-mass index from the World Health Organization, normally substantially.
'Soon, if you are not obese you will be in the minority,' Professor Wong says. 'That's really serious.'
The centre, set up in 2008, has since its inception screened 15,565 asymptomatic Hongkongers. The voluntary programme has proved highly popular – each time the centre publicizes it, the phone lines jam. In all, 100,000 Hongkongers have registered to take part, lucky candidates selected via random sample.
Participants came from all 18 of Hong Kong's districts, shepherded through the process by more than 35 volunteers. The work established the importance and effectiveness of early screening.
Having conducted baseline research through random tests on 10,000 citizens, it then started focusing on high-risk patients, people with a family history of colorectal cancer, or who already have fatty liver disease. But the centre's full-time staff of four, aided by close to 20 academics from CUHK, can only accomplish so much.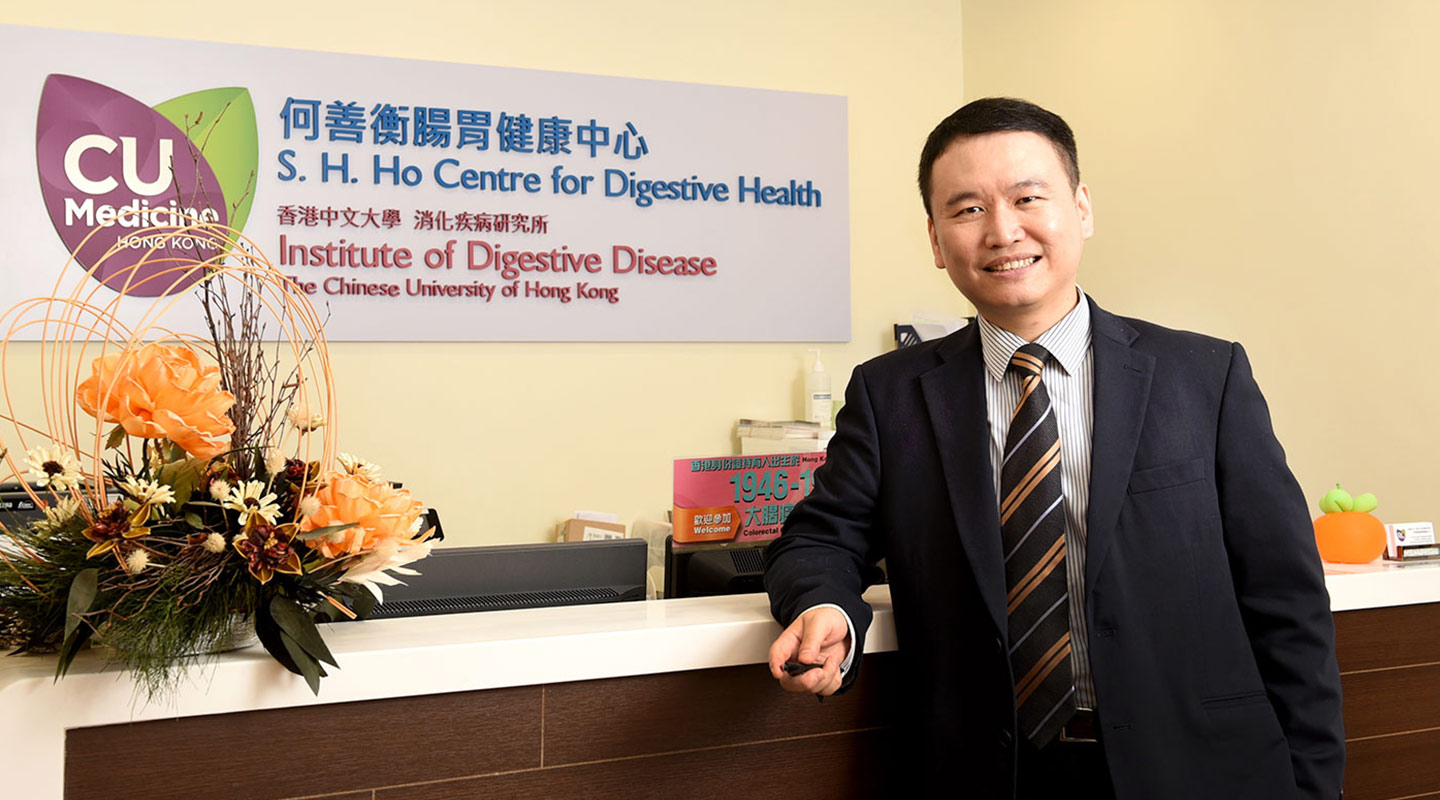 Based on the research of the Bowel Cancer Education Centre, the government introduced a three-year pilot scheme across all of Hong Kong, offering a fecal test for patients between the ages of 61 and 70. Private doctors conduct the initial screening, with the patient referred to a private specialist if the test is positive for potential cancer.
'The public health care sector is overcrowded,' Professor Wong says. 'This all involves private doctors, so I think it's a very good public/private partnership, a model the government would like to apply elsewhere.'
Professor Wong started his career as a typical family doctor before getting interested in public health as a speciality and joining the University's Faculty of Medicine. He is now a professor of family medicine and primary healthcare in CUHK's School of Public Health and Primary Care.
The centre has developed its own screening system for bowel cancer based on a score of 0 to 6, using variables such as age, sex, family history, body-mass index and history of smoking. A score of more than 2 qualifies a patient as 'high-risk.' The centre has propagated that scoring system through a paper in the journal Gut, hoping it will be adopted in other cities around the world.
High-risk patients can then be referred for a colonoscopy to detect any cancer lesions, which can normally be removed then and there with surgery, rather than expensive chemotherapy and radiotherapy later.
Early intervention is key. If a patient is diagnosed with Stage 1 or 2 colorectal cancer, their survival rate beyond five years is 91%. If they are diagnosed with Stage 4 of the cancer, their five-year survival rate is just 11%.
'If you get detected with early cancer, it's something like a blessing in disguise,' Professor Wong says.
The centre is now expanding its role. It is beginning to tackle metabolic diseases such as diabetes, high blood pressure and lipid disorders, as well as obesity-related cancers such as breast cancer and prostate cancer. It intends to screen obese Hongkongers referred by family doctors for all of those afflictions. The Hong Kong Jockey Club has backed this work through 2022 with HK$35 million (US$4.5 million) in funding.
'These diseases are like brothers and sisters: they tend to function together, so if one happens, others tend to be found,' Professor Wong explains.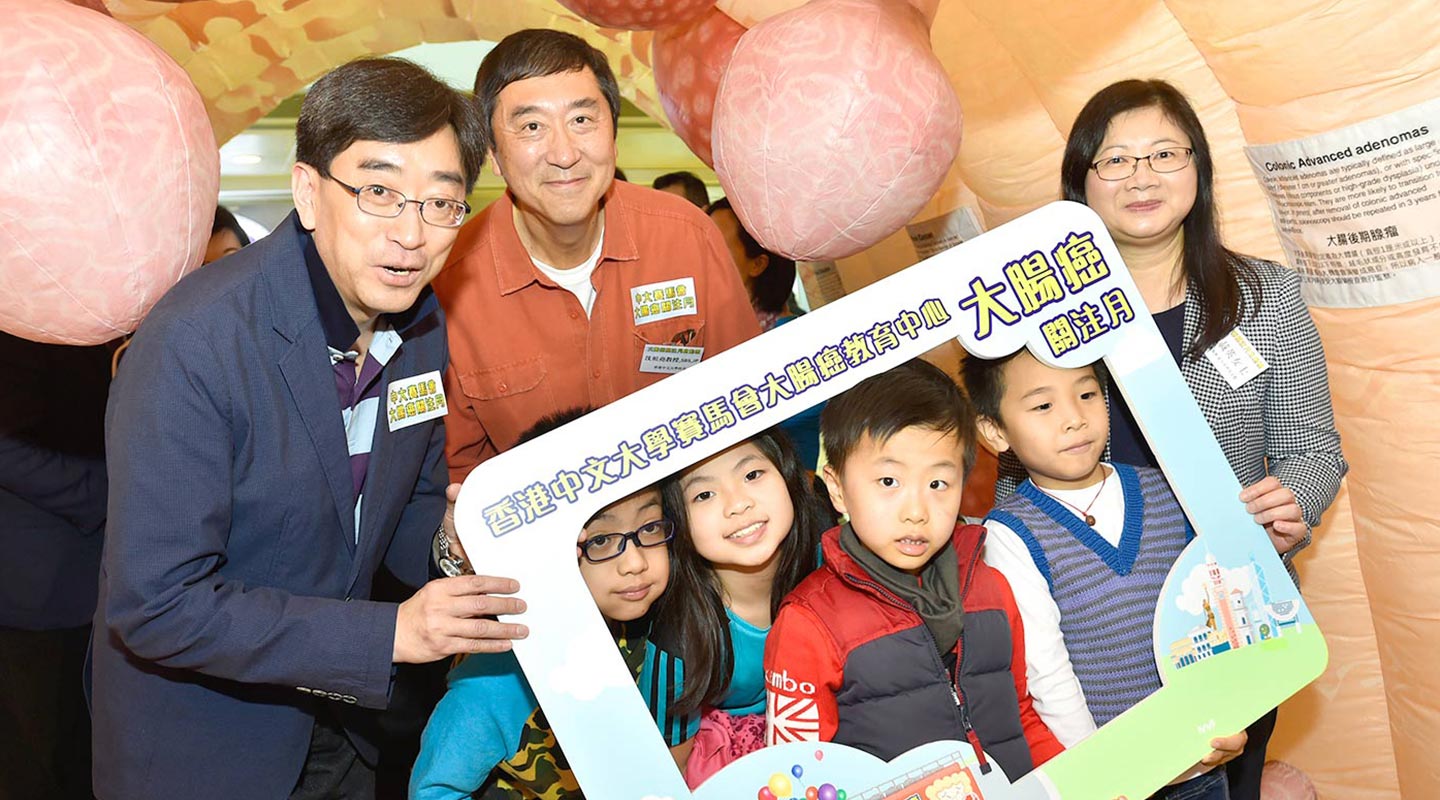 Unlike the surgeon with a scalpel, it is only over the passage of time that it becomes obvious that a preventative-care doctor has done his/her work.
Occasionally there is praise from a patient screened early enough to remove any lesions. 'Some people do say "Thank you, if they weren't removed I don't know what would happen," and I feel very satisfied,' Professor Wong says.
He is encouraged that the Hong Kong government has pledged to spend HK$940 million (US$120 million) over the next five years to conduct regular bowel-cancer screening in the city. Eventually, the scheme hopes to cover all Hongkongers between the ages of 50 and 75.
Even better yet if preventative work and screening saves people ever getting to that point. That's where the true satisfaction lies.
'We can't see the results immediately, but people can be saved and their quality of life enhanced,' Professor Wong concludes.
By Alex Frew McMillan
This article was originally published on CUHK Homepage in Mar 2018.