In the March 1967 issue of the CUHK Bulletin, a piece of news reads: 'The Overseas Scholarship Committee of New Asia College announced that two Yale-in-China Scholarships for the year 1967 will be granted to Miss Kao Mee Ching [sic] and Mr. Mei Foon. Miss Kao is a fine arts student and Mr. Mei studies journalism, both in their last year of studies in the College.'
And this is where the story begins. The fine arts student who went to the US returned to CUHK in 1972 to serve as a lecturer at the Department of Fine Arts. Later she became chairperson of the department—twice from 1975 to 1977, and 1981 to 1984. She also served as director of the Art Gallery of the Institute of Chinese Studies for 18 years. In 1999, she retired from the University as a chair professor. Then in 2012, 45 years after receiving the Yale-in-China Scholarship, Prof. Kao Mayching donated HK$1 million to establish the Professor Mayching Kao Fine Arts Fund.
'I set up this fund with a sense of gratitude,' said Professor Kao. 'First, my studies at the Department of Fine Arts laid a solid foundation for my knowledge of art and enhanced my commitment to art. Second, New Asia College felt that there was a want of experts on art history in Hong Kong. So it gave me the scholarship, supporting me to study abroad. Now I'm very willing to make my contribution to the University and share what I have with others.' Professor Kao added, 'The University has provided many awards and support for students and staff. If those who have benefited from them would give back when they are able to, the University's support for its students and staff will be more sustainable.'
Prevailing Trend in Art Education
The Professor Mayching Kao Fine Arts Fund supports full-time students and alumni to enhance learning experience, open up their perspectives, and improve their capability. What is special about this fund is that it not only benefits current students, but also supports alumni who have graduated for no more than five years to take part in artist-in-residence schemes or other career development programmes. Professor Kao said, 'I believe that the immediate post-graduation years are a critical period that determines whether a fledgling artist could stay in the art community and commit himself or herself to creating art. That's why the fund accepts applications from alumni who have graduated for no more than five years.'
This fund is dedicated to supporting internships and activities outside the classroom. Professor Kao said, 'Classroom learning is of course important. But when it comes to educating artists, developing enthusiasm and perseverance is more important. They're not something you can learn from textbooks. You have to get them first-hand.' When she taught and served as chairperson at the Department of Fine Arts, Professor Kao had helped to move the department's curriculum in that direction. Although retired from the University, she still serves as adviser and referee for many art organizations and knows very well that extracurricular activities are prevailing trends in today's art education. 'I have seen that these experiences are instrumental in securing career opportunities in the art community.'
A Teacher's Gesture of Gratitude
Professor Kao emphasized that she gave the donation not only as an alumna of the department, but also as a former teacher of the University. She served at CUHK as a teacher from 1972 to 1999, spanning 27 years. It is several times longer than her few years as a student at the University. Professor Kao said, 'My affection for the University grew bit by bit during those days. After returning to the University to serve as a lecturer, I climbed to the top of the academic ladder and from there I made contributions to the community. This was made possible, in addition to personal efforts, by the opportunities and supportive environment provided by the University. I've always been grateful to the CUHK for them.'
The Professor Mayching Kao Fine Arts Fund is just the latest contribution Professor Kao has made to the University. She has sponsored her students' activities in different ways when she taught at CUHK. After retirement, she established the Professor Mayching Kao Fine Arts Award, and donated to the Madam Jan Yun-bor Memorial Awards for Chinese Painting and Calligraphy, the Professor Johnson Chow Su Sing Chinese Painting and Calligraphy Award, the Professor Tseng K'e-tuen Chinese Poetry and Calligraphy Award, etc.
When asked what effects she expected her donation would bring, Professor Kao replied, 'The career of an artist depends on his or her experience in life. So, what really matters is that the students must expand their horizons and establish connections. Our job as educators is to sow seeds. As for whether or when the seeds will grow, it depends on the seeds themselves.'
Remarks from Prof. Mok Kar-leung Harold, chairman of the Department of Fine Arts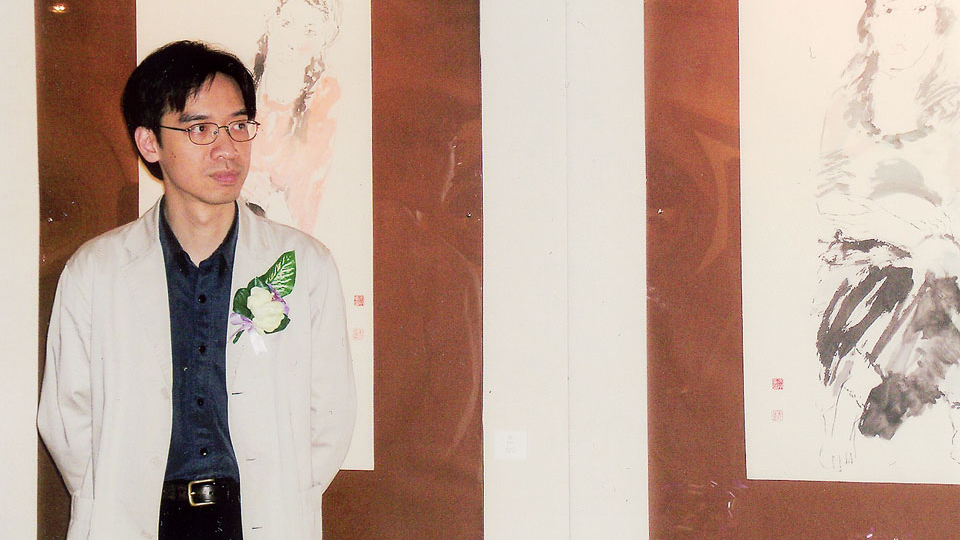 Schemes Supported by Professor Mayching Kao Fine Arts Fund