Kinson Chan, a quantitative finance student who takes a near-professional interest in the ancient art of Kunqu, took advantage of the Kunqu training offered by Lee Woo Sing College and opted for the leading actress role.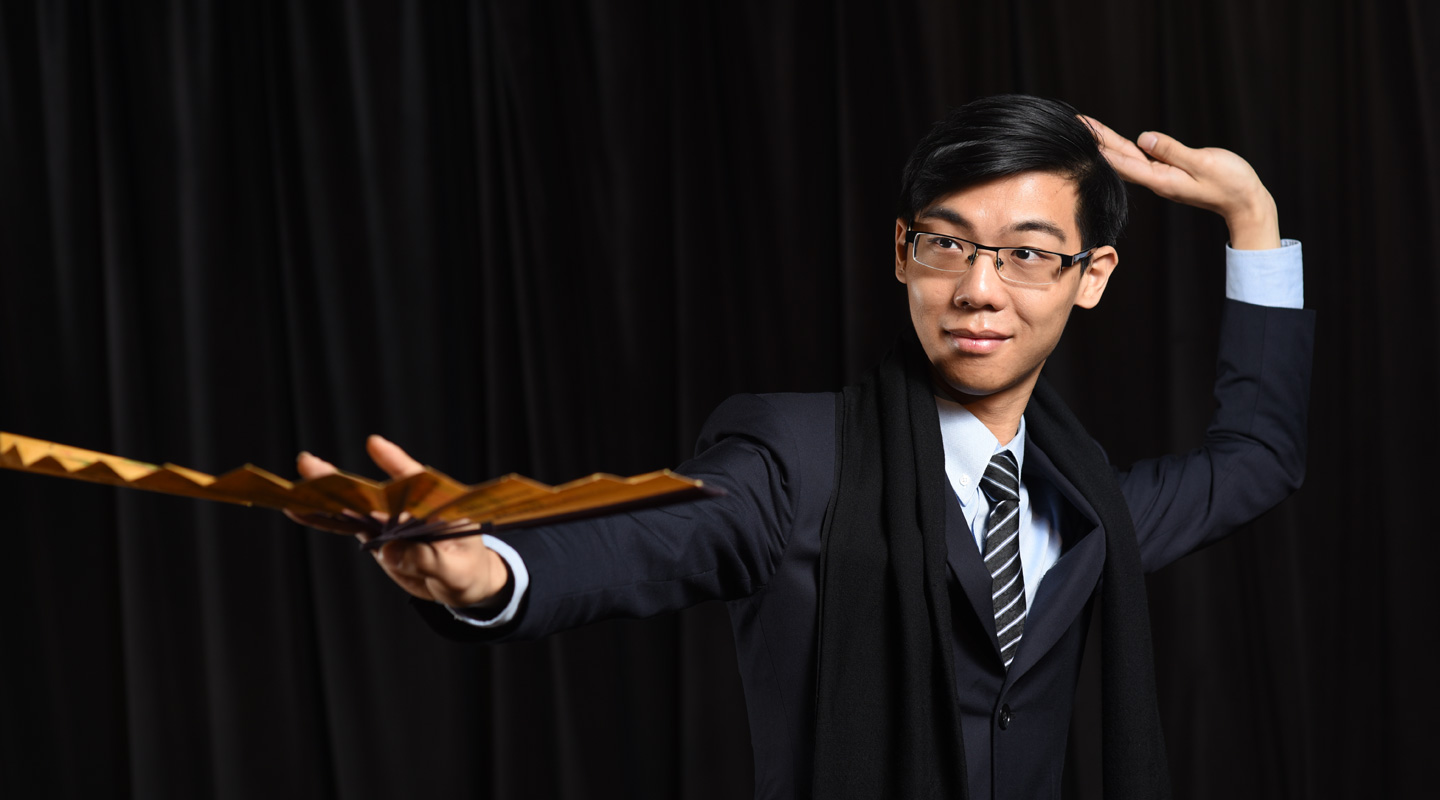 Chan Kin-cheung Kinson
Year 3 Student in Quantitative Finance and Risk Management Science
Student of 'Experience Kunqu and Peking Opera', Lee Woo Sing College
How were you first moved by Kun opera?
I fell in love with Kun opera after watching the movie Farewell My Concubine. I watched it on TV years ago when I was in secondary school. It was the late Leslie Cheung's birthday. He played the dan (main female role) in the movie. I was moved by his performance, so when I learnt that the movie was adapted from a novel, I searched for the novel in the school library. The scripts of the famous Kun operas, The Peony Pavilion and The Peach BlossomFan were placed next to the novel. I perused them all, and started watching Kun opera on the internet.
How did you start playing the dan role?
My decision was greatly affected by Leslie's acting. When the course 'Experience Kunqu and Peking Opera' began in September 2015, I expressed my interest in playing the dan role. The teachers believed I could play well because of my relatively feminine voice, and a physique with a long neck and sloping shoulders suited to wearing female costumes. They first suggested that I learnt Peking opera but I determined to learn Kunqu, and eventually they agreed, probably taking into account both my attributes and my desire.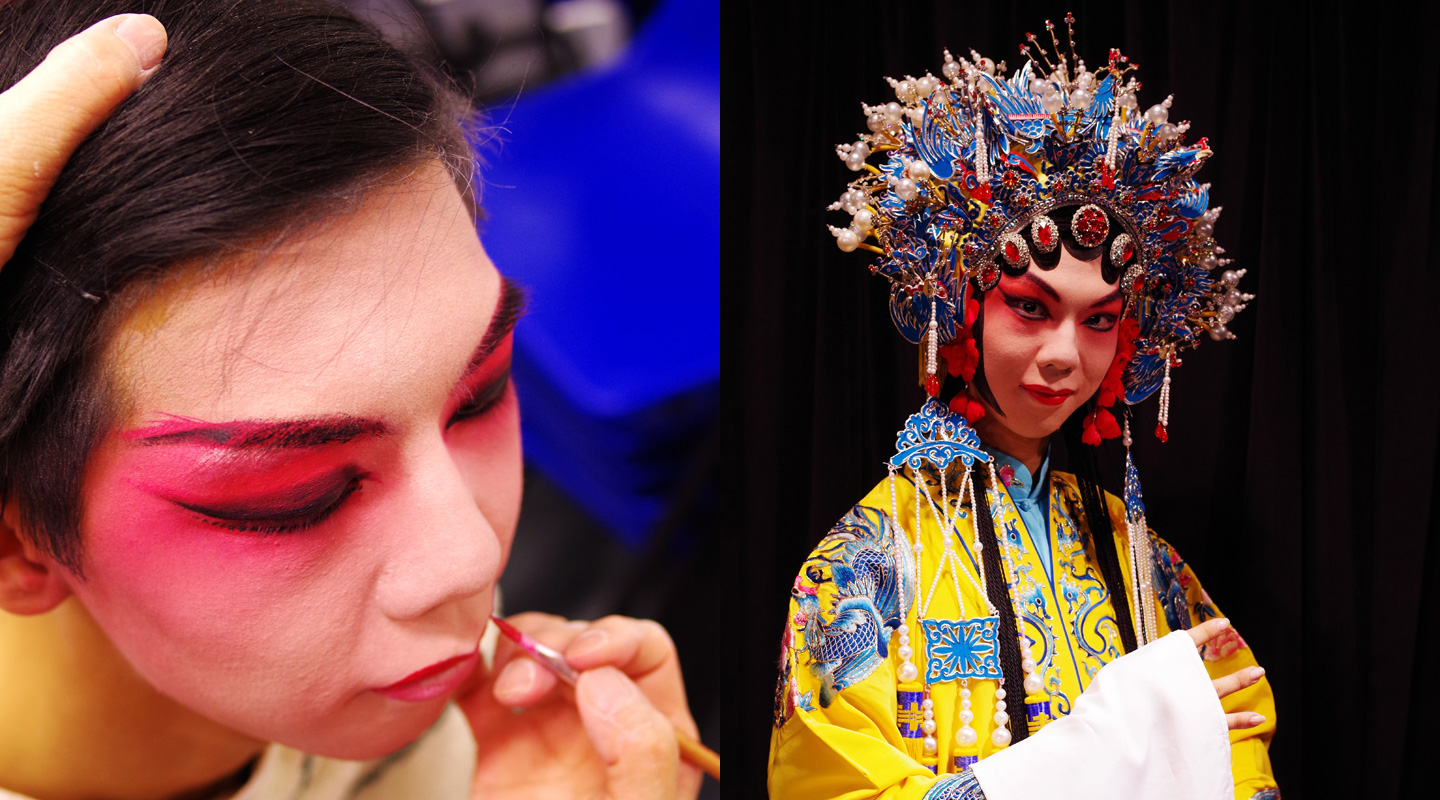 Can you say more about the course?
It is a 13-week course, two lessons per week. The first lesson is about knowledge of Kunqu and Peking opera; the second practice. There are about 20 students, but many are auditing. Some of the more enthusiastic students have attended the course for three consecutive semesters. Students mainly learn to play the sheng (main male role) and the dan roles. For dan, Ms. Jin Huiling teaches Peking opera while Ms. Xing Jinsha teaches Kunqu. Most of us have never learnt opera before, so the teachers are very patient. For example, when we were learning The Peony Pavilion, the teachers would correct our poses one by one. We have not learnt many poses and moves but we have to practise over and over again. At home we practise in front of mirrors while listening to the audio tapes provided by the teachers. We stay behind after class, and the teachers would stay behind too.
Do you mind people seeing you as old-fashioned?
No. When I tell my friends about what I'm learning, they find it fascinating. In mainland China, Kun opera is no longer considered outdated art. Teenagers spend time to listen to and learn it. Kun opera is now at the height of its popularity. More importantly, I like Chinese culture very much. Besides learning Kun opera, I practise Chinese calligraphy. I don't really care what people say.
Singing, acting, recitation and acrobatics, which part of Kunqu do you find most difficult?
I have only learnt to sing and act, and of the two, singing is more difficult. For acting, I am less flexible than girls, but I believe practice makes perfect. My progress in singing has been slow. I sometimes struggle to hit the high notes. Kunqu singing is skill-intensive and highly meticulous with word articulation. The opening consonant, the single vowel or diphthong and the ending consonant of each word must be projected with smoothness and clarity.
Who is your favourite actress? What roles do you want to play?
My favourite actress is Zhang Jiqing. She's in the first Kunqu I ever saw, The Peony Pavilion. I like Zhang Zhihong, too. Their performances are exceptional. I am particularly attracted by their exquisite costumes and temperaments; I want to perform Du Liniang in The Peony Pavilion and Yang Yuhuan in The Tipsy Concubine. Last year in the Chinese opera performance organized by Lee Woo Sing College, I wore the costume of Yang Yuhuan and had some really nice photos taken. The Tipsy Concubine is a Peking opera, but it is not too hard for good Kunqu learners to pick up.
How will you maintain your enthusiasm for Kunqu after the course?
I never expected to learn so much from the course, and I was fortunate enough to perform in the College. Although I am still a beginner, I have met some great teachers who can help me to continue my learning. In future, besides joining the College's courses and workshops, I will keep learning Kunqu from Ms. Xing Jinsha, who lives and works in Hong Kong.
This article was originally published in No. 471, Newsletter in Jan 2016.