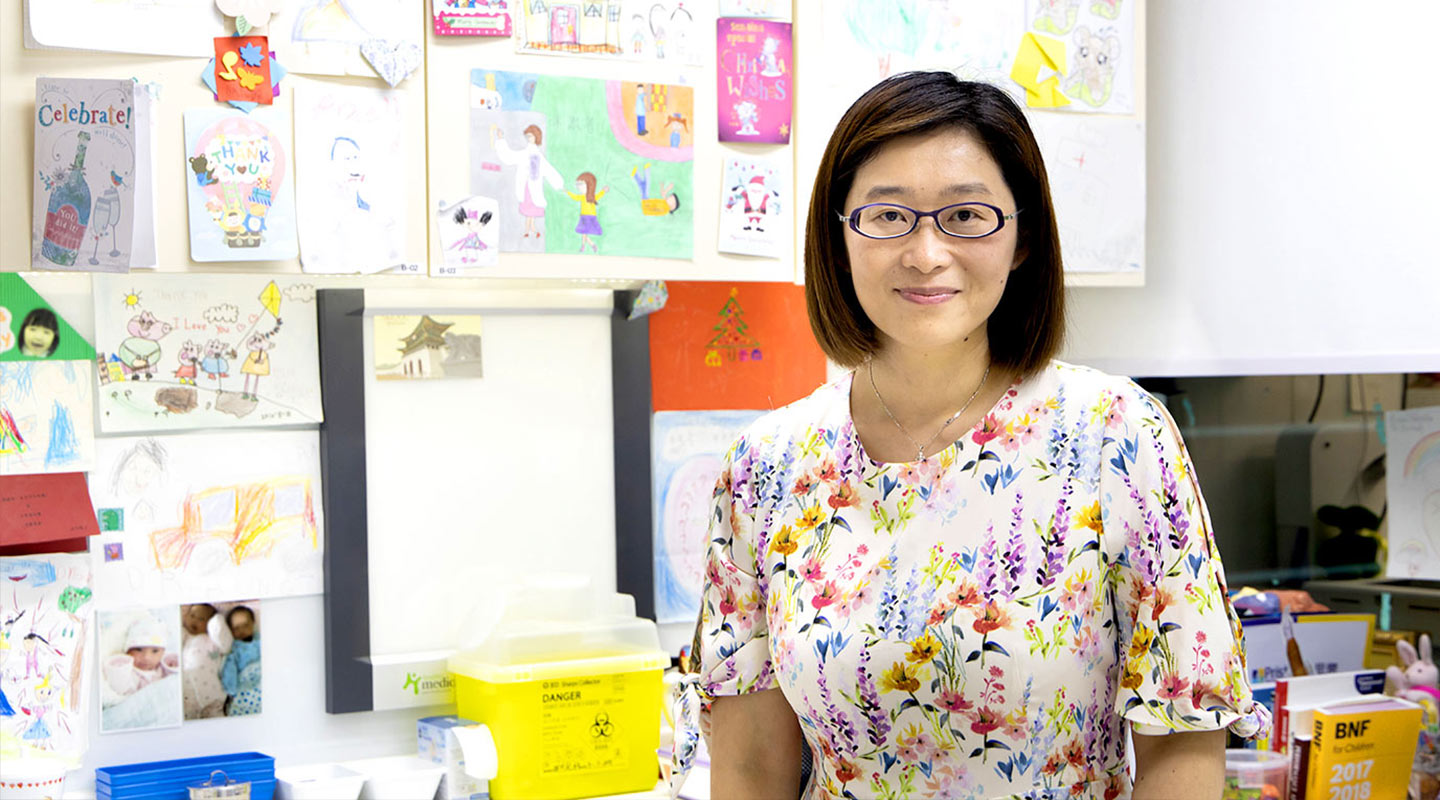 Bristling with confidence and composure, Dr. Emily Hung is the archetypal practising physician whose contributions extend beyond the clinical front line. She is a seasoned paediatrician, teacher, and medical researcher heavily involved with community services for children.
Dr. Hung won the prestigious Prince Philip Scholarship to embark on a pre-clinical sciences programme at Cambridge University in 1994, graduating with First Class Honours in 1997. She received her clinical training at CUHK, where she graduated again with an Honours degree in 2000. In 2009, she published the world's first report on a previously unknown facet of marrow-derived stem cell plasticity in humans, earning her a Young Investigator Award at the 6th International Conference on Circulating Nucleic Acids in Plasma and Serum.
She is currently running her own clinical practice, and at the same time serves as an Honorary Clinical Associate Professor of Paediatrics at CUHK and a regional trainer for the Neonatal Resuscitation Programme in the Children's Hospital for the HK College of Paediatricians. While she was serving in the Prince of Wales Hospital, she was a medical advisor to the Little Life Warrior Society which is a support group for children with cancers. Her gilded resume has won her numerous accolades, and in 2015 she was one of the nine winners of the 'JCI Hong Kong Ten Outstanding Young Persons Selection' awards, and in 2017, one of the three 'Stars of Shaw' of Shaw College Alumni Association in CUHK.
The multi-talented Dr. Hung admitted that clinical practice has always been the centerpiece of her career, although she is also a promising medical researcher and a respected teacher.
'I have always loved kids, and they need a lot of nurturing. If you can identify and cure a newborn baby's illness, you will make a significant difference in his or her life. In my first month of clinical practice, I came across a baby with low blood sugar, which was apparently a non-fatal issue. But when I conducted a more thorough checkup, I couldn't feel the baby's pulse in his thighs. Our Paediatric Cardiologist Dr. Geoffrey Mok then performed an urgent cardiac ultrasound scan on the baby and found out that this baby has a life-threatening cardiac condition called "Coarctation of Aorta", which required emergency operation that very same night on his day of birth to save his life. Paediatricians must be always on the alert, and how fulfilling your job is depends on how much effort you put into your work.'
Dr. Hung believes a good paediatrician, as an advocate for children, should have the courage to tell the truth, however unpleasant the truth may be. To cure a child, often one has to work first on the parents. A patient's symptoms may just be the tip of the iceberg, and a paediatrician must try to go deeper to tackle the heart of the problem.
She thinks she owes her capacity to do so to her mentors at CUHK.
'I met many good teachers at CUHK. One of them was Professor Yuen Man Pan Patrick, who convinced me a paediatrician should be a walking "diagnosis machine" that can immediately tell what problems there are with the patients. And there was Professor Leung Ting Fan, who did a midnight ward round with me at 11:30 pm. I was intrigued by the case of a two-year-old child, who was running a high fever. I showed him a chest X-ray of the child, and Professor Leung immediately said the most likely diagnosis for this two-year-old is meningitis caused by pneumococcal infection. My professors have demonstrated to me their superb clinical acumen which has been life-saving.'
Dr. Hung believes what children in Hong Kong need most is freedom, space, rest, exercise, and above all the attention of their parents.
'When I was small, I had the space and time to daydream, but today's kids have too many extra-curricular activities. The education system places too much emphasis on academic performance, and children are prematurely forced to learn intellectual knowledge and skills before they are ready. All of them have to follow a set path, without paying heed to their individuality.'
'Children who have to attend endless tutorial classes will have their curiosity dampened. I think students should learn to identify questions, rather than study by rote or burn the midnight oil.'
'Take my younger daughter as an example. She has to reach school before eight o'clock, and does not come home until three or four in the afternoon. If she takes a short nap and starts doing homework at five and takes a shower at six, then there is simply no time for her to play. A routine life like this will only undermine children's motivation to learn, and soon there will be a burnout. All work and no play isn't good for children, nor is it good for adults.'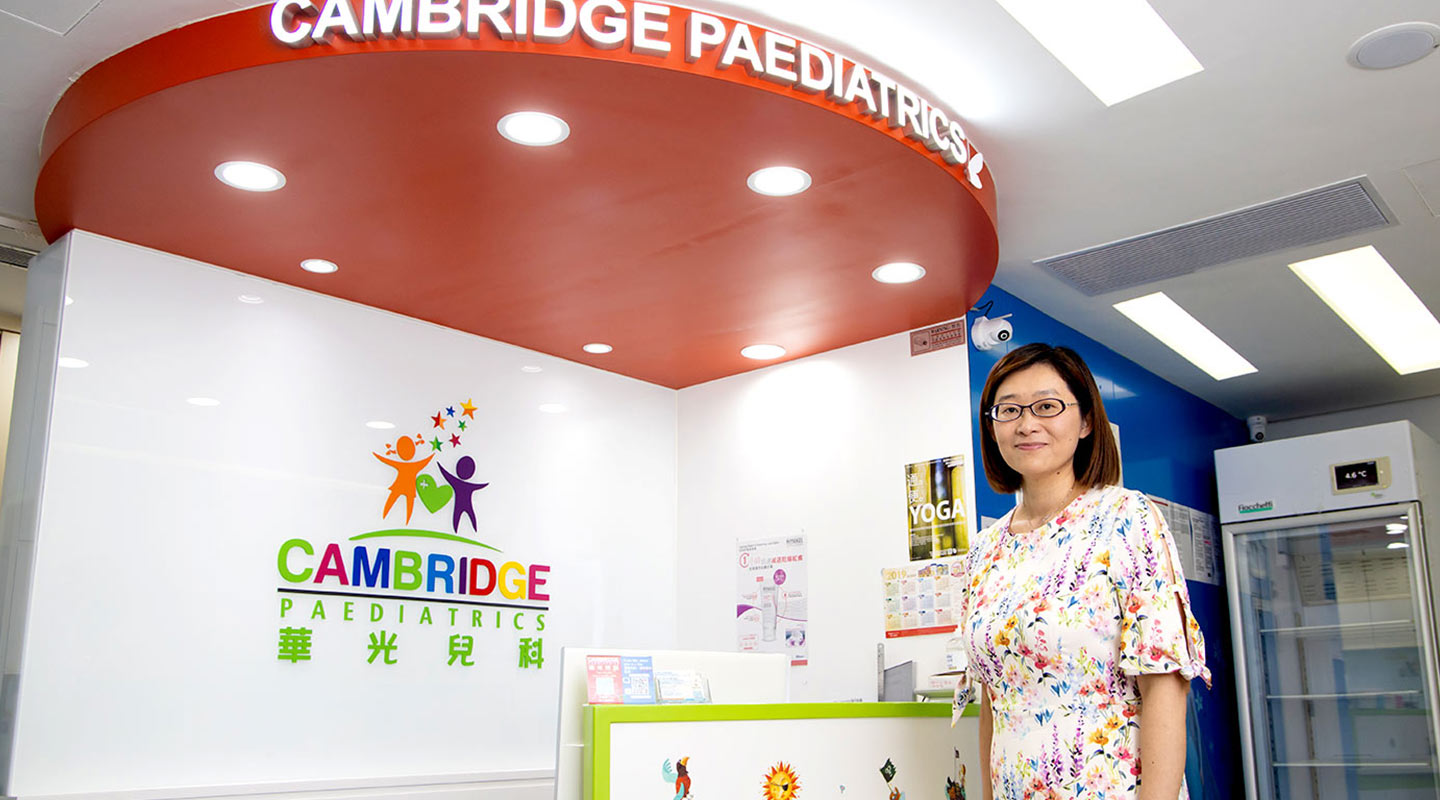 Dr. Hung is convinced that a child's attitude is more important than intellectual knowledge.
'To me, what counts is not what children have learned, but their attitude. Whether they are respectful to their teachers, or whether they have a sense of responsibility. I want my daughters to discover what they love and follow their passion. I also want them to have the courage to solve problems and overcome hurdles.'
Dr. Hung's parenting style is reflective of her own parents, who told her she had the freedom not to pursue a medical career, although she was studying medicine at the time. There was always room for discussion and negotiation. Today, Dr. Hung is doing the same to her children.
'What I expect of my children is that they should be righteous, kind-hearted, compassionate and collaborative. I believe these qualities are more important to nurture and acquire than book work.'
Dr. Hung does not believe in 'winning at the starting line'. 'One may be weaker than many other people, but can still make the most of oneself. Those who "win at the starting line" will not win all the time, will they?'
Perhaps raising the perfect child is to allow a child to be humanly imperfect. This may sound like a paradox, but parents must bear in mind that their children, like themselves, are only human beings and as such have limitations that cannot be transcended. As long as their parents stand by them all the time and cheer them on in times of adversity, they will be resilient enough to weather through hiccups or even storms in life and be able to exert themselves and live their lives to the fullest.
By Eliza Chan
Photos by Eric Sin