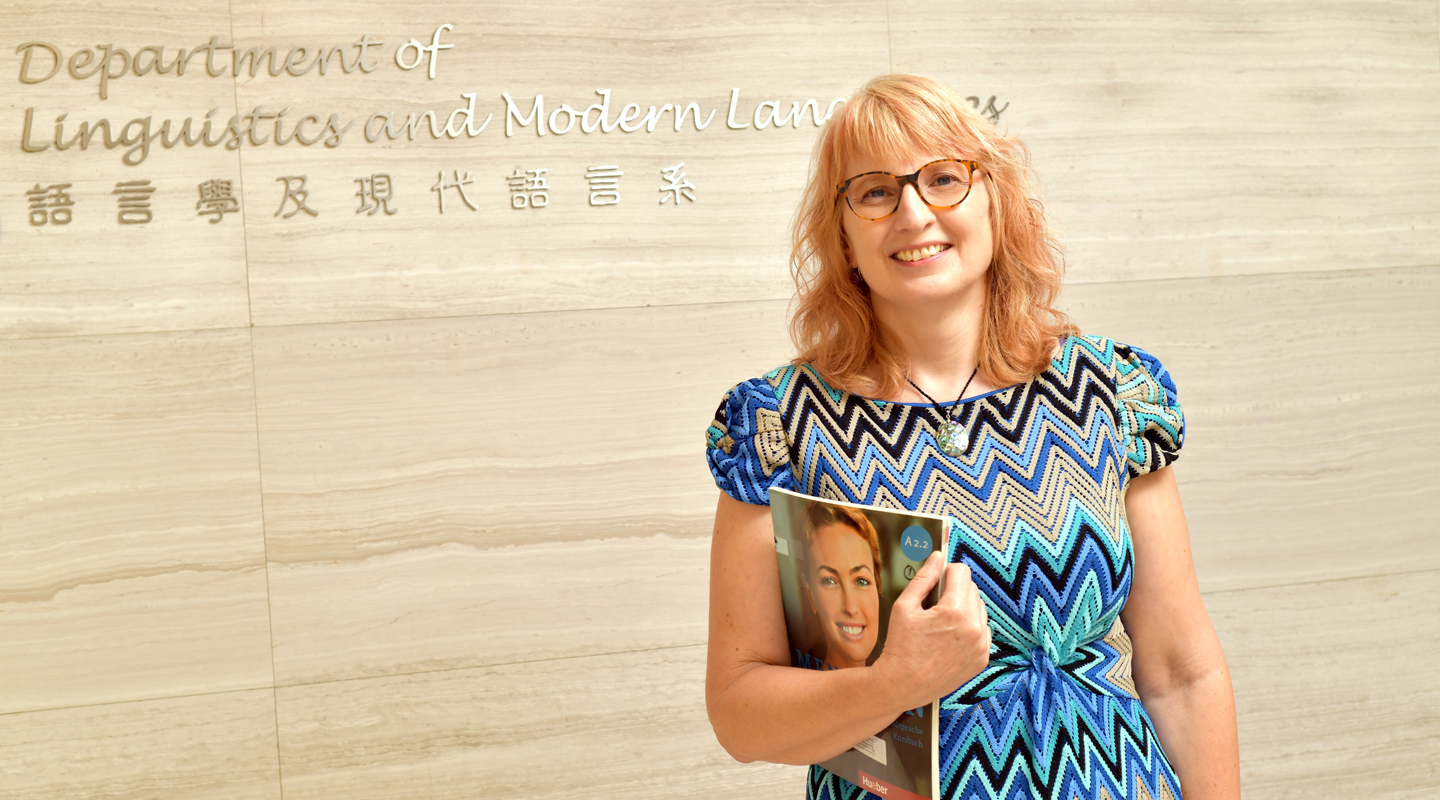 My interview with Annette Frömel was set up for a Friday morning in October. Usually, a day before an interview, I remind the interviewee of our imminent meeting. But this time I did not do so—Annette is German. Pünktlichkeit (punctuality) must be in her blood.
I caught her arriving for this interview in the dim, narrow corridor in the Leung Kau Kui Building where the Department of Linguistics and Modern Languages is situated, but we barely recognized each other—we had become acquainted in an aerobics class in which we would wear sports outfit and ponytails. Today we both put on our nice dresses and let our hair down. 'You look completely different!' Annette exclaimed in Cantonese.
The senior German lecturer of CUHK was born in Wachenheim, a small town located in western Germany with a population of just 5,000. Like many other Europeans, she took on two foreign languages in high school, her choices being English and French. Since the age of 14, she availed herself of a partnership between Wachenheim and France's Cuisery, both villages in wine regions, and often travelled to France to learn its language while living with a host family. 'It was quite a cheap way to have a holiday. The daughter of the family would in return come and visit me in Germany,' she recalled in English.
After high school she stayed in England and then the US for a year to improve her English. By this time, she had made up her mind to study languages in university. 'My father, who had always wanted me to study medicine, said if I really wanted to major in languages, I should not choose French or English which many people in Germany can speak. So I applied for a Spanish and a Chinese programme, and the latter gave me an offer first.'
She loves learning languages because, in her words, 'a language is a key to the country where it is spoken.' Three years after she had learned Chinese at the University of Mainz in Germersheim, she used this newly forged key to open the door to Beijing Normal University. Upon her arrival, she was asked to fill in a form where her Chinese name was required. 'I immediately combed through my memory for Chinese names I had learned from textbooks, and settled on An Na which sounds closest to Annette.'
I asked whether it's true that German people are particularly open to learning other languages. She answered in Cantonese: 'I would say it's a propensity of most Europeans, because each of our countries is surrounded by many others. It's only natural that we want to understand what our neighbours are talking about.' After a short pause she added, 'Maybe Germany is especially so; it's in the middle of Europe.'
After coming back from Beijing to continue with her studies in Germany, she worked temporarily in a trade fair to interpret German, English and Putonghua for a Hong Kong company, and was later invited to continue working in Hong Kong. When applying for a Hong Kong identity card, she thought it was time to give herself a Chinese surname. Following the advice of her friends in Beijing she took the Frömel-alliterating Fung.
Every lunchtime she would pick up some Cantonese phrases from her colleagues. Before long she met her husband, a local Hongkonger, which of course contributed significantly to her attainment of fluency in Cantonese.
After giving birth to her first son (she has two sons and a daughter), Annette looked for a new job with more flexible hours, so she began training as a German teacher at the Goethe-Institut Hong Kong. 'I had never thought of going down the path of teaching, as my father, mother, brother, uncle and aunt are all teachers. I didn't want to be like them,' she said with a hearty laugh. 'But then I discovered I love teaching. I've found my calling.'
At this point she asked whether I wanted some tea, and pulled open a bureau drawer in the centre of her office, revealing boxes in all shapes and sizes. She recommended West Lake Longjing with chrysanthemum, and opened a tin box filled with dried yellow buds: 'My former colleagues gave me this. Have you ever seen anything so beautiful?' she spoke in mildly-accented Cantonese.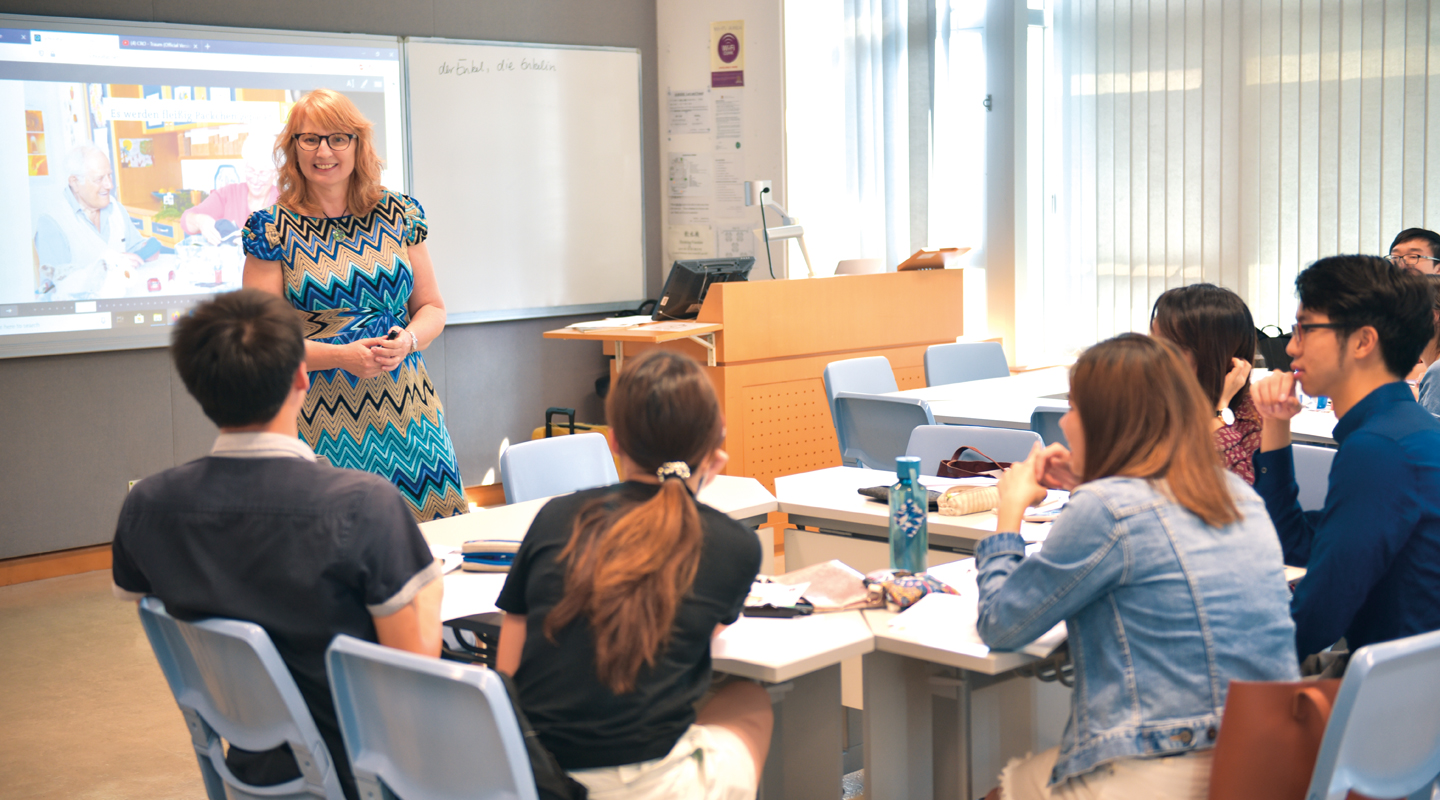 For 16 years Annette has been teaching German in CUHK. She said what she likes most is the students here. 'They are interested, polite and knowledgeable. Sometimes they are modest and dare not speak much, but stille Wasser sind tief (still water runs deep). People who don't speak much are often very intelligent and have deep insights. They make lots of meaningful contributions to my class.'
Deftly, she switched to Cantonese and continued, 'I also love my international team of colleagues in the Department of Linguistics and Modern Languages. The 17 full-time lecturers of the Modern Languages division come from four countries. Even linguists of Chinese descent in the Linguistics division are from around the world. Including part-timers we are talking about more than 15 different countries.'
She went on to give me an overview of the Modern Languages division: it offers programmes in nine European and Asian languages, including Arabic, French, German, Hong Kong Sign Language, Italian, Korean, Russian, Spanish and Thai. The courses are open to all undergraduate students who have a choice to take the courses as electives or to declare a minor in either French, German, Korean or Spanish.
In terms of student enrolment, the most popular language is Spanish, in part because it is the second most spoken language in the world after Chinese. French has been on a par with Korean, but under the influence of K-pop in recent years, slightly more students are opting for the latter. German came in fourth.
To get more students interested in German, Annette tries to make her class as fun and interactive as possible so students will keep learning and recommend the course to their peers. She wrote her master's dissertation on using language arts, e.g., songs, fairy tales, dramas and poems, in the German classroom, and one of the courses she now offers in CUHK is Learning German through Fairy Tales, in which her students read the Brothers Grimm stories, watch videos and sing songs about them, and, at the end of the term, create their own fairy tales and act them out for the class.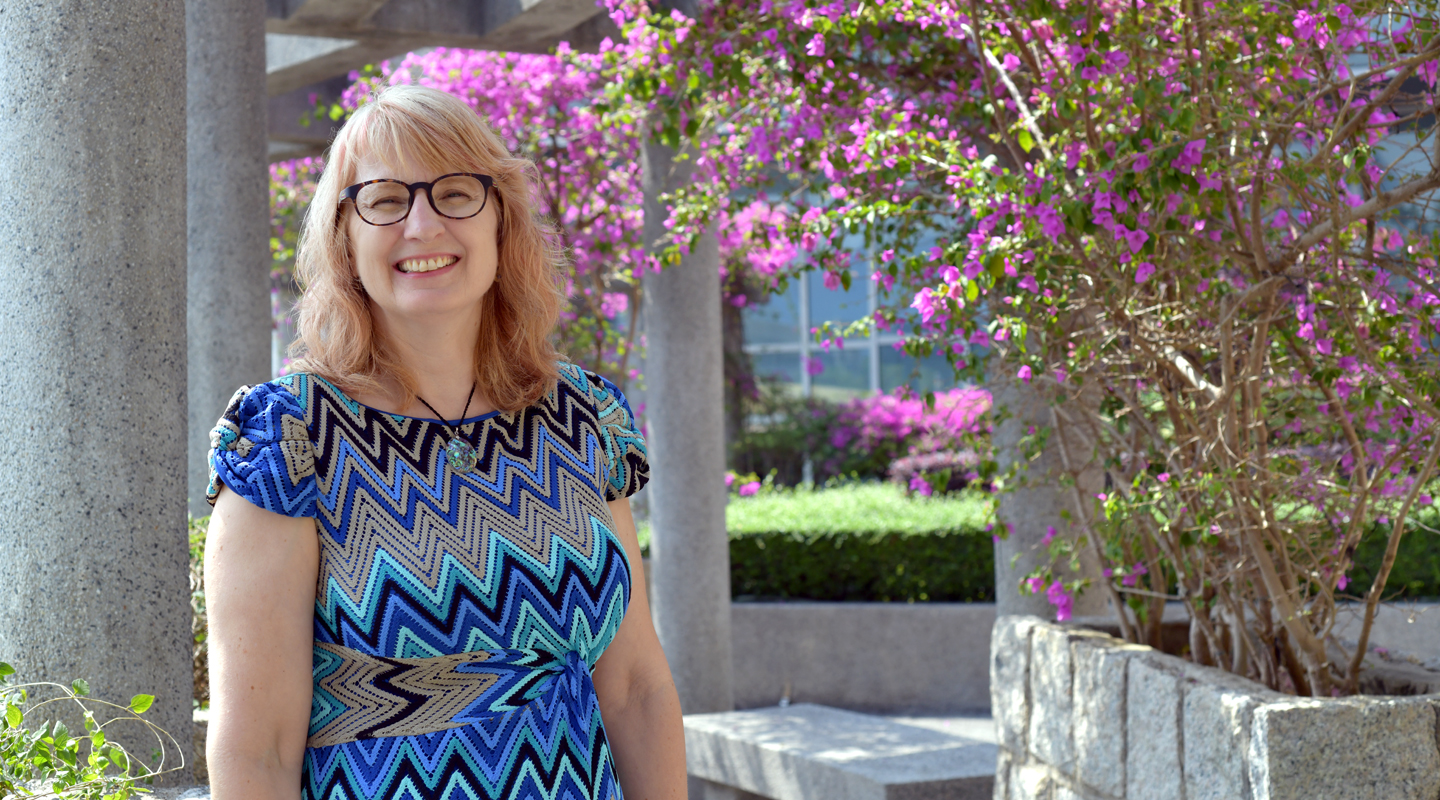 Annette, who has just taken off her hat of Deputy Head of Modern Languages in July, said she has always wanted to increase the awareness of other languages besides Chinese and English at CUHK. 'My ultimate wish is to help the University develop a major programme that combines a language with a discipline, say music or hotel management, so that students can become multilingual in their areas of profession and more competitive in a globalized environment.'
It has been 25 years since Annette moved to Hong Kong. She is affiliated with Chung Chi College. Every summer she accompanies a group of College students on a study trip to Germany, after which she will stay behind and catch up with old friends and family.
During our conversation Annette brought up more than once that she's neither an eminent professor nor a world-changing inventor who would merit media coverage. But a good story does not have to be about earth-shattering achievements. Someone who simply makes the best out of life and embraces different languages and cultures with open arms can connect to and inspire an audience all the same.
Christine N.
This article was originally published in No. 546, Newsletter in Nov 2019.