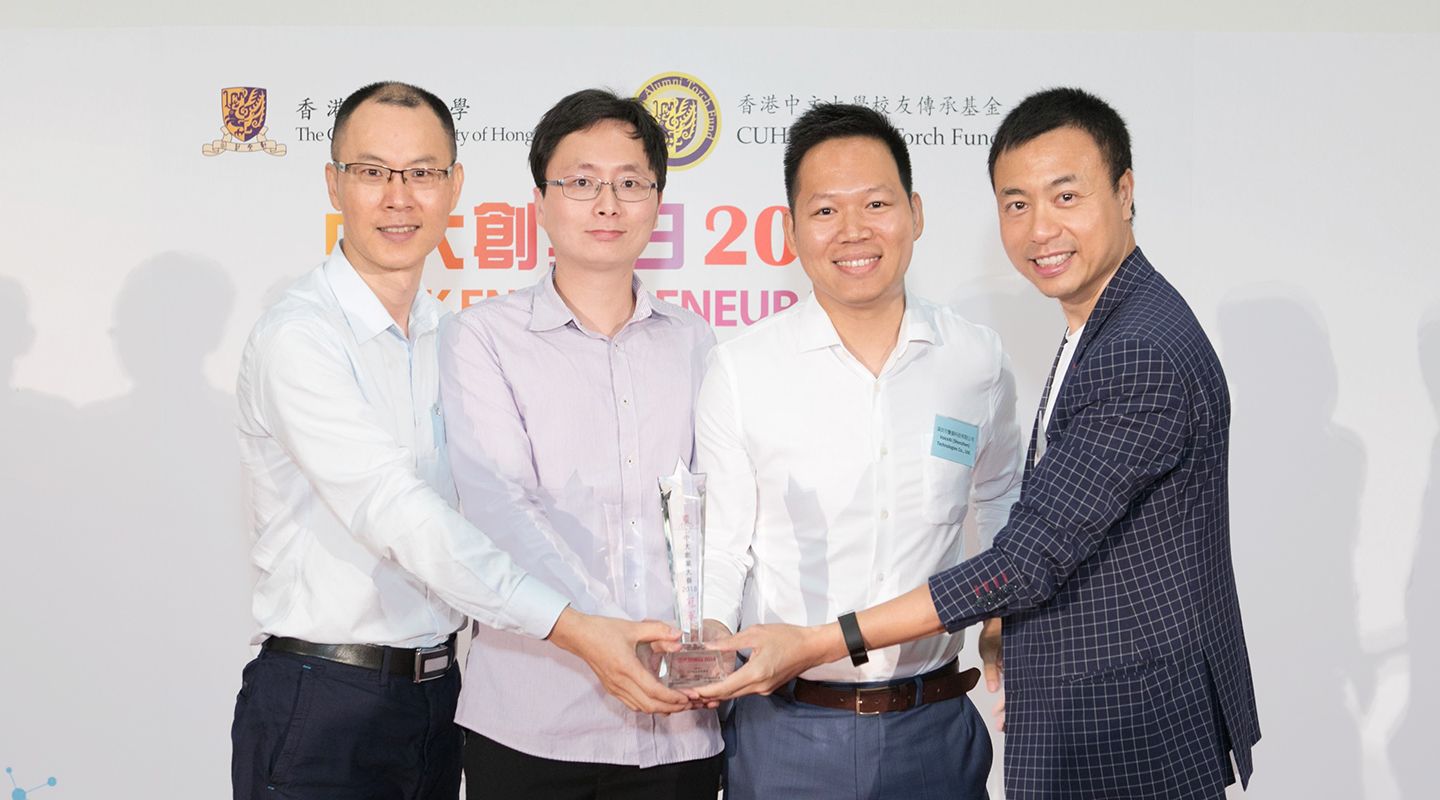 As one of the biometric authentication methods, voiceprint recognition is not something that is unheard of in this day and age; to truly master the technology, however, is quite another story.
Riding on the rapid developments in big data technologies, VoiceAI Technologies Company (VoiceAI Tech), one of the startup companies in CUHK Innovation Hub (InnoHub) in its Shenzhen Research Institute (SZRI), combines artificial intelligence and voiceprint technologies together to create a speedy, reliable, and remarkably improved authentication system.
'In a second's time, our system can compare a human's voice to one million others,' Mr. Kevin Li Yatong, one of the founders of VoiceAI Tech, said. He also added that the system contains a unique algorithm that can distinguish live human voices from recorded sounds, reaching an accuracy rate as high as 99.5%.
'As long as your electronic device is installed with a microphone, you can use our system anytime, anywhere. Comparing with those that use facial recognition and iris scanning as authentications, our voiceprint recognition system allows users to bear a much lower operation cost.'
Currently, VoiceAI Tech provides services in four main areas, namely, voiceprint recognition, automatic speech recognition, voice signal processing, and voice application, to companies and governments across the globe, including China, Indonesia, and Mexico. It has also recently received some RMB100 million in the Series A Funding Round for its future investments.
I Got Your Back
A graduate from CUHK's Faculty of Business Administration, Mr. Li and his partners founded VoiceAI Tech in 2016. They joined the CUHK Entrepreneurship Competition in 2018 and won the Champion and the Best Business Plan Award. Through the competition, they learnt of the establishment of the InnoHub in SZRI and eventually decided to station VoiceAI Tech in InnoHub in September of the same year.
InnoHub is the first startup incubation platform established by CUHK in Shenzhen, striving to assist entrepreneurs by connecting them with governmental, resource and investment agencies. Together with the provision of startup advisory services, InnoHub stands with entrepreneurs and supports them in difficult times.
By way of illustration, during the outbreak of COVID-19, InnoHub, in an all-round manner, helped VoiceAI Tech to promote their remote voiceprint health system to different government departments, banks, media and communities.
'Through providing rent waivers to reduce operation costs, for instance, SZRI's InnoHub helped entrepreneurs to overcome different sorts of problems amid the pandemic,' Dr. Lin Huangquan, executive director of SZRI, remarked. 'With the continued support of CUHK and InnoHub in SZRI, we believe that startup teams at CUHK will have a bright and dazzling future.'