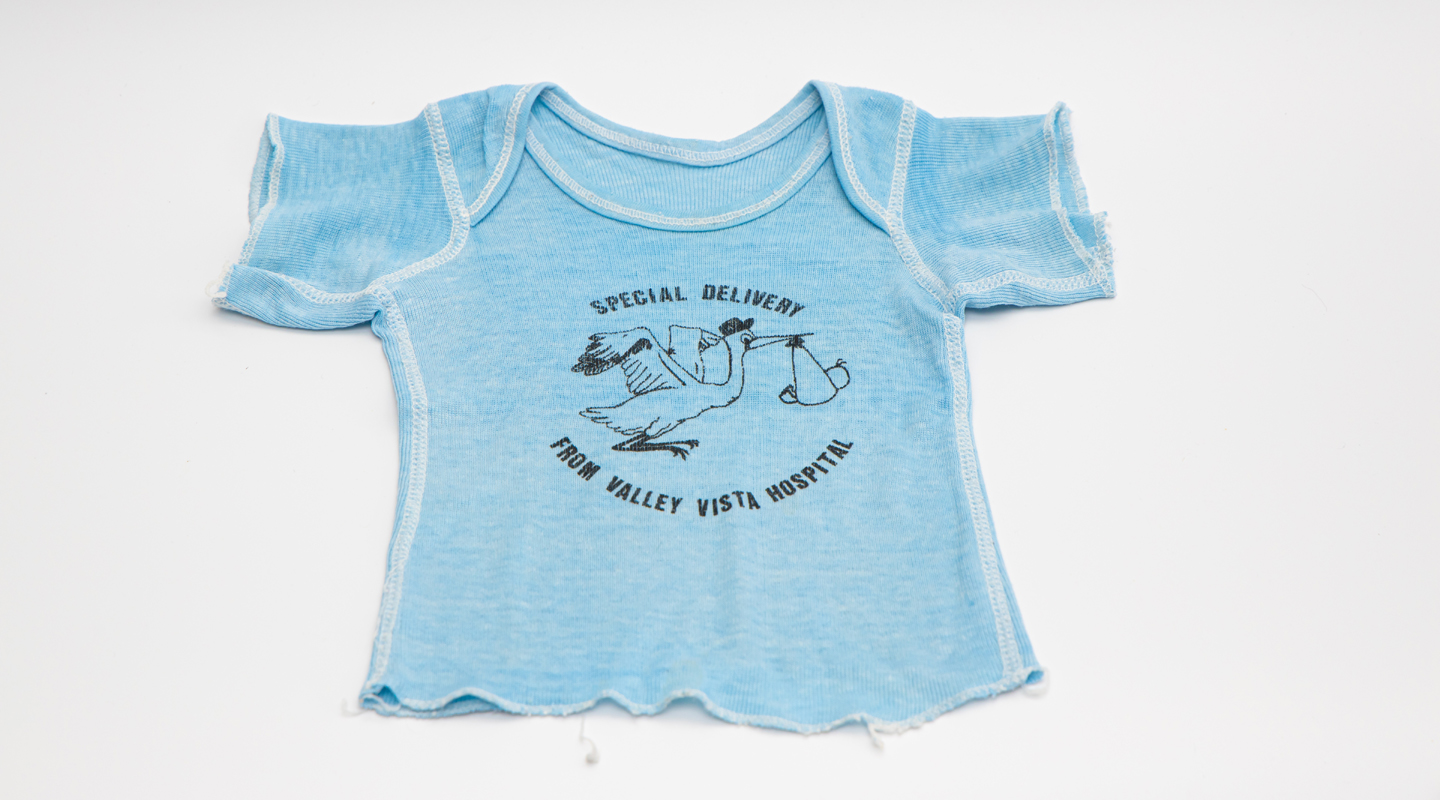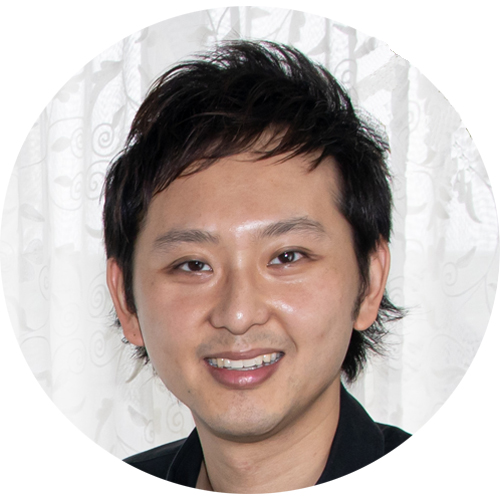 My newborn outfit
I was born at Valley Vista Hospital in Los Angeles. The babies born at the hospital were given this blue baby outfit. This outfit is a family heirloom preserved by my mom. My son André was born this summer and I dressed him with my baby outfit. Looking at him and my newborn photo, I was deeply touched. It means passing on the torch and reminds me of how to raise my kid. If he has the chance to become a father, I hope that his kid will wear this outfit too.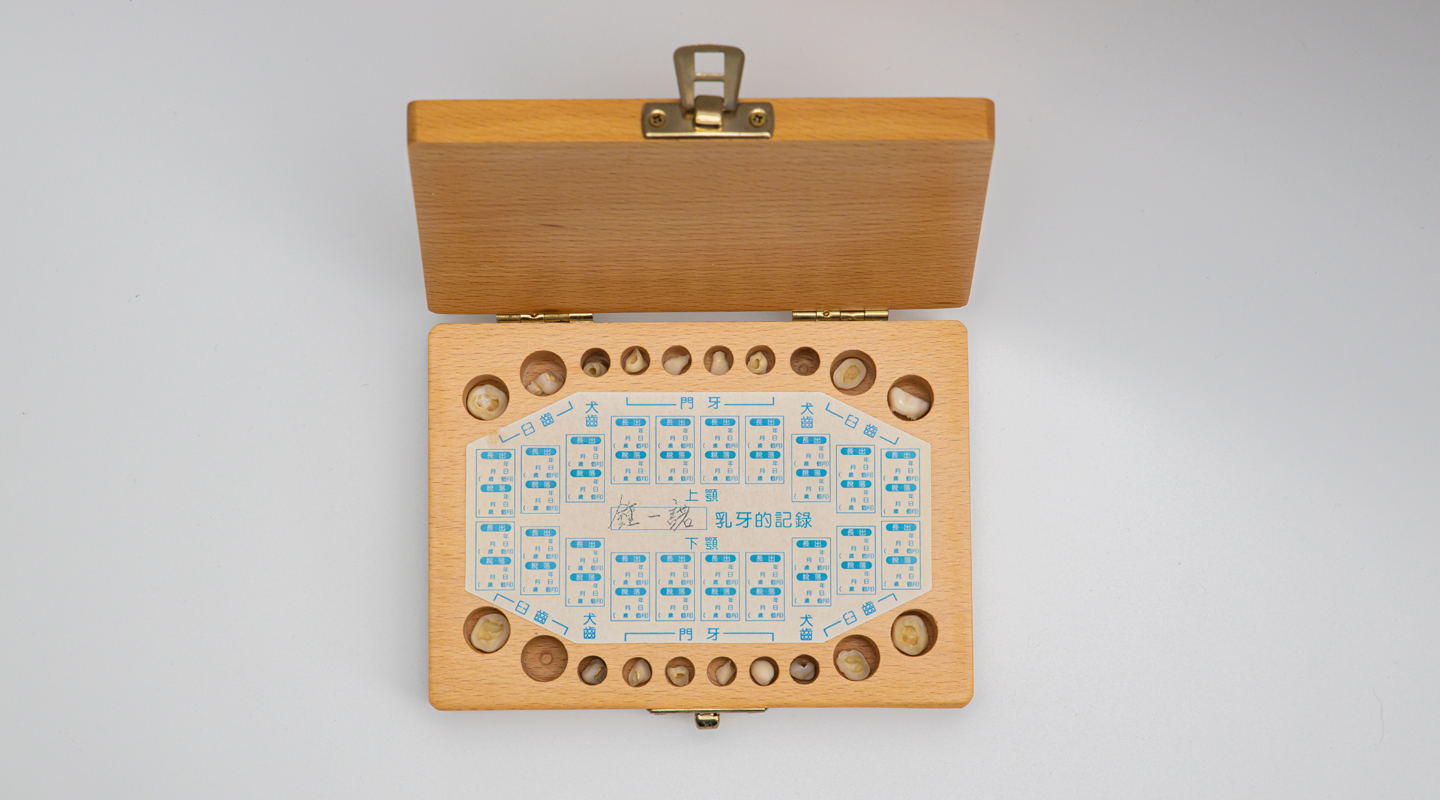 The milk tooth box that my mother bought in her trip
Whenever my milk teeth fell off, my mother reminded me to keep them. I kept therefore them in a small medicine bottle. I remember the exact location of each tooth. But two of them were missing, because I sneezed when the teeth fell off and they could not be found. These milk teeth are the marks of my growth. Each of them bears precious memories, jogging my blissful family memory. With the milk tooth box, my milk teeth are displayed neatly in their new home. I'll also buy one for my son to store his childhood memory.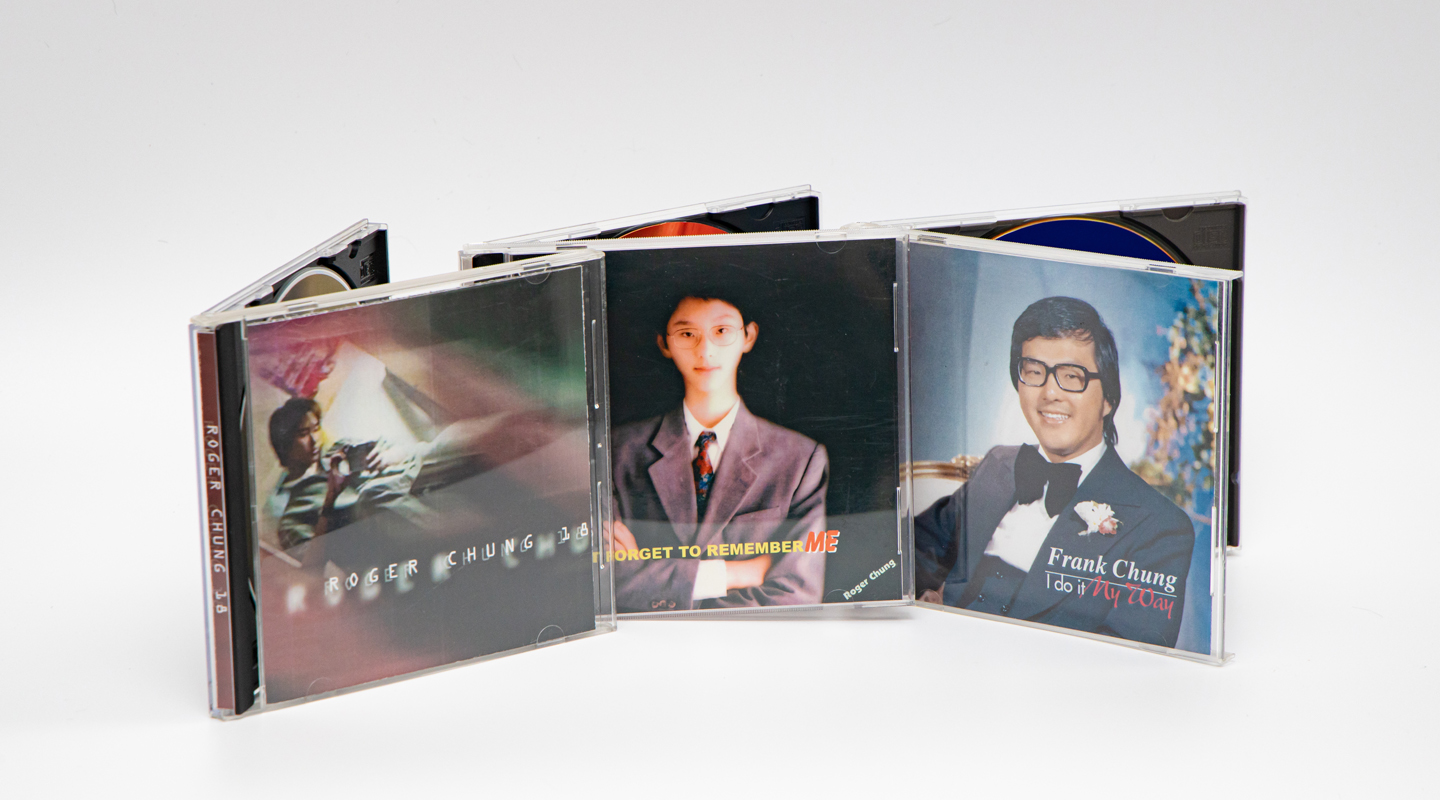 Not-for-sale CDs of my father and me
My parents like listening to music and singing. Under their influence, I've built a solid music foundation. Singing in a karaoke store was one of our family activities. We discovered a studio where we could produce customized music recordings. My father liked it so much that he recorded a few favourite songs in his CD (right). His not-for-sale batch was distributed among his friends and relatives. Frank Sinatra, The Platters, George Lam and Jacky Cheung are his favourite singers. I grew up listening to their songs. Later my father encouraged me to produce my CDs to record my adolescent voice and therefore I produced two memorable CDs. My first CD 'Don't Forget to Remember Me' is in the middle ('Don't Forget to Remember' is a song of my favourite band Bee Gees). Prior to my overseas study in the US, I gave the CDs to my friends and relatives as a memento. The one on the left is my second CD recorded before my undergraduate admission. The songs include those of Bee Gees, George Lam, Jacky Cheung and Eason Chan. I sang better as my voice got more stable. I'd been confident in my singing. But when I listened to my singing a few years later, I discovered there was room for improvement.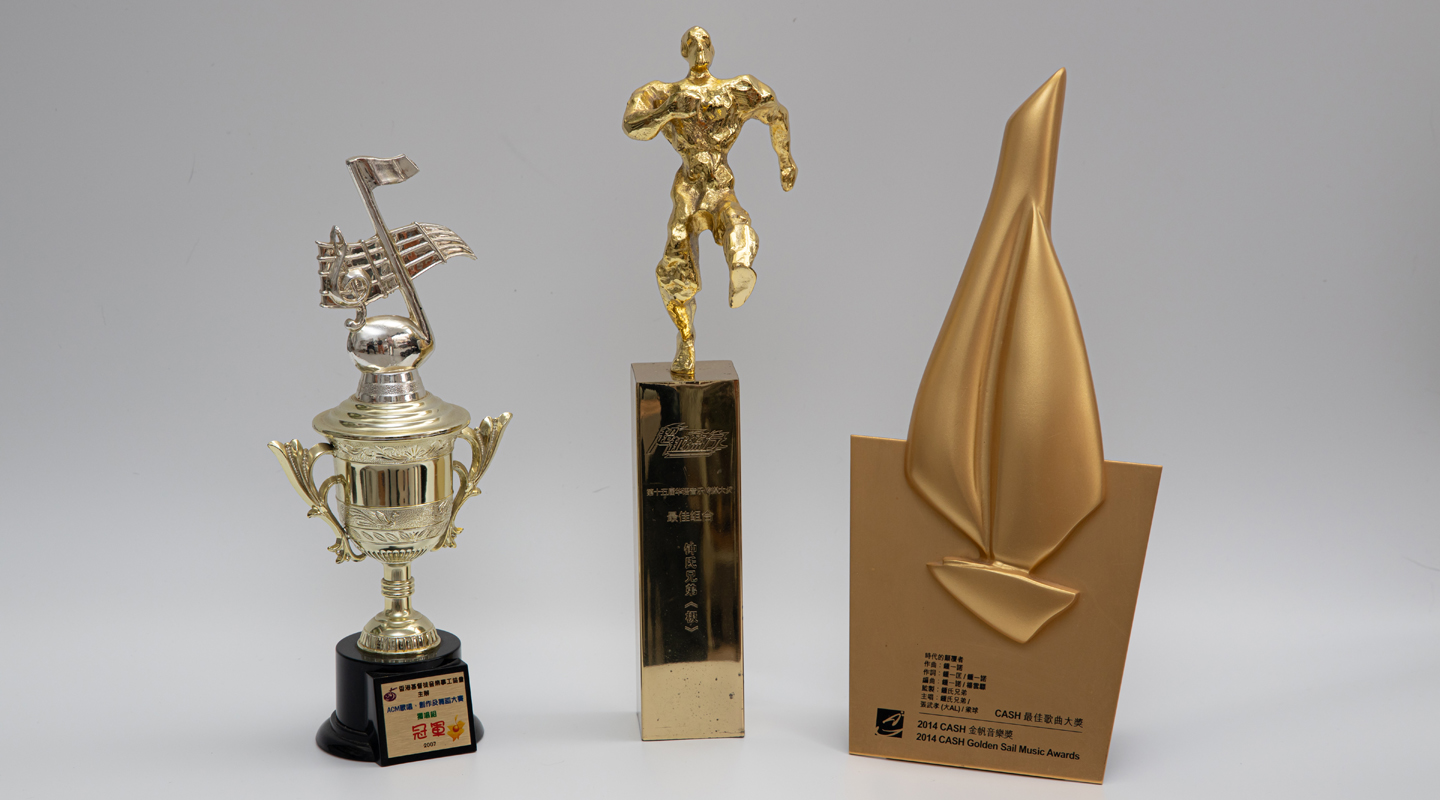 These music awards are recognition of my music and a reminder of my pursuit of beauty and justice
Among the music awards I received, the one I treasured the most is the champion trophy (left) of the singing contest organized by the Hong Kong Association of Christian Music Ministry. It had been my dream to debut my own songs. For this reason, I thought I had better seek recognition by joining a competition such as the territory-wide Christian singing contest. I eventually clinched the solo championship and was much encouraged. Later I formed 'The Chung Brothers' with my elder brother and won many significant awards in the Chinese music scene, including the Chinese Music Media Award: Best Group (middle) and the CASH Golden Sail Music Award: Best Song (right). The latter, selected by musicians like Calvin Poon, Cheng Kwok-kong and Albert Leung, is reputable in the local music scene.
Our first CD 'The Chimes' once ranked the bestseller on HMV's Jazz Chart for seven consecutive weeks. Jazz music is mainly about improvisation within a framework. Bill Evans, the Jazz pianist, called the singer Tony Bennett before his death. Bill mentioned there were two important things in life——love and beauty. I can't agree more: Creations such as painting, music performance or writing are expressions of love and pursuits of beauty. To me, love is a kind of justice. Why do I pursue beauty? I want to make the world a better place.
Justice has also been a theme in my academic research. My team at the CUHK Institute of Health Equity collected data via phone interviews to examine the 'health inequity' under COVID-19. For instance, low-income families have difficulties in purchasing protective materials. Their livelihoods are also affected by the pandemic and the precautionary measures. This phenomenon not only indicates the health gap between the rich and the poor, but also poses an ethical question: Can this gap be bridged? If it's possible but the society doesn't solve the problem, justice is not served.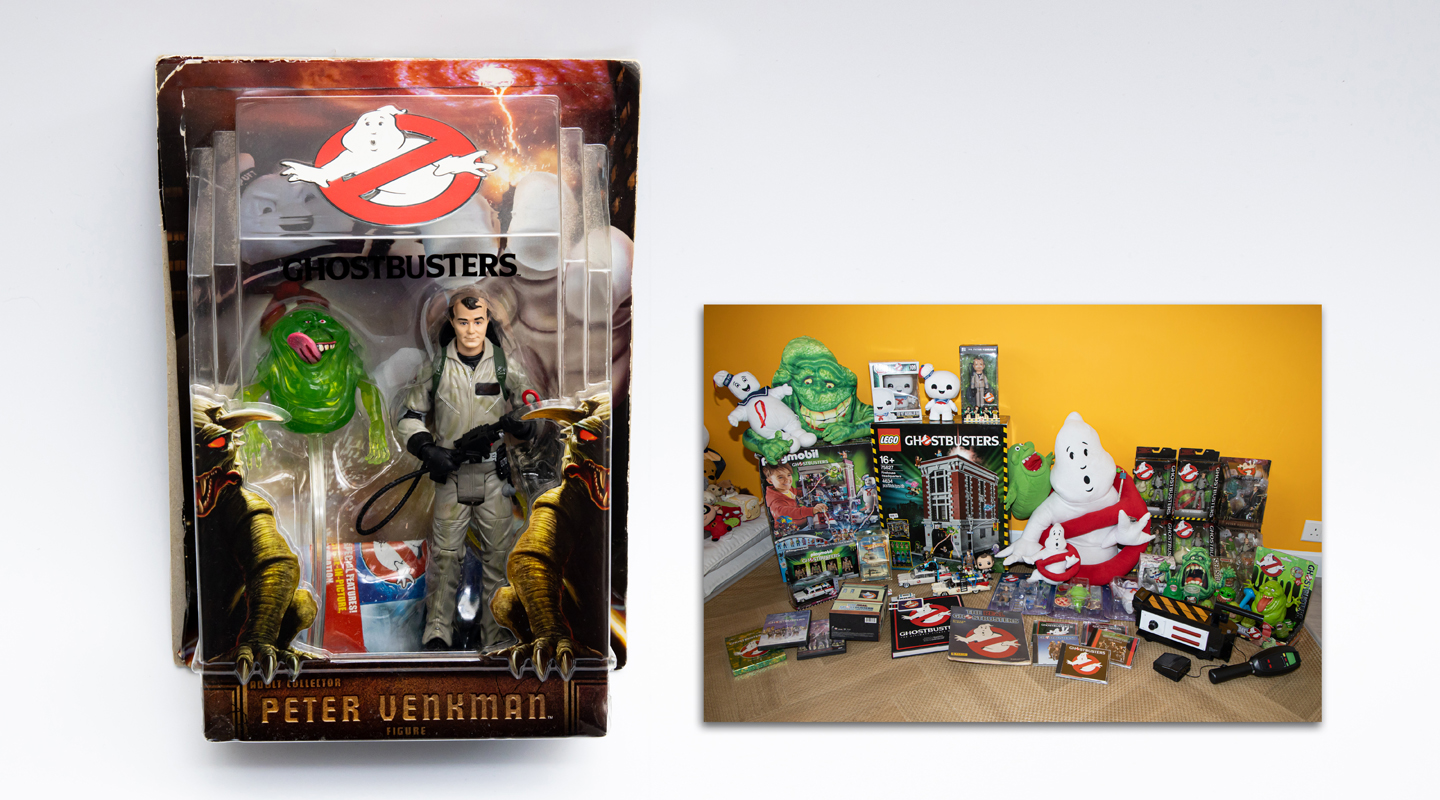 My Ghostbusters collectibles, including my favourite Bill Murray and Slimer
When I was four, I visited my uncle in the US and he played the film Ghostbusters. It was interesting and a bit scary. I was hooked on the series since then. After I returned to Hong Kong, the children's programme Flash Fax started to include the Ghostbusters animated television series. I kept watching it and eventually became a little fan. Cosplay is now very popular. I also got dressed in the Ghostbusters costume and took pictures. I'm fond of the Hollywood comedian Bill Murray who's good at improvising. I was used to rewatching his films to practise English. The film Groundhog Day with him as the protagonist is my favourite. He played the weather forecaster who finds himself trapped in a time loop while reporting the annual Groundhog Day. Only he knows 2 February is repeating itself. The film inspired me to explore existentialism. Life can be very repetitive and boring. Why don't I seize the moment and make the most of it? During my study in the US, I founded the International Bill Murray Fans Club. The Internet was not prevalent in those days, but I established a website for him with both pictures and texts. I also went to the library to look for film reviews of Ghostbusters in 1984 and uploaded relevant materials. When Comedy Central and NBC TV were preparing for the Bill Murray Week programme, the staff called me to discuss the films selection.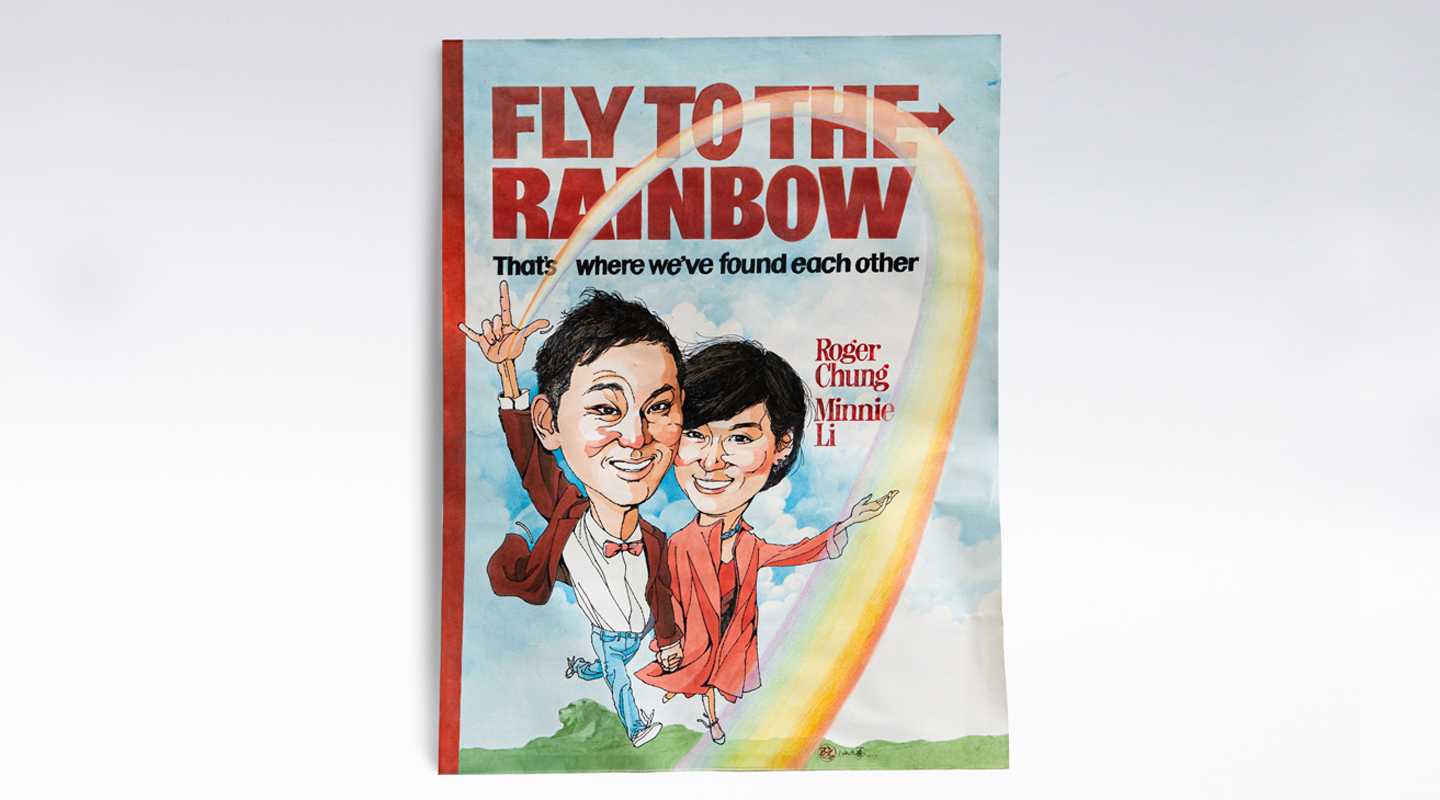 Our wedding poster painted by the poster illustration master Yuen Tai-yung
My wife Minnie and I love film and music. We chose them to be the themes of our wedding. I met quite a few friends, including the renowned film poster illustrator Yuen Tai-yung, in the creative industry when I was working on music CD production. But I hadn't collaborated with Mr. Yuen then. Therefore, we wanted to invite him to draw our wedding poster. Mr. Yuen is a master in film poster art and recipient of the 'Professional Spirit Award' at the 36th Hong Kong Film. I trust that many people still remember his film posters Half a Catty, Eight Taels and Best Partner. I like his portrait works such as 'The Hui Brothers' and 'Bruce Lee' very much. When we touched base with him, he replied that he rarely accepted job invitations like this. But he gladly accepted our request as he appreciated who we were as persons and the sense of nostalgia. After he completed the work we added the names of our wedding helpers with a computer and turned it into a poster that resembles a film poster. The poster was displayed on our wedding day and became a very memorable part of the evening. We still display it at home and see it every day.
By jennylau@cuhkcontents
Photos by Eric Sin