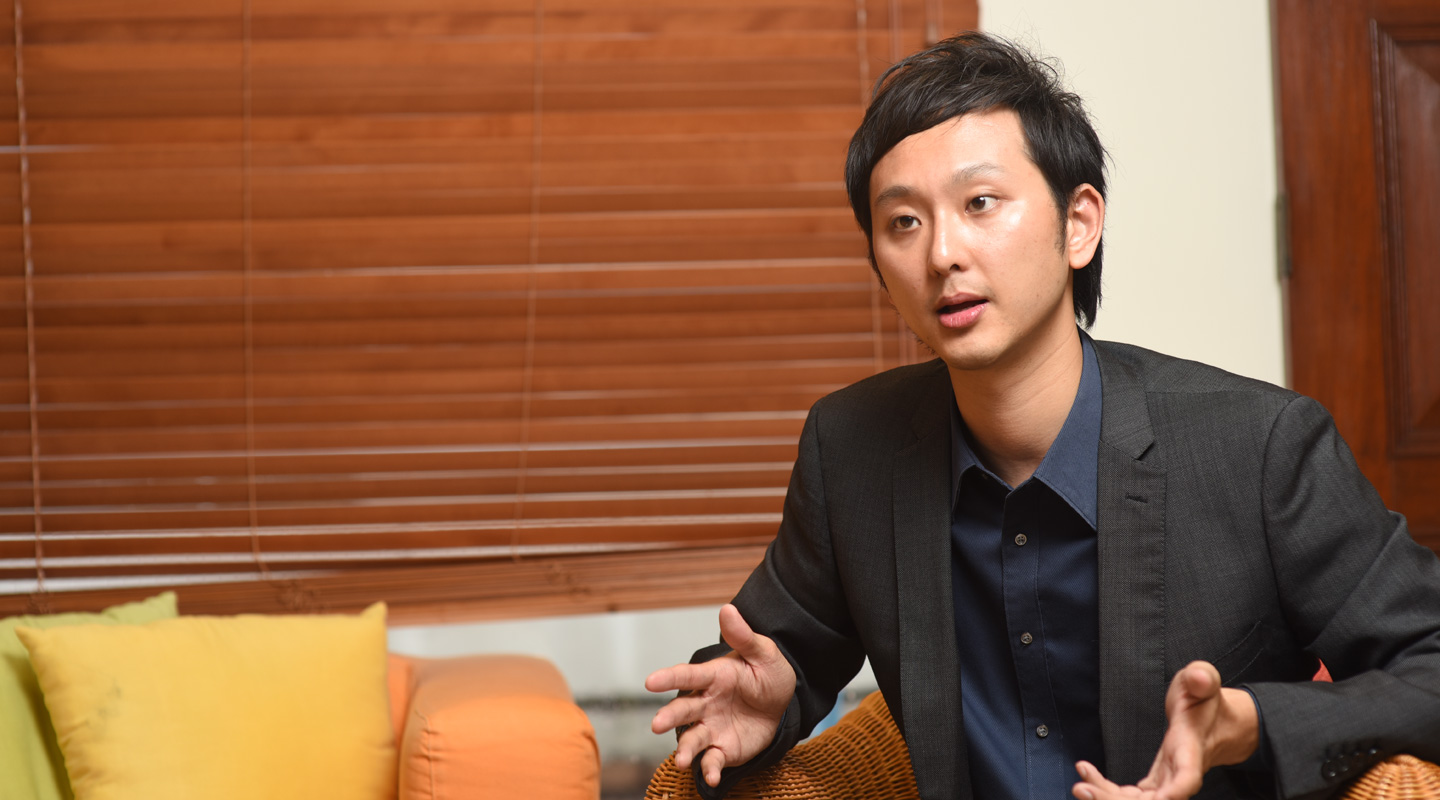 If we could bid a fond farewell to the mortal life having lived for decades, it would be a peaceful death. The Chinese find it a perfect ending in life. But if we fall ill and have to spend our last days in the hospital or hospice, how could we take our last breath with peace and dignity? What can our family, healthcare professionals and society do to support us?
CUHK's Jockey Club School of Public Health and Primary Care was commissioned by the HKSAR Government to review the end-of-life care in Hong Kong. The School conducted a cross-sectional telephone survey* last year with 1,067 Hong Kong citizens above 30 years old. 87.6% of the interviewees indicated that they would prefer palliative care to life-sustaining treatment such as using nasogastric tubes, if they were diagnosed to be terminally ill; 86.2% agreed that the patients' own wishes should determine what treatment they receive. Prof. Roger Chung of the School is part of the research team. He said, 'We live in a metropolitan city, but think like we live in olden times. Refusing life-sustaining treatment on ailing family members is viewed as giving up on them and is guilt-ridden. But resuscitation may end up with broken ribs. Inserting nasogastric tubes may be traumatizing. Do the patients really need those treatments?'
Advocating Advance Directive Legislation
When a person becomes mentally incapacitated, who are irreversibly comatose or in a vegetative state, his/her advance directives (AD) will come into effect to refuse receiving emergency and life-sustaining treatments including cardiopulmonary resuscitation. The Law Reform Commission of Hong Kong (LRC) released the report 'Substitute Decision- making and Advance Directives in Relation to Medical Treatment' in 2006. They recommended the Government to promote public understanding of AD, and consider the appropriateness of legislation once the concept is more widely accepted in the community. 'Though AD hasn't been legislated in Hong Kong, patients' wishes are still legally binding and enforceable under common law,' Professor Chung stated.
The telephone survey reveals that an increasing number of citizens are open to life-and-death issues. A total of 85.7% had not heard of AD, but after finding out what it is above 70% deemed it an option if diagnosed to be terminally ill. 60.9% would make their own AD if legislated. Above 90% agreed that medical staff should talk to the patient upfront about their situation and end-of-life care arrangements. 'Social attitudes have changed. It's time to discuss the legislation of AD.'
Clarifying Concept to Avoid Contravention
Professor Chung finds it necessary to define 'mentally incapacitated persons' to decide when the legal document will take effect. 'Local ambulance service is offered by the Fire Services Department. According to the Fire Services Ordinance, the responsibilities of paramedics include resuscitation and offering life-sustaining treatment. Once AD is legislated, can it override the ordinance?'
An enduring power of attorney (EPA) is a legal instrument which enables another to act on behalf of the donor when the latter becomes mentally incapacitated. 'EPA in Hong Kong is mainly in relation to the donor's financial affairs. Other places such as the UK, however, allow the attorney to make more decisions such as giving or refusing the consent to life-sustaining interventions.' In 2011, LRC proposed to include personal care in the EPA, such as whom the donor will live with, as well as meal plans and healthcare arrangement (end-of-life care arrangement was excluded). According to Professor Chung, Hong Kong may follow the UK practice to integrate the AD and EPA, so that the donor's medical decisions in the last stage of life will be respected.
Taboo-breaking End-of-life Care
In Hong Kong, around 40,000 people die each year, of which 90% die in hospitals. In their final days, they might still be bombarded by beeping medical devices and doctors resuscitating the patients nearby. How to give the dying more peace? 'Doctors would progressively communicate with patients and their families about the treatment plans, in a bid to prevent false hopes. Dying at home is also an alternative. It's more common in places like the UK, Taiwan and Singapore.' The survey indicates that 30% of citizens wished to exit this world at home. The rest of them indicated their worries of troubling their families, and affecting the property price as their homes might be regarded as haunted houses. 'Many Taiwanese hope to pass away at home since the concept of homecoming is rooted in their mind. In Singapore, the void decks in public housing will become mourning halls for the bereaved residents to conduct funerals. Very few people would stay away from death as Hong Kong people do.'
The CUHK research team has already submitted their proposal to the Food and Health Bureau, summarizing Hong Kong citizens' views and attitudes towards AD and end-of-life care. Suggestions from the legal and operational perspectives on dying in hospices and dying at home were also incorporated. Professor Chung thinks one of the roles played by public health is advocacy. 'Public policy and community participation are essential to a healthy society. We publish scholarly papers on existing healthcare system and policy in order to make recommendations to the Government and raise public awareness. In this sense, increasing public understanding on AD and advance care planning will help improve end-of-life care.'
Community Education for a Good Finale
The Economist analysed the palliative care quality in 80 places in 2015 and announced the Quality of Death Index: The UK ranks first, Taiwan sixth, Singapore 12th and Hong Kong 22nd. But Hong Kong is in fact the first Asian region to accept palliative care as a medical specialty. The Government even included palliative care in the public healthcare system in 1993. 'Life-and-death education is part of the primary and secondary school curricula in the UK. The Taiwanese start to learn about life-and-death issues since primary school. In Hong Kong, however, life-and-death education hasn't been introduced to the formal curriculum, but depends on some non-government organizations allocating resources to pursue the same.'
In traditional Chinese culture, longevity is regarded as the greatest blessing. 'Patients and their families should plan ahead for end-of-life care to avoid suffering in the final stage. Society also needs to care for the bereaved. Do companies allow bereavement leave? A number of countries have bereavement leave which lasts for one to two weeks.' Professor Chung hopes that the shackle of death will be shattered and the life-and-death awareness will increase in the community, helping the dying towards the inevitable end of their being.
*Chung YN, Wong LY, Kiang N, et al. Knowledge, Attitudes, and Preferences of Advance Decisions, End-of-Life Care, and Place of Care and Death in Hong Kong. A Population-Based Telephone Survey of 1,067 Adults. Journal of the American Medical Directors Association. 2017 Feb 14.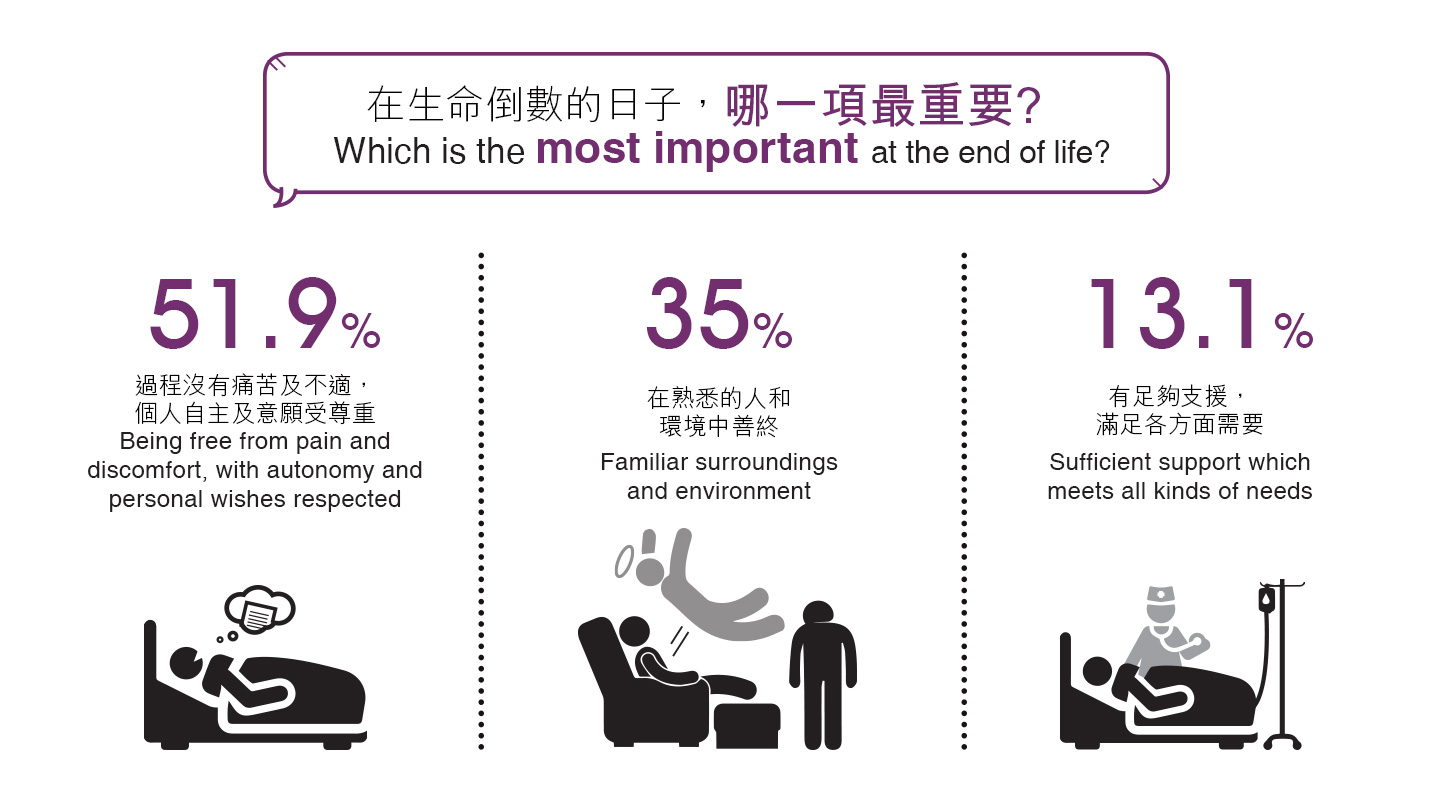 This article was originally published in No. 507, Newsletter in Nov 2017.