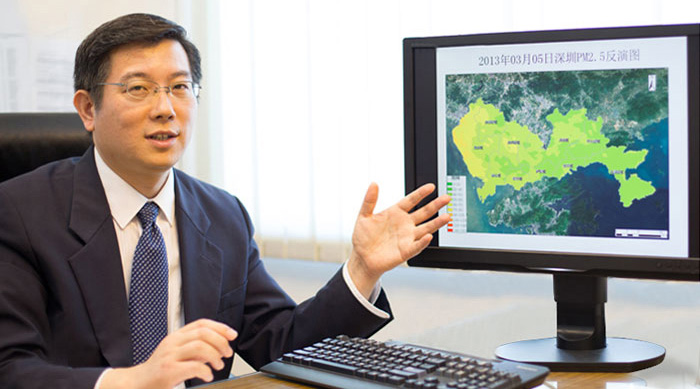 Prof. Huang Bo
Department of Geography and Resources Management
China's cities are booming – there are already more than 100 with a population of 1 million or more – and it is through a unique satellite-imaging system that they will develop. Challenges such as pollution and storms threaten their existence, and only seem to be getting worse and worse.
So it is through Prof. Huang Bo's system that city planners will be able to map out smart strategies for a city's growth. After three years of work, Professor Huang has created a revolutionary system that produces a "four-dimensional" high-resolution view of a city, something that will be used to plan the development of a new urban centre in southern China.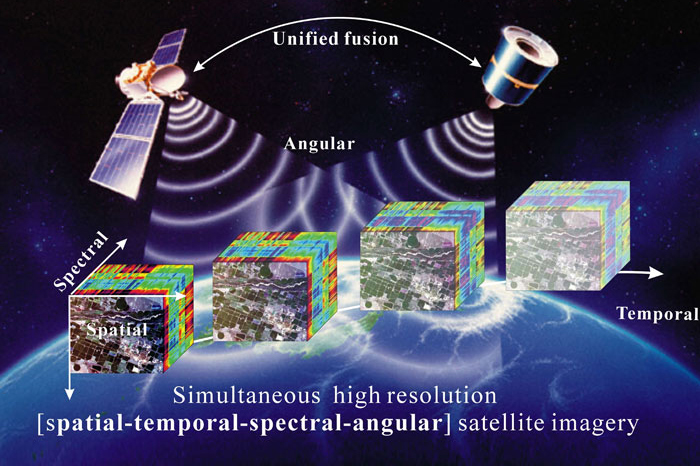 Professor Huang has invented a multi-layered system that uses two satellite sensors to create an evolving image of a place that maps space, time, different degrees of detail and different angles, instead of using just one satellite image to capture a picture of a particular place at a particular moment. The new method means you can see how a place is developing in much greater detail and much greater depth.
The technique involves combining different satellite systems into one, to create a more holistic picture of a place. Some satellite images may have great high-resolution detail but can only capture an image with a large lag in time. Other systems capture information much more quickly, but with less detail. And the weather can disrupt the best of satellite systems if cloud cover or pollution is too heavy.
Professor Huang and his team have worked out how to integrate numerous satellite feeds into one data-rich image. By using images taken from different angles, the system can also create a three-dimensional image of a place, rather than the typical two-dimensional map. By using many sources of information, it creates images with much more information and even when the weather is not cooperating.
Professor Huang won a two-year research grant in late November from Nansha, a district of Guangzhou, in the province just across the border from Hong Kong. The two-year contract, worth around RMB 6 million, will see his team generate a comprehensive plan for the development of the city, a so-called "urban resilience" model.
Nansha has its own particular challenges. It is vulnerable to typhoons, and is also being cloaked in the pollution that afflicts the Pearl River Delta. The plan will examine environmental protections, disaster mitigation, urban development, social issues and the expected growth of the city to ensure that it grows in the right way.
"It could be used to save people's lives, and prevent economic loss," says Professor Huang, "by preventing disaster damage." Sensible land planning and modelling of the changing rate and patterns of urban growth will also lead to more informed city planning. Nansha will know where it should place train stations, bus stops, public amenities, and where to allow private development.
It was after a stint in Canada that Professor Huang returned to China, and realized that the kind of remote-sensing technology he is using could play a major role in both the urbanization of China and solving some of its well-documented environmental problems. Combining satellite images creates a more efficient, cost-effective way of monitoring such issues over time.
"It has a lot of advantages, in that it has big coverage and is not limited by environmental considerations," Professor Huang explains. "You can't always go to the peak of a mountain to measure air quality."
Such technology can be used to monitor and forecast the growth of a city, but also issues as varied as environmental damage, oil spills, hill fires, traffic flow and land use. China has been at the forefront of adopting such technology as it maps out places such as Nansha, a special development zone of Guangzhou that is keen to implement the newest strategies in urban development.
"They are interested in ecological urban planning and more advanced planning technology," Professor Huang notes.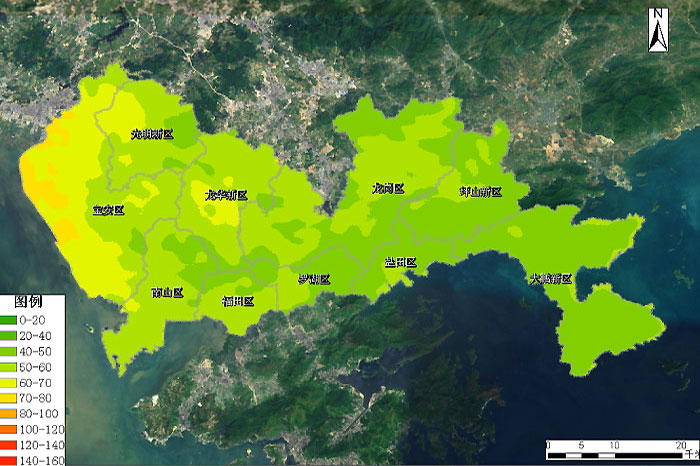 Professor Huang, who holds a post in the Department of Geography and Resources Management, has also developed an app that will allow Hong Kongers to check environmental data such as pollution levels or heat hotspots, wherever they are in the city. For now, Hong Kong uses a system of 14 environmental-monitoring stations that report data on criteria such as the level of particulate matter in the air.
The app will make such information much more available and much more inclusive, potentially also increasing awareness of issues such as pollution. It can also monitor the information continuously rather than taking a single snapshot at a time.
"It will make it more convenient for the general public to access environmental data that is closely related to their life," Professor Huang says.
By Alex Frew McMillan
This article was originally published on CUHK Homepage in Feb 2014.