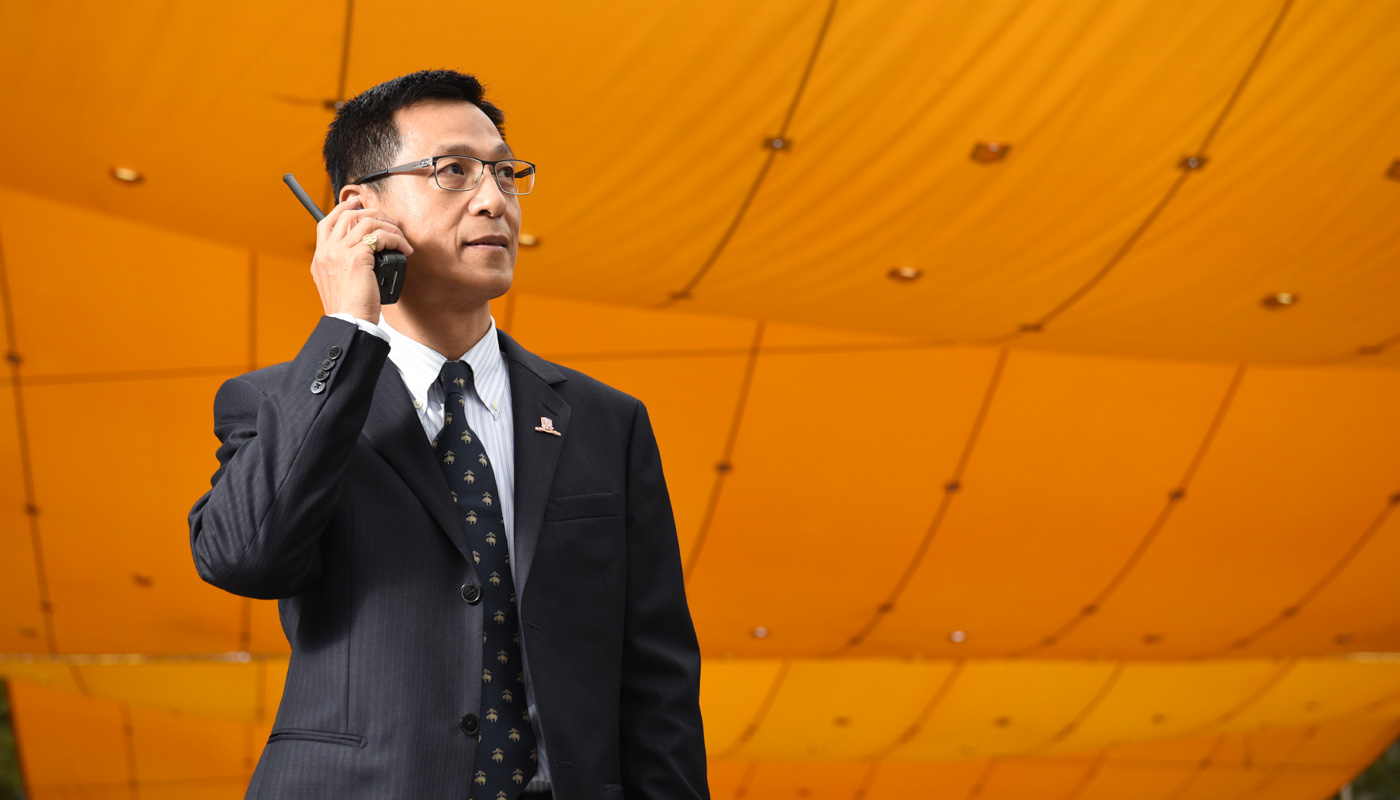 Mr. Simon Lee
Director of Security and Transport
You've been at CUHK for six months. How are you adjusting to the new environment?
I joined CUHK in May this year. During the summer holidays, the campus was relatively quiet and I was able to take my time settling down, touching base with the University's administrative departments and the Colleges, reading the files and picking up my duties before the start of a new school year. Though I have never worked in a tertiary institution, I can apply my previous experience and knowledge of working at police districts in areas of security management, planning and operation to my new role here.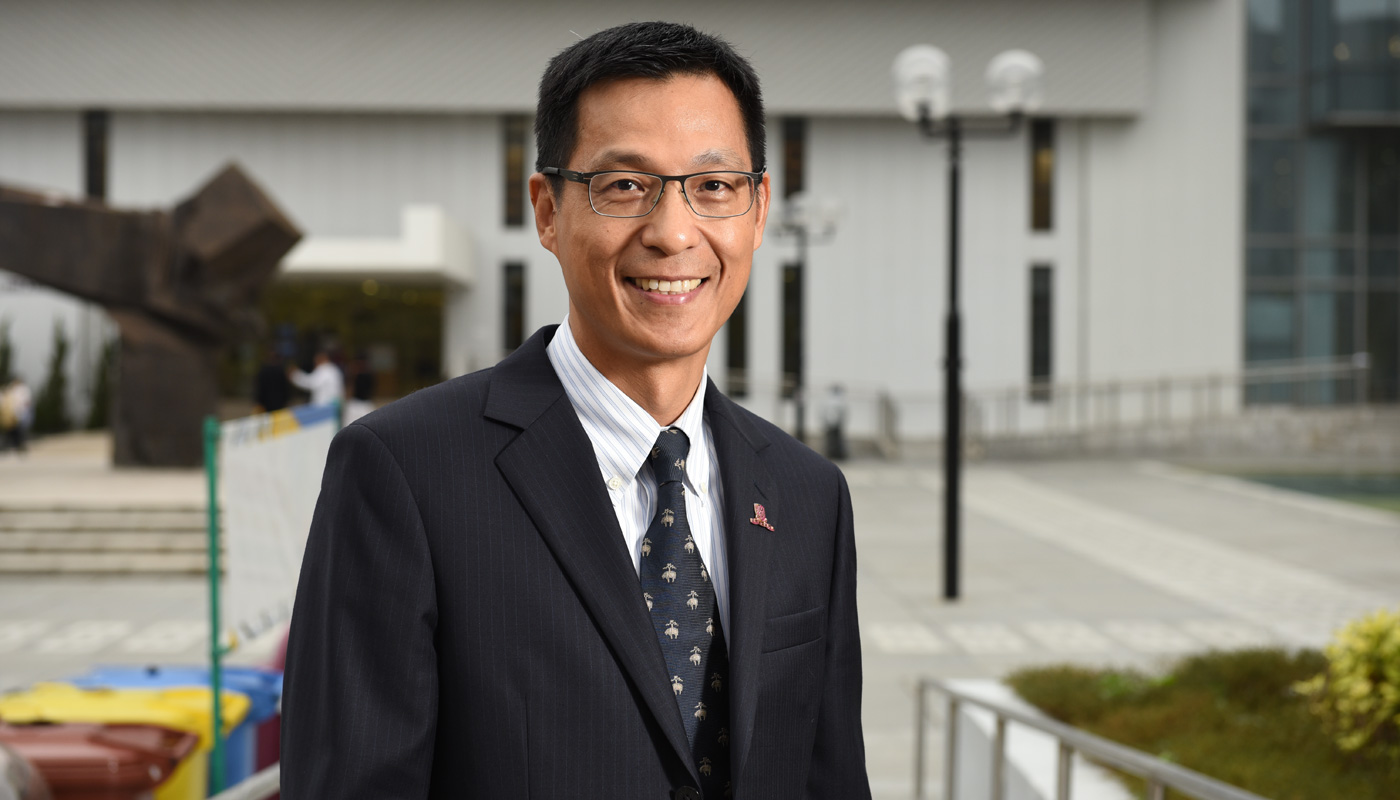 Does personality affect career choice, or vice versa?
I am a very curious person who is always alert and likes to get to the bottom of things. I like to plan my travel itinerary in great detail, and follow it step by step. I also enjoy having frontline experience, so that I will have an idea whether proposals submitted by my colleagues are practical or not and can come up with alternatives. As for established policies, I tend to find out the underlying rationale and seek room for improvement.
Have you visited every corner of the vast CUHK campus? What do you usually observe?
I have been to almost everywhere. I often spend my lunch hour driving or walking through every College and cluster of buildings. I even tried all bus routes. Now, I am familiar with the detour next to the Pommerenke Student Centre and how the Lee Shau Kee Building connects to United College. Wherever I go, I would observe the transportation network, whether signages and directions are clear enough, and pay attention to security measures of various facilities and buildings.
Any new initiative after assuming your new position?
I don't want to make changes just for the sake of it. Nevertheless, it's necessary to keep up with external changes that pose new challenges to work on campus. To make new initiatives successful, we need the participation of our colleagues and their identification with the objectives. I believe if we start tackling the problems at their roots, and then revise procedures and systems of established policies and optimize the use of existing resources to enhance the quality of our services, we will receive more appreciation and fewer complaints from our end-users. Job satisfaction will boost team morale and we will be even more zealous about our work.
Can you tell us about the challenges of traffic management and its related measures?
Here at CUHK, we have more than 160 buildings with nearly 30,000 people and 3,500 to 4,000 vehicles coming in and out of campus every day. There are more than 3,100 vehicles with parking permits and 30 to 40 shuttle and meet-class buses serving 12 routes. Everyone is in a hurry to go to class, work or meetings. We have the largest campus in Hong Kong and our traffic flow is nearly saturated. We need a sophisticated and flexible system for campus transportation. For this, I re-arranged bus routes, giving them numbers, colours and names such as 'Main Campus Line', 'NA–UC Line', etc. Luggage size guidelines and vehicle types are now clearly indicated on all buses, and luggage-allowed vehicles are now arranged to run for all shuttle routes on campus. Last but not least, data on the number of passengers are collected for planning shuttle bus services at night.
How about security?
When I joined CUHK, the four-year undergraduate curriculum had been implemented for three years. It was time to evaluate the security policy in response to the increased population on campus. I suggested re-structuring the security forces through internal transfer and carefully calculated manpower increase. In addition to the three patrol teams and one administrative support team, a new operational support team of about 10 members has been added to strengthen campus patrol, transportation and crowd management, and crime prevention, etc. The ultimate objective is to enhance the readiness, ability, as well as professionalism and proactiveness within our office, in order to make the campus a safer place.
Is exercising the only hobby you have?
I jog, I cycle, and I am also a hi-fi fanatic. I enjoy assembling audio components to improve the sound effects at home. I like to test the sound effects with vocals and percussion music, as the latter is ususally rousing with a propensity for low pitches. This hobby costs money, but since I'm enjoying it at home, my wife no doubt supports me.
This article was originally published in No. 469/470, Newsletter in Dec 2015.