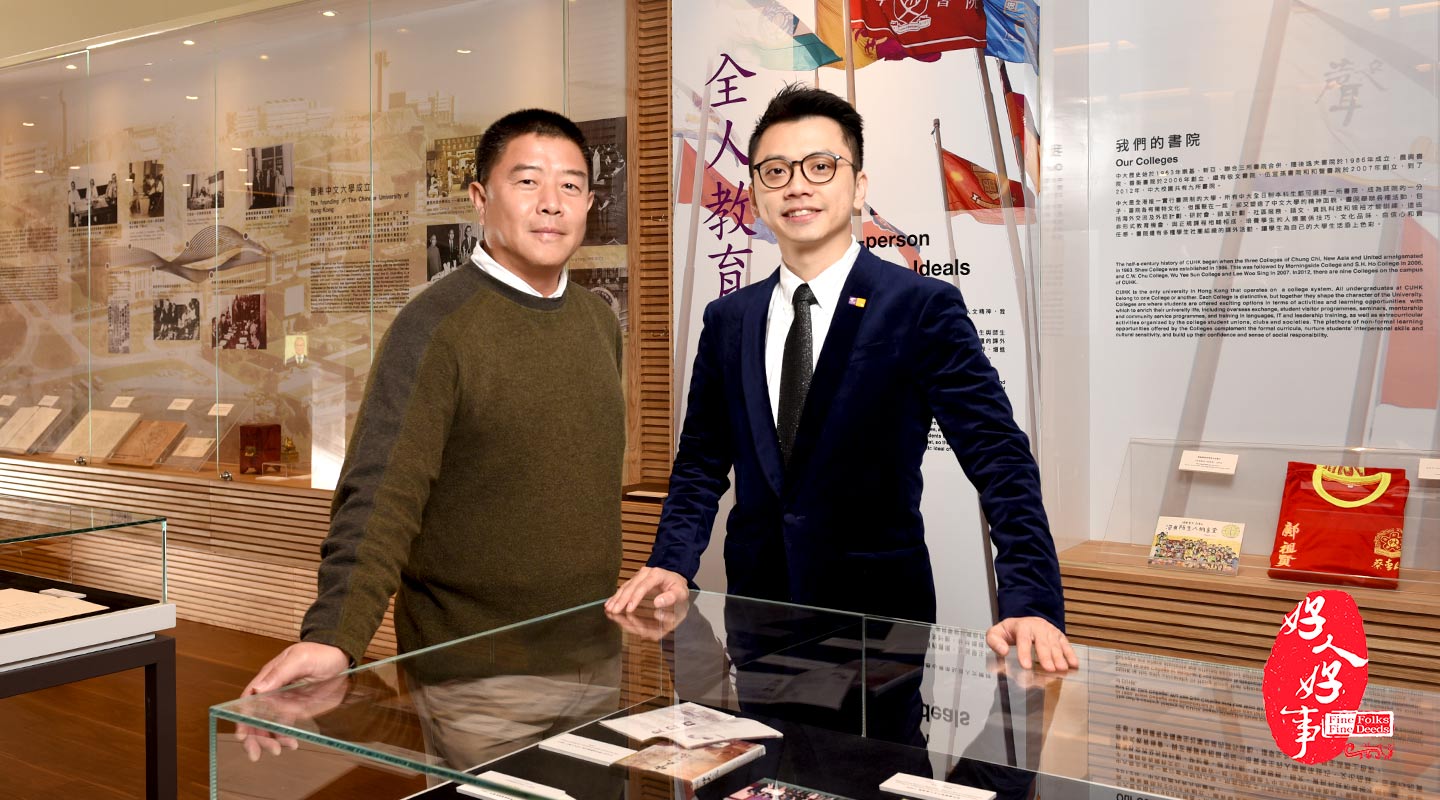 Close to 10,000 graduates of CUHK have contributed a total of over $4 million to their alma mater through the Graduate Class Gift Campaign since it was launched in 2004. The major beneficiary is the I•CARE Programme which comprises a wide range of social and civic engagement initiatives for the promotion of student's social and civic engagement.
Five-time Donor
Among the donors are graduates who obtained more than one academic degree from CUHK, an exemplary figure being Stephen Li, an Accounting graduate in 1984. He went on to pursue an EMBA (2006) and three Master's degrees in Japanese Studies (2009), Sustainable Tourism (2013), and Sports Medicine and Health Science (2013), all at CUHK, and made a donation to his alma mater upon each graduation. Currently he's reading a doctoral programme in laws at Renmin University of China.
'I finished my undergraduate studies with the help of government grants and loans. Paying back to society is the right thing to do,' Stephen says. He's impressed with the University's emphasis on general education and the caring environment it provided. 'Starting from the first day of the orientation camp, we had been exposed to issues of social concern and national affairs. We were guided by the camp group leaders during our course of study and had become friends since then.'
It will be wrong to assume that Stephen must have been career-driven to earn six degrees within three decades. A director of a Japanese sports equipment company at the peak of his career, Stephen chose to step down at the age of 43 and devoted himself fully to volunteer work and further studies so that he could better serve the community.
From Concrete Forest to Fields
Stephen attributed his early 'retirement' to the upward mobility generally enjoyed by baby-boomer graduates in the 1980s, which enabled them to attain financial stability by middle age. 'I would certainly have more money if I worked for 10 more years, but then I wouldn't be as fit as in my forties.' He has joined the Bridge to China project since 2009 to build bridges, roads and anti-seismic rammed earth structures in the impoverished provinces of Yunnan, Gansu and Sichuan. As an active member of the Maitian Education Foundation, he helps children in the mountain region with access to education. Since 2012, he has stationed in Mianyang to run the Sichuan Youth Quality Training Project of the Scout Association of Hong Kong.
In an interview four years ago, Stephen said he had already spent about three-quarters of his savings. What about now? 'l would say there's not much left. I've tried to get a job but just couldn't squeeze time from my packed voluntary work schedule.' While insurance ads keep bombarding us about how much money one needs in order to retire, he remains unconvinced and worry-free.
'We need to keep learning, and widen our scope of learning for a broader perspective and a more accommodating attitude,' he says. 'As a trainer for the youths, I must be a role model to demonstrate how lifelong learning and selfempowerment can make an impact.'
Stephen's list of self-empowerment is an awesome one. His academic pursuits were seamlessly planned to encompass a broad spectrum of humanistic, business, social sciences, legal and medical knowledge. He has certificates and training qualifications in canoeing, recreation management, rope netting and first aid, holds a full array of driving licenses, and is a qualified tour guide. 'It's not easy to get a full-time job at my age now, but I can always earn a simple living by working part-time as a coach, company doctor or translator.' He jokes that if World War III breaks out, he will be the one to survive. His sense of security does not come from the bank statements but his abilities, and his sense of achievement not from materialistic enjoyment, but from serving the underprivileged and grooming the young.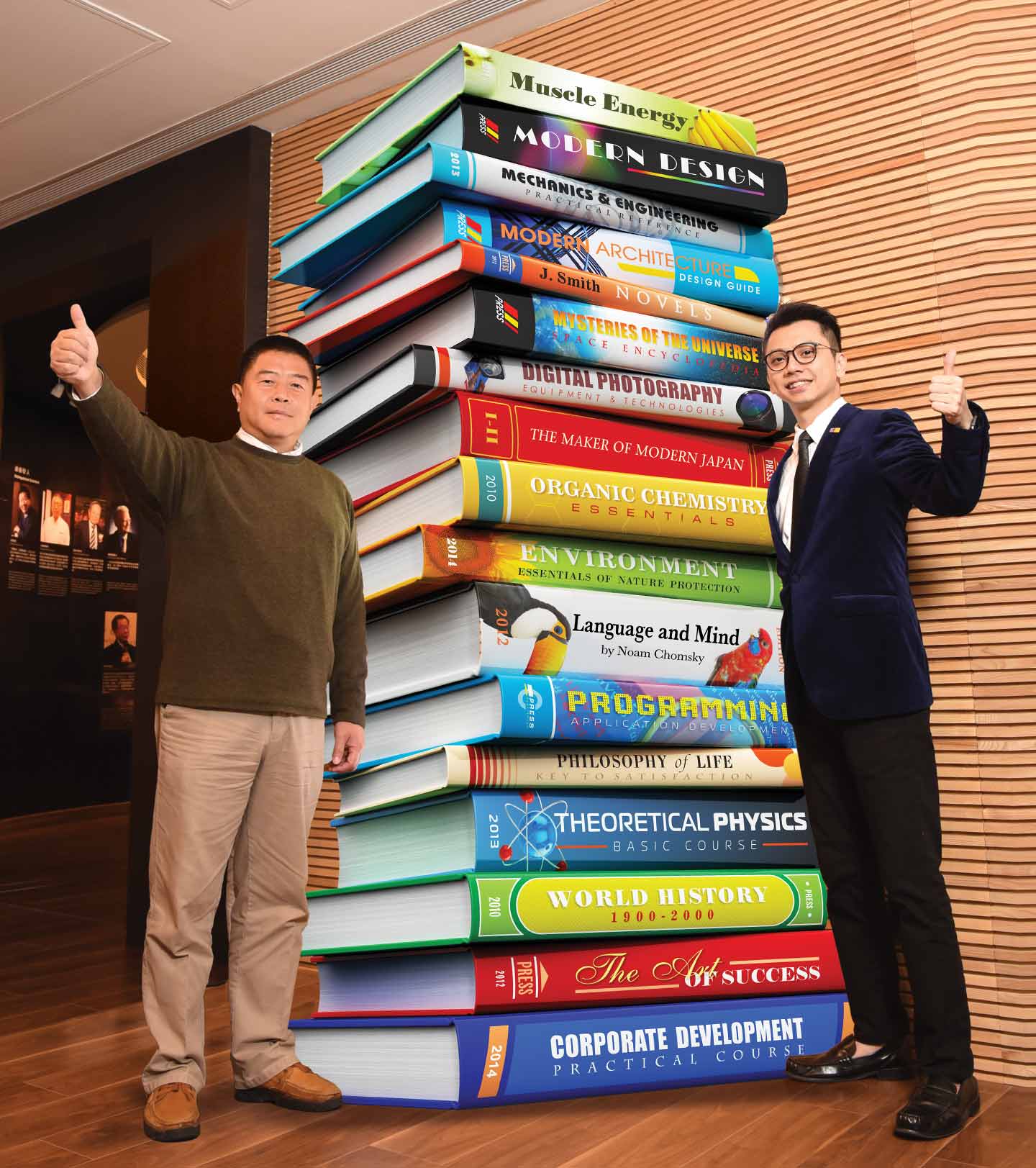 From Bottom to Top
Jeffrey Hui graduated from the Faculty of Business Administration in 2005. His mother worked at the University Library when she was pregnant so he proudly claims that he's already a CUHK member before he was born. 'I used to sketch on paper while waiting with Dad to take Mommy home. My father is a CUHK alumnus, and so is my sister. The Graduation Class Gift Campaign was launched when I graduated. I found enriching students' campus life meaningful, so I made a donation.'
Jeffrey suffered from bipolar disorder in his freshman year and failed to concentrate on studying. He applied for a summer exchange programme which set the minimum GPA requirement at 3.0. His was only 2.83, but to his surprise, Chung Chi College not only granted him an exemption, but also offered him a scholarship for academic exchange at UC Berkeley. 'Besides working hard on your own, you also need the support from people around you. I felt being cared about by teachers and people on campus when I was down. In the end, I overcame the adversities and regained interest in my studies.'
After graduation, Jeffrey obtained a Master's degree in Linguistics at the University of Hong Kong, then returned to CUHK for an EMBA and graduated with straight A's and a GPA of 4.0. Later on he completed a doctoral programme in education at the University of Bristol in the UK. 'If I were not given the opportunities and encouragement at CUHK, I think I would still be struggling at the bottom. What CUHK impresses me most is that it nurtures the elites without giving up the not-so-elites, or withdrawing resources from less popular programmes to improve the University's rankings. Education means so much to me that I want to play a role in it.' This is reflected in his shift from marketing, business strategy consultant to education. Besides teaching business programmes at several local higher education institutions, he's also a renowned corporate trainer.
Crossing the Boundaries
Teaching is no new business to Jeffrey. He studied in a Chinese primary school but entered the English-speaking La Salle College. He scored zero in English dictation term average in Form 1, and was sent to the remedial class. By Form 4, he had made great progress and became first in the arts and business stream. That gave him confidence to teach students in Form 3. 'You learn through teaching. When you need to clarify a concept, you will come to know it inside-out. To me, teaching is an art. I design different methodologies to suit students' different characters and abilities. I can teach the left-right circle theory for a thousand times without repeating myself. I'm trying to integrate social responsibility into the teaching of business subjects, and remind my students to think beyond money.'
He attempted to achieve complementarity between private tutorials and school classes when he taught in a tutorial centre, and had to admit that an exam-oriented education fails to inspire students. He established Phoenix Intellectuals Foundation, a charitable education organization, in 2013. It teaches the theory and practice of business management and aims at enhancing students' personal development through learning and volunteer service. The logo of the foundation is a phoenix which is also present in the CUHK emblem, and whose story of perseverance and rebirth after fire he finds inspiring.
Dubbed as a 'pragmatic business educator', Jeffrey has adjusted his education focus again recently. 'I have taught for more than 10 years and found that people have become more utilitarian. Year-1 students are already obsessed with getting a lucrative job and moving up the career ladder. Maybe we should advance whole-person education to senior primary or junior secondary levels.' He has opened his own education centre carrying the slogan of 'more than scoring high', using good grades as an incentive. 'I give tutorials in the Chinese and English languages, help my students to do well in exams, and then offer them general education as supplements. One-o'-one classes in history, western civilization and law are given by retired professors. As a teacher, the KPI is not how much money you make, but how you widen the vision of your students.'
Like Stephen, Jeffrey takes a comprehensive approach to studies. 'I explore each new discipline with the target of acquiring a new mindset to free me from the confinement of one single discipline.' His alias 'Ling Yuyi', meaning 'from zero to one', alludes to crossing the boundaries of disciplines and straddling the line between the void and the concrete, and theory and practice. Stephen offers his interpretation: 'The midpoint between zero and one is where they embrace each other. Knowledge is always compartmentalized for the sake of convenient dissemination. But we need to integrate different fields of knowledge in facing life's challenges. It is my wish that CUHK will be able to turn knowledge into life's wisdom. After all, education means development and growth.'
By S. Lo, ISO
This article was originally published in No. 495, Newsletter in Apr 2017.