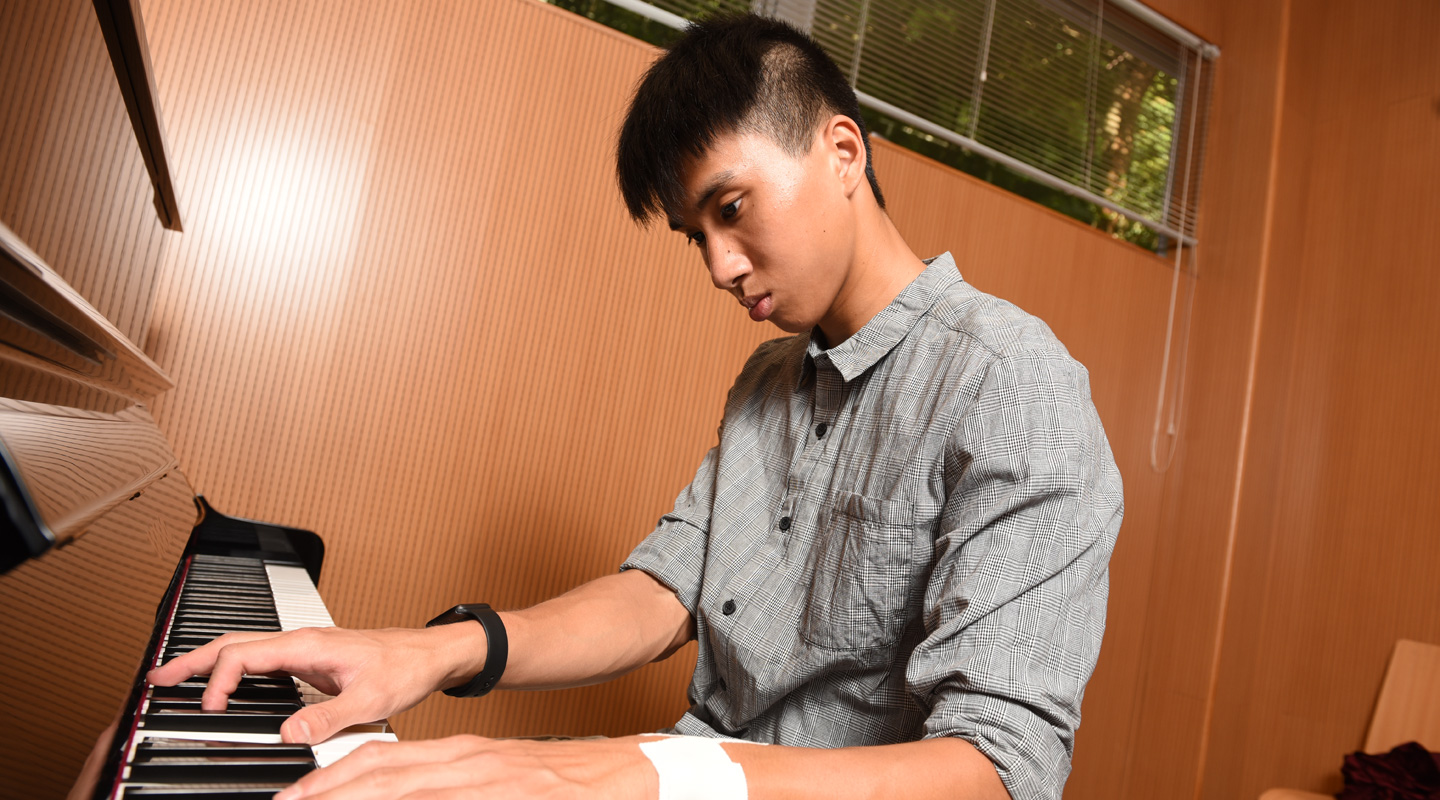 Hanniel Chow
Year 3 Student from Department of Psychology
Student of Wu Yee Sun College
Hong Kong's Youth Record Holder of the Men's 3,000-Metre Steeplechase and 4×1,500 Metres Relay
Recipient of the HSBC Overseas Scholarship
You play the piano really well. Is your musical talent the result of relentless training since tender age?
I started learning piano during primary school but it's only until recently that I sat for the performer's certificate exam. That's a bit behind schedule and it's all because of my prankish behaviour when I was a kid. Every time my mum left home, she would instruct me to practise the piano. But I whiled away time playing electronic games instead and would only start to practise a few minutes before she arrived home. I used to think that it was really smart of me to have pulled a trick on mum like that. But now I've got to say the procrastination is all my own doing. All I can do now is to make up for the time lost. Back then, I was frequently punished for my monkeying around, and poor mum and dad had to meet my teachers regularly on that account.
When did you start to get your act together?
I started to apply myself academically when I was in Form 3. I suppose I was then mature enough to appreciate the fact that it is always better to win people's praise by honing my talent, rather than courting attention with childish acts. The famous line in Spider Man 'with great power comes great responsibility' has been an inspiration to me. When I've got the chance to extend my potential in music, studies and sports, I must ask myself what my responsibility is and how I can serve society with my skills.
Everyone knows how successful you are, but have you ever suffered any setbacks?
Of course, yes. I had always wanted to become a physician but my JUPAS score was one point short of the minimum requirement for medicine. It was like the end of the world for me. Eventually, I chose psychology as my major. Although my grades were good enough for transfer to medicine, I realized that healing the heart is as important as healing the body, and therefore I opted to remain in the psychology department.
I have been dealt some heavy blows on the track and field side. Once I went to Canada for training, but was later disqualified for violating the rules for clearing hurdles. After that, I ratcheted up my hurdles training, and beefed up on knowledge about sports psychology. All this finally concluded in my breaking the Hong Kong youth record for 3,000-metre hurdles. Victory is certainly exhilarating, but I also understand that failure is necessary and it isn't always 'disastrous', no matter how much you detest it. Failure can direct me to go down a more suitable path, or drive me to perfection.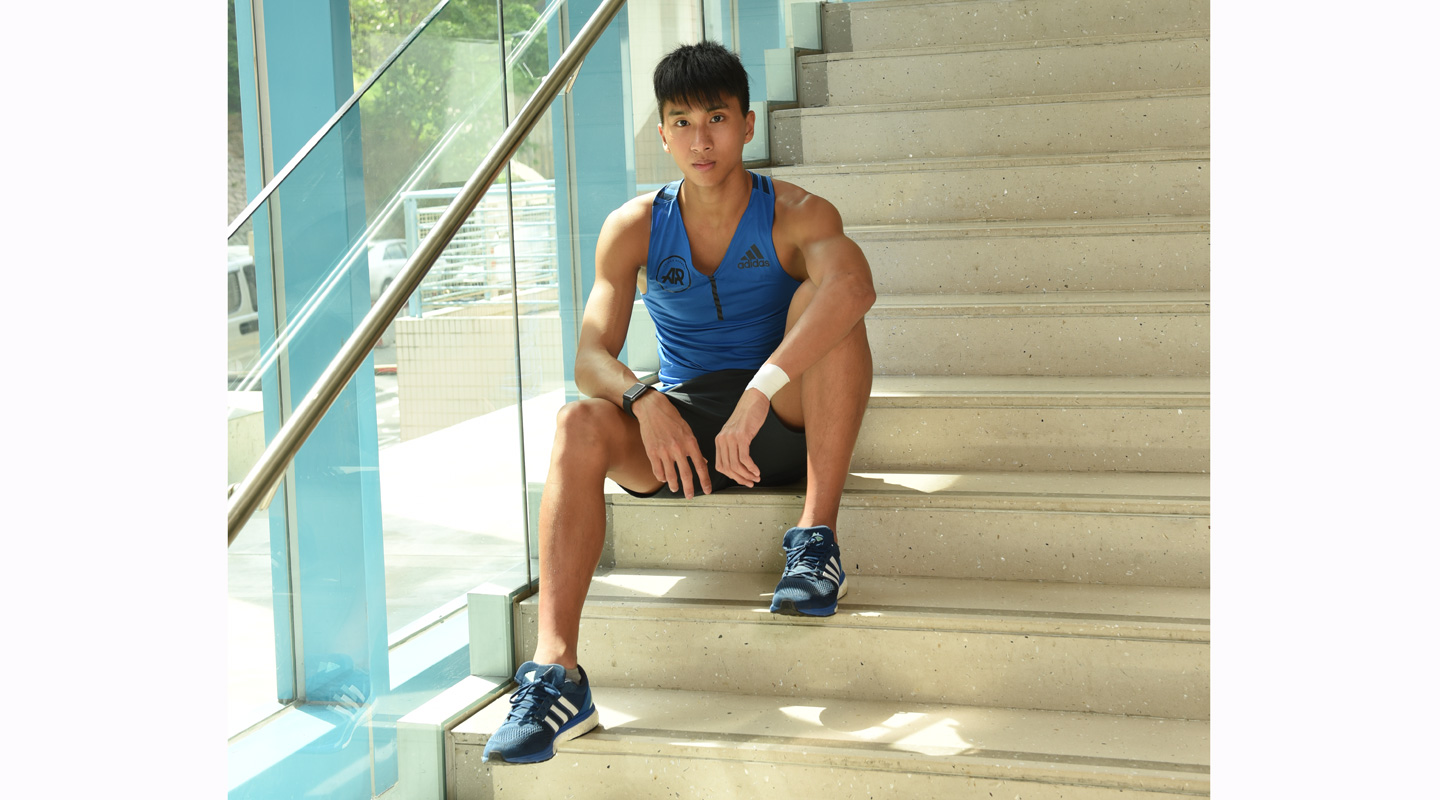 How do you handle stress?
Once I had been studying for a few days on end when preparing for my final exams. One day I woke up with a mental block that seemed to sap my energy. I allowed myself the rare luxury of a 10-hour sleep in the run-up to the exams. We all go through some emotional lows every now and then. Ever since then, I have been more alert to the early signs of emotional stress, which remind me to adjust my attitude and pace. I am also a more empathetic listener as a result.
What kind of support has Wu Yee Sun College afforded you?
The College sponsored my participation in the national games in Canada and my community service trip to Cambodia. It also presented me with the Gold Prize for Outstanding Athletic Achievements Award. I was so flattered. I have to thank the staff of Wu Yee Sun College, especially Prof. Rance Lee, the former College Master, who was always amiable and ready to offer me his time and words of encouragement. Mr. Lam Kwok-tong was such a caring teacher who gave me a lot of guidance. I am proud of being a member of the College.
The HSBC Scholarship will finance your exchange to UCLA, and how are you going to make good use of this hard-won opportunity?
First, I would try my best to reach out to the staff and students at UCLA and make friends with people from different backgrounds. Both CUHK and Wu Yee Sun College set great store by entrepreneurship. Besides psychology, I would also like to learn more about running a business at the business school. I minor in music and my aspiration is to become a music therapist. I'd love to set up my own music therapy centre and recruit the best psychologists and music therapists, so that more people can get the treatment they need. I also hope that part of the profits can be set aside to provide subsidized therapy for low-income individuals. I will prepare myself and make the best of the opportunity to realize my dream.
This article was originally published in No. 504, Newsletter in Oct 2017.