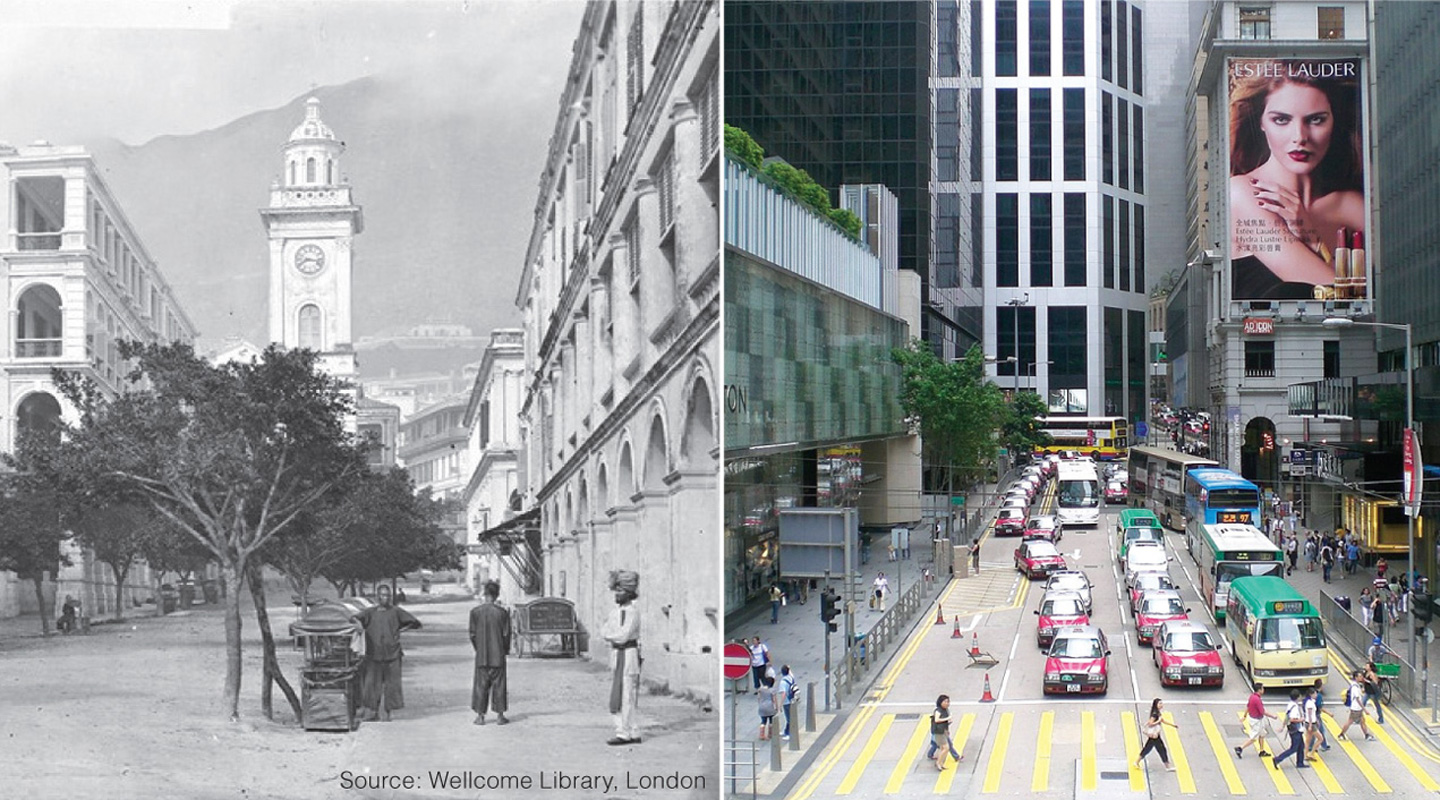 Smartphones enable easy photographing nowadays. It's hard to imagine the Scottish photographer John Thomson's (1837–1921) laborious work bringing his wooden-box camera, a bulky tripod and glass negatives to photograph colonial Hong Kong 150 years ago. To pamper my curiosity, I visited the 'Hong Kong Through the Lens of John Thomson' exhibition held at the CUHK Library.
Arriving at the exhibition area, I was struck by the sharpness of these 150-year-old images on exhibit. 'This is the uniqueness of wet plate collodion photography,' said Ms. Li Lai-fong, Sub-Librarian and Head of Special Collections of the Library. Before taking photos, the photographer pours collodion solution onto a glass negative, which is kept wet from image capturing to developing. The process is quite a challenge. It has only minutes to take the photo and develop it before the negative dries. And dusts may settle on the glass negative while collodion is being poured, resulting in grains and spots in the final photograph. But images produced by this process enjoy greater sharpness and clarity than paper negatives.
Thomson set up a studio on Queen's Road Central in 1868 and took many urban photos in the next two years. To help the audience understand the city's past and present, the exhibition shows Thomson's 14 photos kept at London's Wellcome Library alongside 12 colour photos commissioned by The Photographic Heritage Foundation (TPHF) in recent years. It also features some Hong Kong old photos and postcards in the CUHK Library collection.
I stood in front of the juxtaposed distant and recent images of Pedder Street for some time. TPHF's colour photo simmers with the hustle and bustle of the commercial district familiar to us, whereas Thomson's photo shows an outlandish but serene boulevard with a bell tower and Victorian buildings, as well as Chinese sedan chair bearers waiting for patrons and Indian guards stationing in the area. The two photos, as indeed all the others in the exhibition, are parentheses to 150 years of Hong Kong.
The 'Hong Kong Through the Lens of John Thomson' exhibition is now on until 30 April at the exhibition area of the University Library. Admission is free. Enquiries: 3943 7305 / spc@lib.cuhk.edu.hk.
J. Lau
This article was originally published in No. 531, Newsletter in Jan 2019.