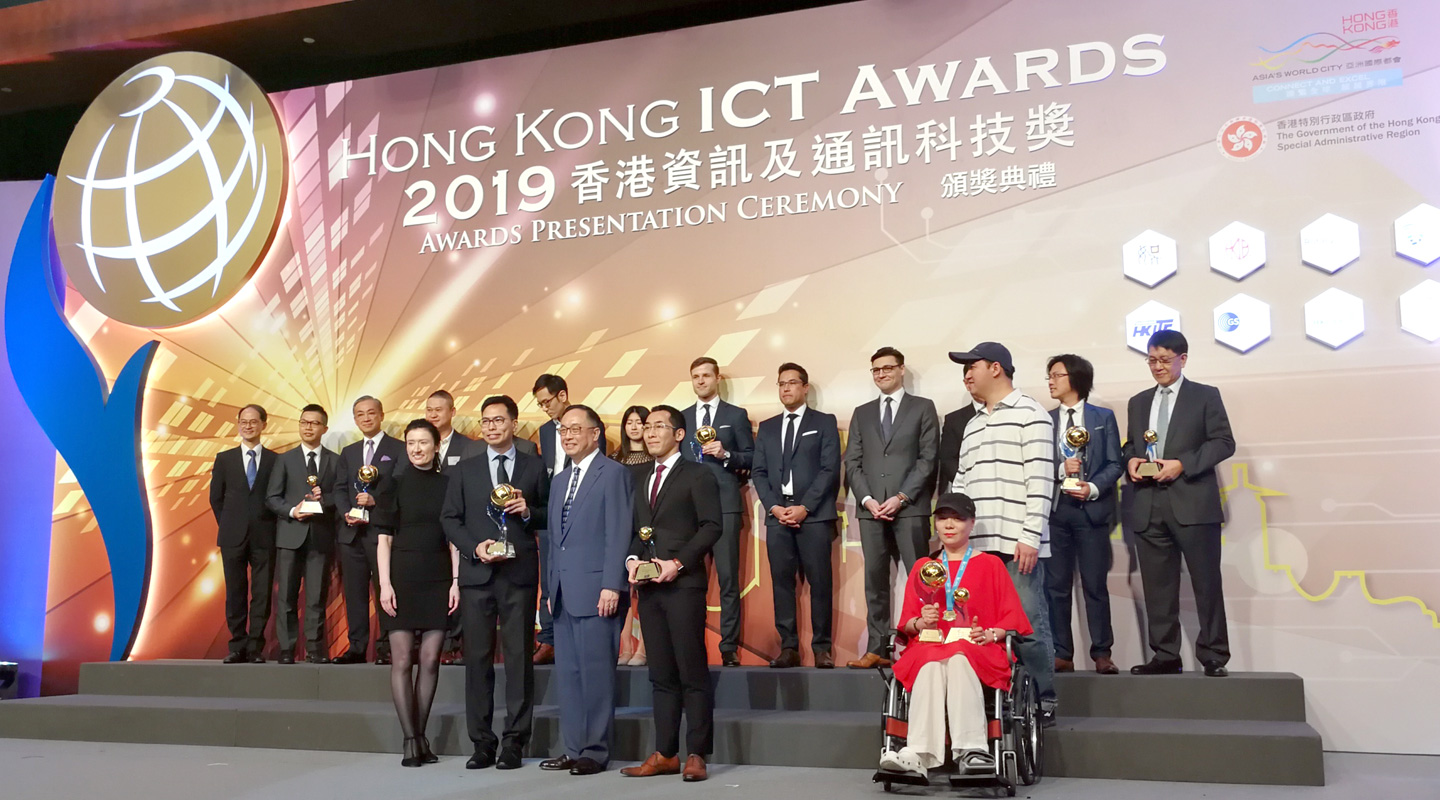 Three innovative Information and Communications Technology solutions led or developed by the professors and alumni of CUHK have won top awards in the Hong Kong ICT Awards 2019. Two alumni from the Department of Physics, Mr. Wong Wai-kin and Mr. Woo Wang-chun, developed an urban-scale nowcasting system, Short-range Warning of Intense Rainstorms in Localised Systems (SWIRLS), for the Hong Kong Observatory. The system won Smart Business Grand Award. SWIRLS, which provides forecasts of location, timing and intensity of rainfall and lightning hours ahead, can support operation of rainstorm forecasting and warning services.
ACE VR Ltd, founded by Prof. Christopher Leung (2nd from left, front row), the Department of Ophthalmology and Visual Sciences, won Smart Living Grand Award with its virtual reality headset which simulates day-to-day activities, e.g., supermarket shopping, stair navigation in daytime and nighttime, and visualises difficulties experienced by visually-impaired patients. The system thus allows clinical assessment of vision-related disability. Hong Kong Airport Authority, Center of Cyber Logistics, AISCL, CUHK and ubiZense Ltd developed the IoT-Augmented Airfield Service System which won Smart Mobility Grand Award. The system can monitor the real-time operations of flights and facilities and support managing preparatory tasks between arrivals and departures of flights, e.g., baggage handling and catering.
This article was originally published in No. 538, Newsletter in May 2019.