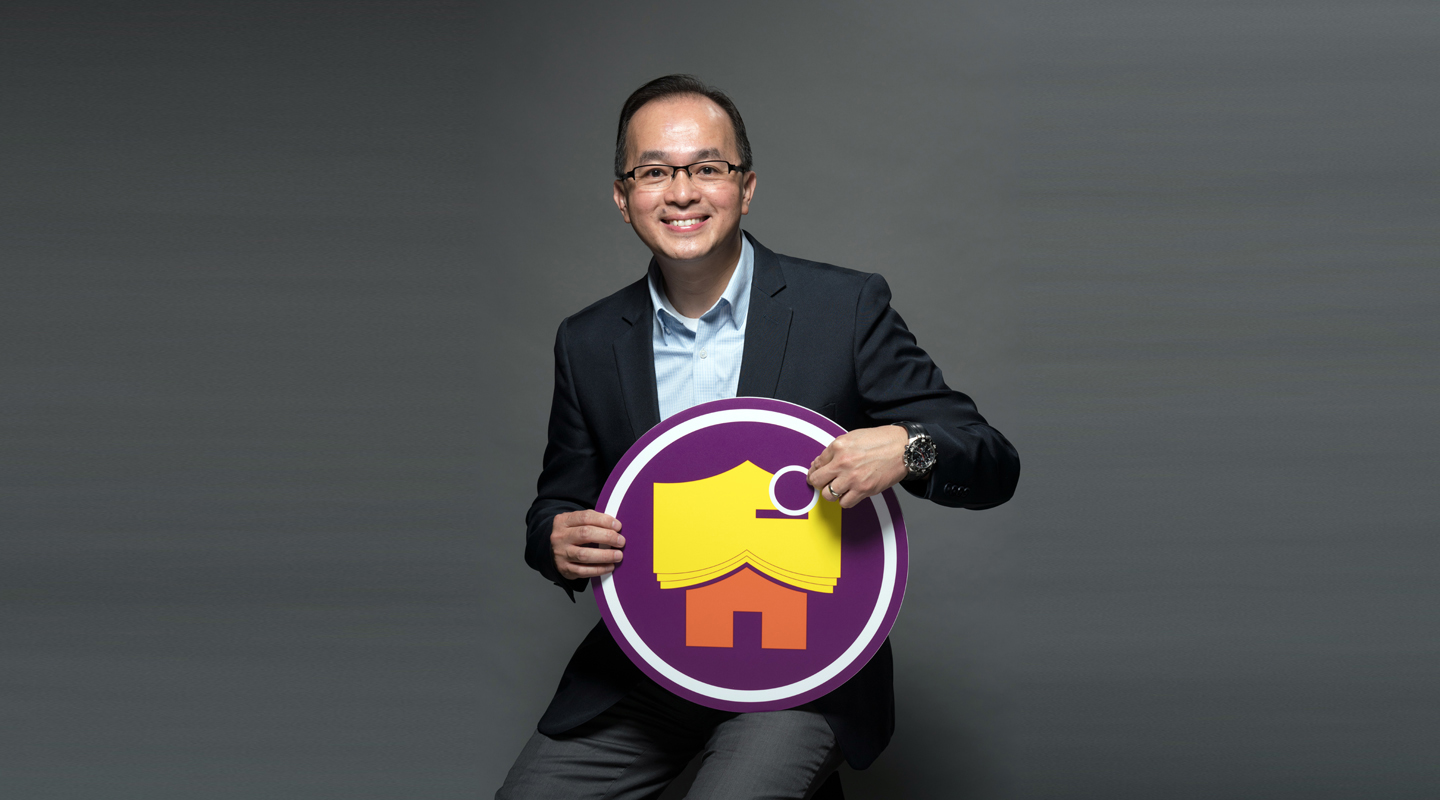 At the age of six, Warren Buffett earned his first pocket money by selling chewing gum. His sharp financial skills and investment acumen made him who he is today. His eye for returns may be exceptional, but financial literacy can be trained. This is why Prof. Alan Cheung spearheaded financial literacy education in Hong Kong primary schools.
'The financial literacy of children in Hong Kong is indeed inadequate,' Professor Cheung remarked. As chairman of the Department of Educational Administration and Policy and director of the Centre for University and School Partnership (CUSP) in the Faculty of Education, he has been working closely with kindergartens, primary and secondary schools over the years. 'To give a practical example, the lost and found boxes at schools are often stuffed with all kinds of things, the most common being stationery, clothes and school items. This shows students do not take good care of their own belongings. Few of them actually go and collect their lost items, because parents will buy them new ones.
'With electronic payment growing popular, children have an even weaker concept of money. Frontline staff of primary schools have told me that a lot of pupils use the Octopus card arbitrarily. Before the balance dries up, it will get miraculously topped up by the parents. Overconsumption is also prevalent when students go on academic exchange overseas,' Professor Cheung said.
In 2018, the Investor and Financial Education Council (IFEC) conducted a Parents and Kids Financial Capability Survey on 400 parents and primary school children in Hong Kong, investigating how parents taught their children about money, how well children understood it, and their daily financial habits. Two notable findings are that only 43% of the children recorded their daily expenses, and as many as 54% of them always lost their belongings.
The Organisation for Economic Co-operation and Development has incorporated financial literacy as one of the themes in the Programme for International Student Assessment. The UK and the US have also developed nationwide curriculum frameworks on financial literacy. On the contrary, there is no structured education in this regard in Hong Kong. As a result, the IFEC commissioned the CUSP to launch the Chin Family Financially Literate Schools Programme for primary school students.
Since the programme involves specialized financial knowledge, Prof. Terence Chong of the Department of Economics was called to co-chair the programme with Professor Cheung, directing curriculum development and monitoring its implementation.
Professor Chong pointed out that nowadays, many people can barely balance their income and expenditure, not to mention saving up for the future. 'Teaching financial literacy is a global trend. The earlier the children learn about basic finance, the better. I hope the programme can help children learn the appropriate concepts of money, and teach them to be grateful and not wasteful, as well as how to maximize outcomes with the least resources.'
Professor Cheung agreed. 'We can tell from the rise of loan advertisements in recent years. They claim that administrative procedures are easy, lenders do not have to appear in person, and the process can be completed in just a few minutes. We can imagine how many people are relying on loans to make ends meet.'
There is no lack of finance-related information or educational centres online and in the market, but their contents are oriented towards knowledge and skills. "Sustainable financial behaviour shall build upon virtues to be effective, like differentiating between needs and wants. Value-based education is therefore essential. This is also why the programme has a subheading called 'Wealth by Virtue'," reiterated Professor Cheung.
The programme is the first of its kind in Hong Kong integrating financial literacy and virtues education. Operated over a period of three years, the programme receives professional support from CUSP and assists 20 local primary schools in deepening their school-based curricula to cultivate a virtuous, financially literate atmosphere with a whole-school approach. The goal is to nurture them as financially literate schools and eventually centres of excellence for reference of other schools.
With reference to the learning framework of the IFEC, and incorporating the advice on virtues education of the programme's consultant Prof. Thomas Tse, the guiding framework of the programme consists of motivations, knowledge, behaviour, attitudes and skills as financial literacy, with which pupils are expected to be equipped, as well as the virtues of prudence, temperance, honesty, diligence and responsibility (see figure below).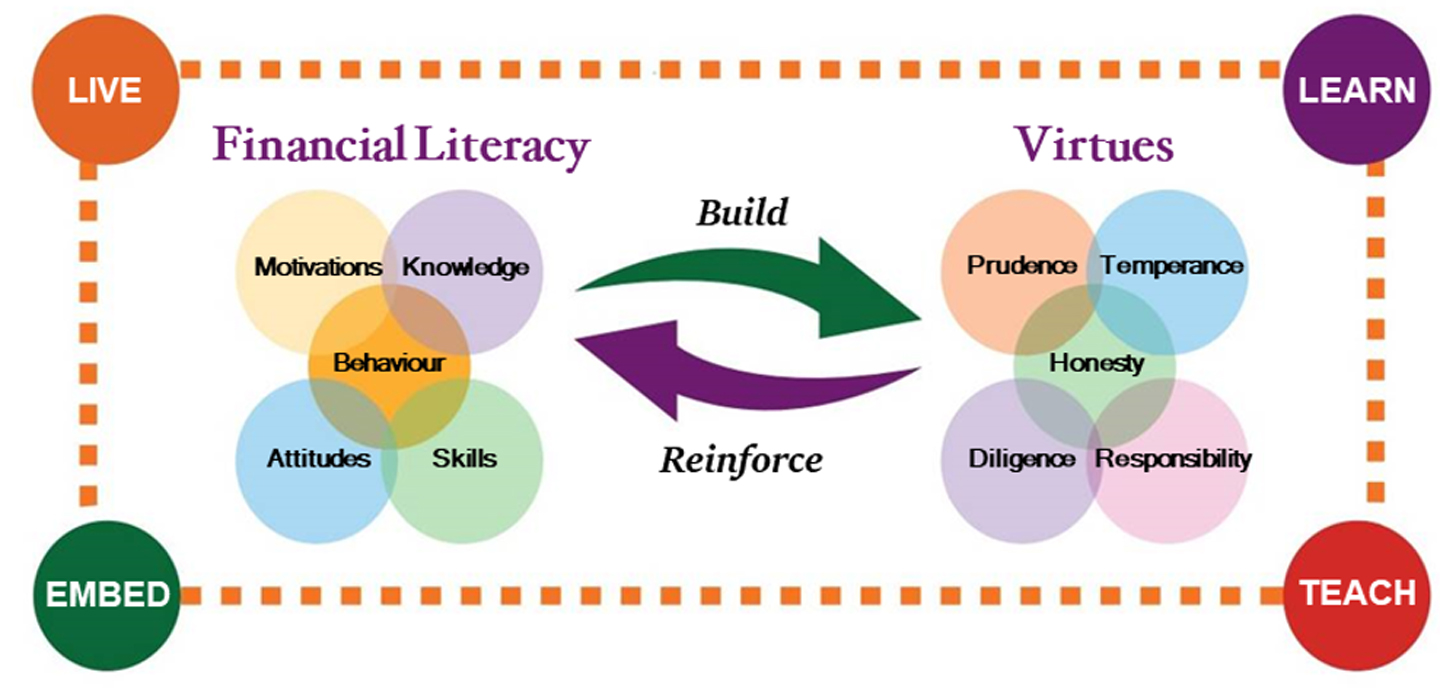 For instance, in terms of knowledge, students learn to count money, arrange coins and notes in order by value, and identify what money can do. In terms of motivation, students learn that happiness can be achieved not only by money, but by other aspects in life, such as friendship.
CUSP's School Development Officer collaborates with school teachers to develop the curricula according to the needs of the schools. Financial literacy and virtues education are incorporated into three levels of learning: the subject curricula of Chinese language, English language, mathematics and general studies, the non-academic curricula of extra-curricular activities and overseas exchange, as well as the environments of the campus and the classroom.
Take an example from one of the participating schools where Primary One students have to procure food supplies for a Green Christmas Party. In terms of language learning, students need to use the Chinese comma (、) to list their food items. In terms of financial literacy, students need to compare the advantages and disadvantages of buying food from convenience stores and determine what to buy by differentiating between needs and wants.
As another example of non-academic learning, a school organized a rich and poor men's banquet during lunch hours. To help students experience life in deprivation, lots will be drawn for a small group of students to feast on abundance while the rest diet on simple food. The activity builds empathy in students, and inspires them to care for others, reflect on the income gap, the reasons for donating to charity, and acknowledge that money is important in life but not the only source of happiness.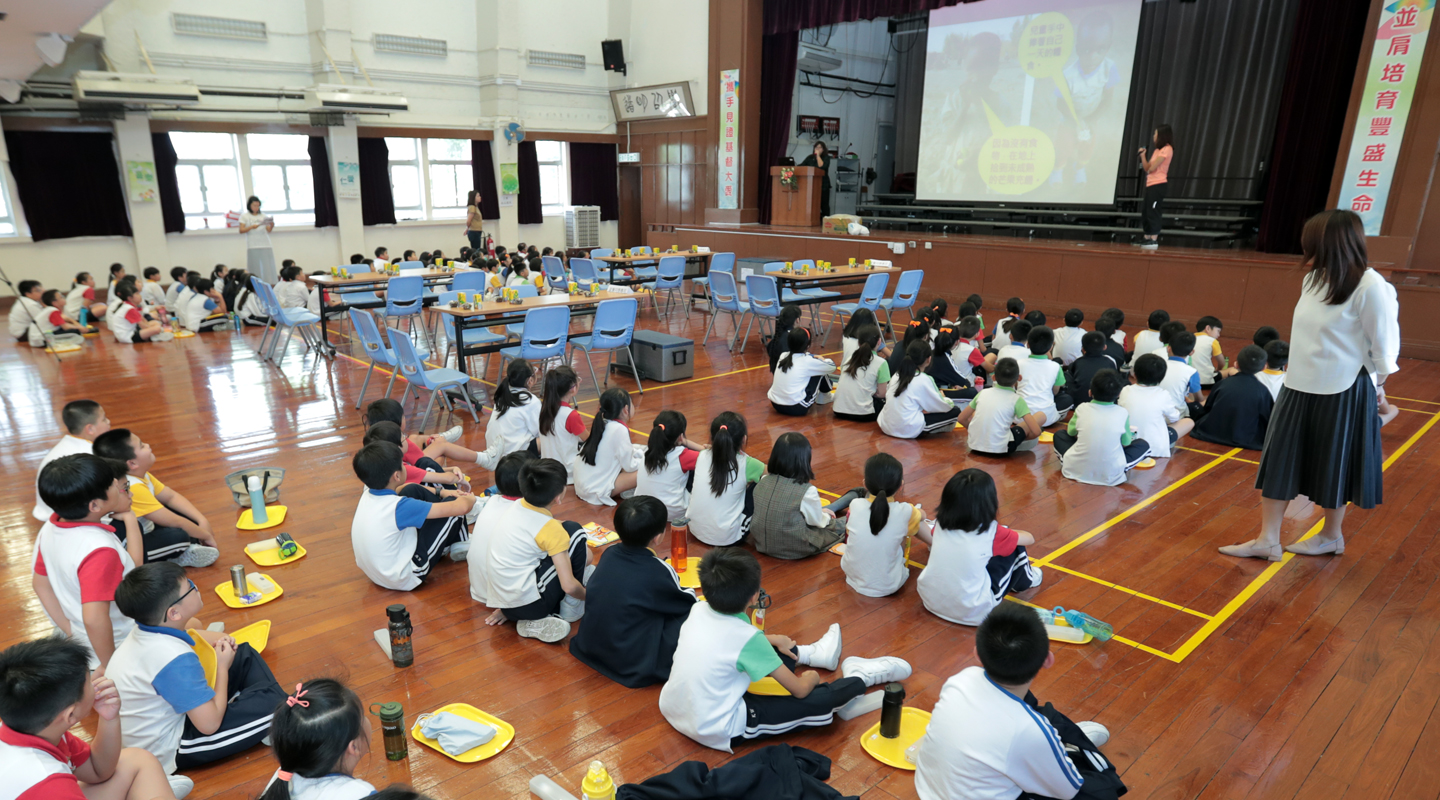 Schools also put up posters on campus and vending machines explaining the importance of conserving resources and reminding students not to use the Octopus card indiscriminately.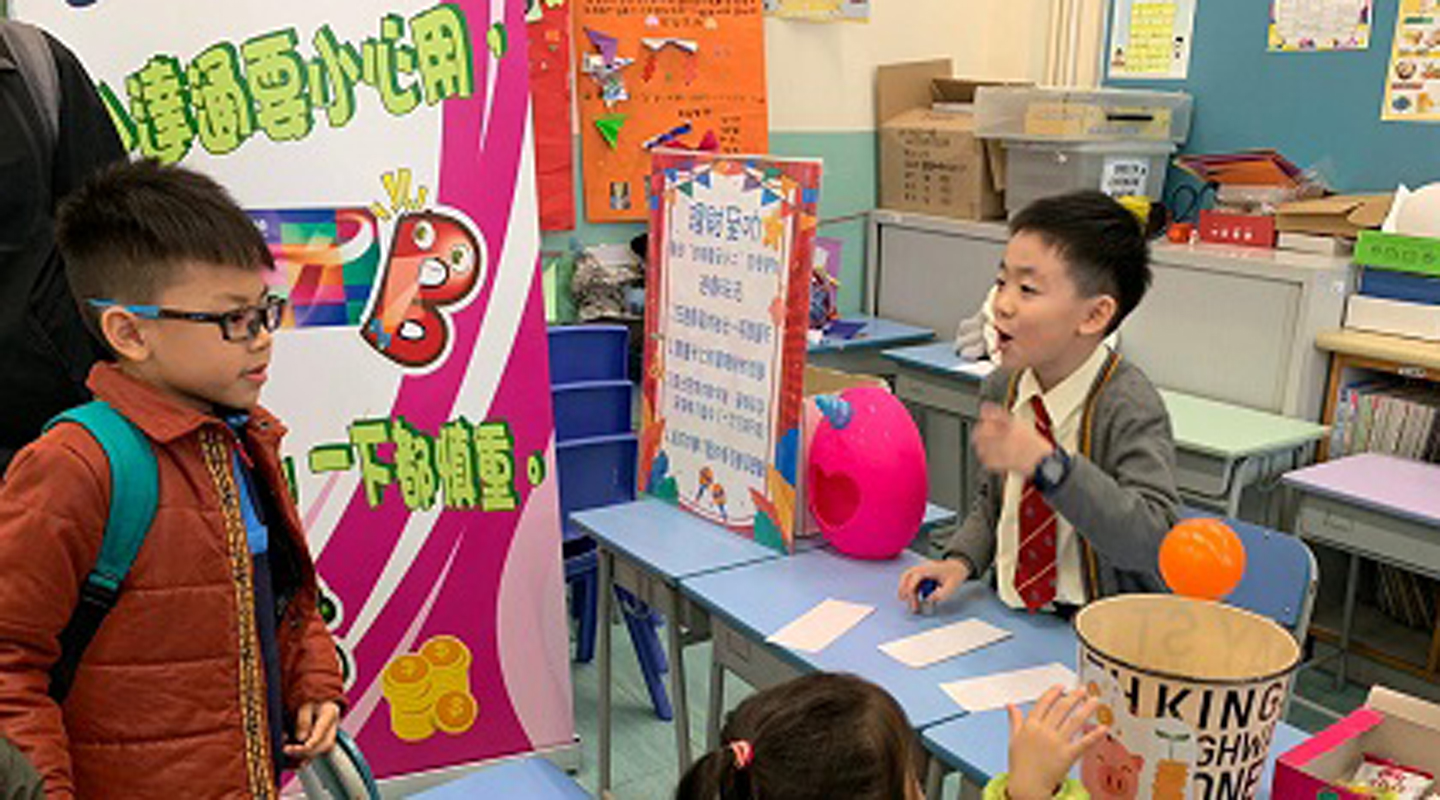 Another feature of the programme is parents' workshops. The objective is to share with them the vision of the programme and encourage them to acknowledge their pivotal role in fostering financial literacy. 'Parents are their children's role models. If they demonstrate good financial habits, their children will pick them up naturally,' Professor Cheung explained.
Since its inception in 2018, the programme has attracted the participation of 12 schools. Professor Cheung shared that under the leadership of project manager Dr. Tsui Chun Cheung, the programme has been highly effective. 'The first batch of four schools are happy to share their experiences with other schools, and we have uploaded teaching materials on the programme website for reference of the public. We have also received positive feedback from teachers, parents and students.' Take the words of a student and a teacher:
'My mum and dad seldom talk about money at home. It feels embarrassing, but when we talk about it with classmates and teachers in class, it becomes interesting. We know where other people's things come from, and we learn something new. We can run into money trouble if we don't pay attention to small details in everyday life.'
'The curriculum is relatable to everyday experiences. Students are more willing to communicate in English and can absorb knowledge more readily, whether it is the message of financial literacy we hope to bring out, or the contents of the textbooks.'
Due to COVID-19 pandemic, the programme's progress has inevitably slowed down. 'A lot of work was delayed, but we switched to operating it online, and everything was on track again,' Professor Cheung admitted.
'Having worked with 20 schools, CUSP will organize and consolidate such experiences, and promote financial literacy and virtues education to more schools. We are deeply grateful for the generous support from IFEC chairman Mr. Lester Garson Huang, IFEC general manager Ms. Dora Li and Mr. Damian Yip in their professional capacities and for their contribution of resources, which made the programme possible. In the future, we hope the programme can help more schools implement financial literacy and virtues education.' It is hoped that in the near future, Hong Kong can nurture generations after generations of its own virtuous Warren Buffetts.
Translated by Lesley Cheung