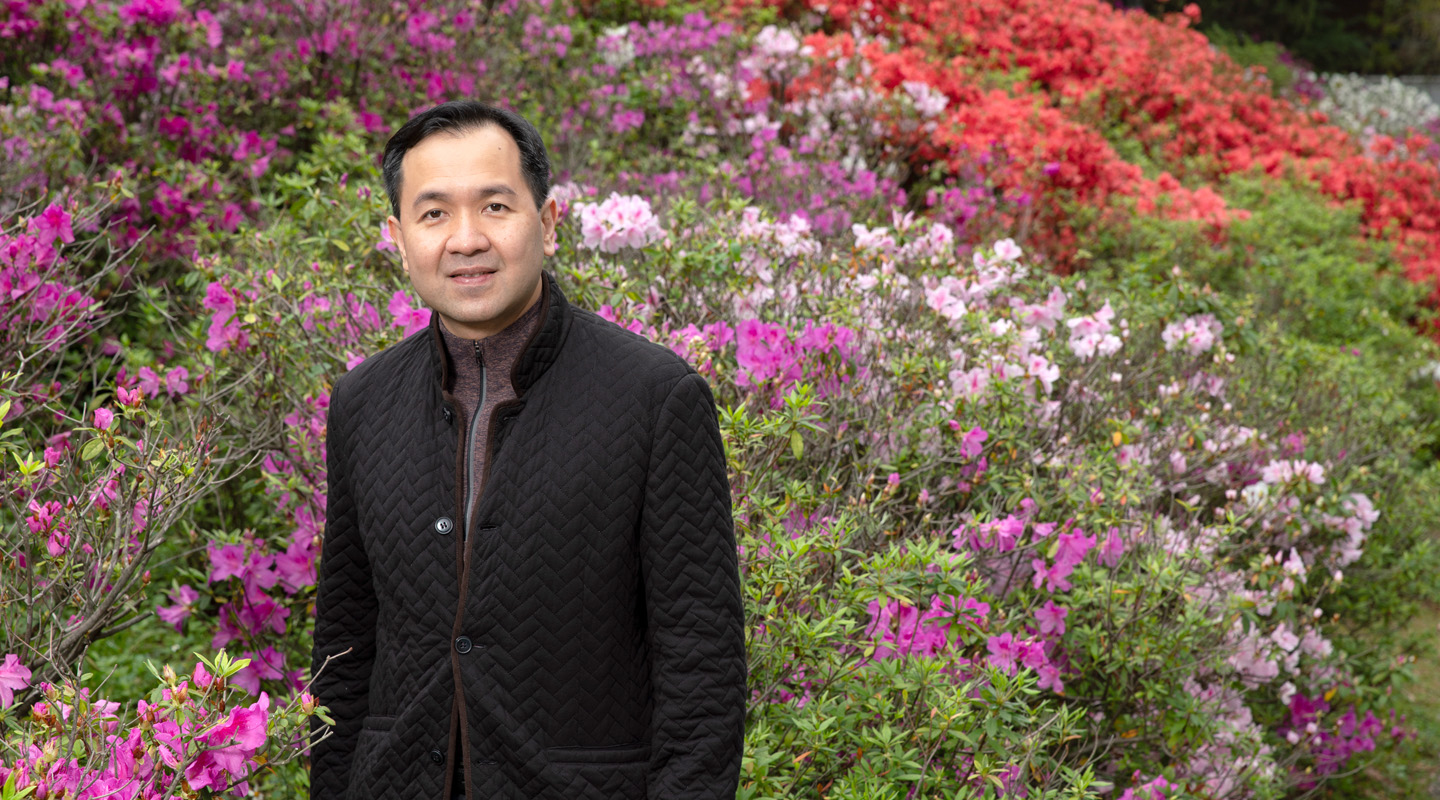 The interview with Mr. Howard Ling took place on campus on a typical spring morning in March, when azaleas were in full bloom. Although the weather was drizzly and overcast, I soon felt brightened up by the warmth and upbeat personality of the interviewee.
A person who is always ready to step out of his comfort zone, Mr. Howard Ling's vocation is to help people step out of their own comfort zones by setting up social enterprises that provide job opportunities for people with disabilities. He is currently the Chief Consultant of the Social Enterprise Business Centre of The Hong Kong Council of Social Service (HKCSS), and has established and incubated more than 50 social enterprises that run music-oriented youth development services, special educational services, children Cantonese opera workshops, and vegetarian canteens.
Mr. Ling majored in food science at the University of Illinois, Urbana-Champaign, and later completed an MBA at CUHK. He is particularly impressed by the CUHK alumni's strong loyalty to their alma mater and the professors' commitment to teaching. Among his professors, he is especially grateful to Prof. Andrew Chan Chi-fai, who almost never turns down his students' requests for introductions and referrals. Professor Chan is always well-prepared and would turn up for his classes an hour earlier than the scheduled time. Professor Chan regularly invites Mr. Ling to give lectures on social enterprises in his EMBA marketing class, and Mr. Ling is more than happy to be able to help.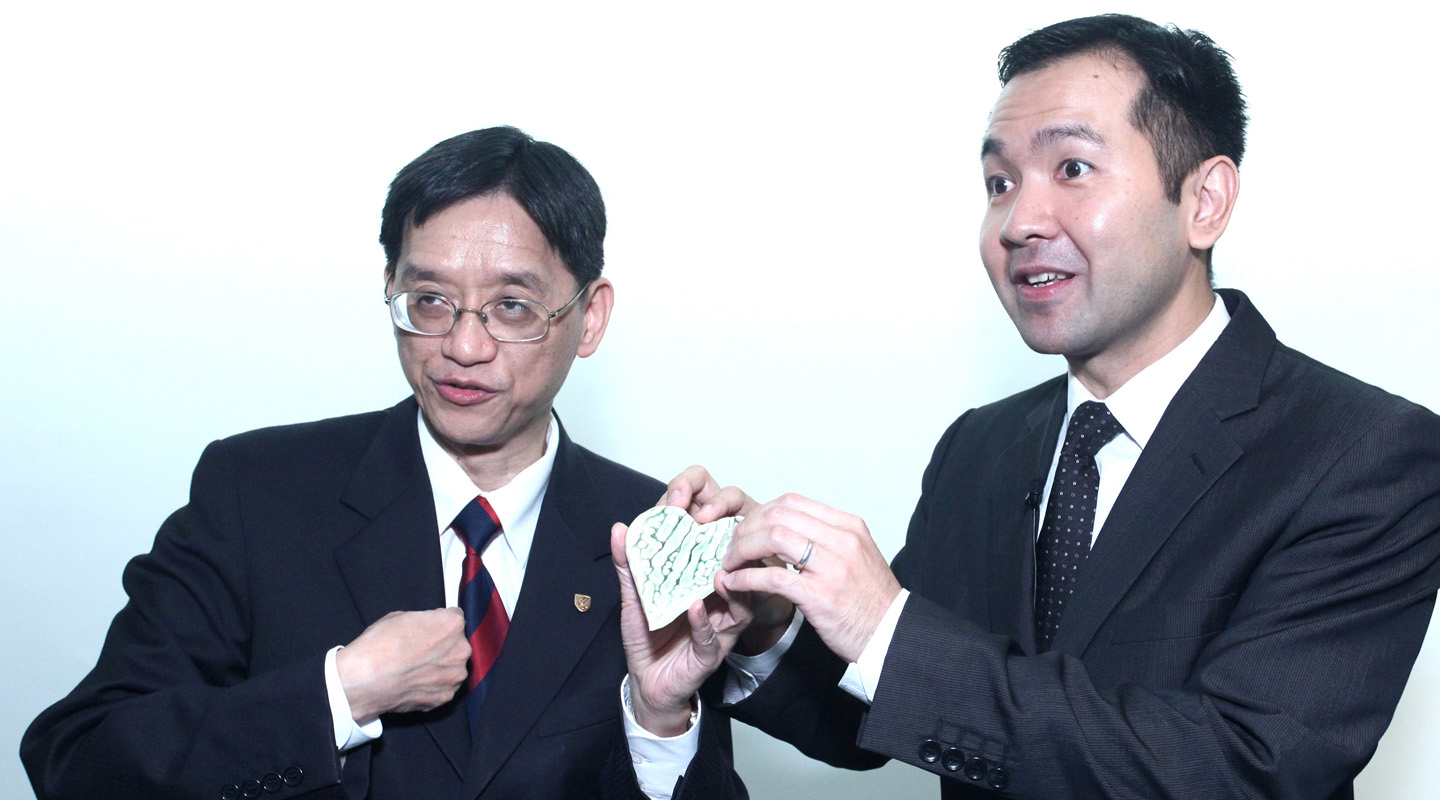 Before taking up the post of Chief Consultant of the Social Enterprise Business Centre of HKCSS, Mr. Ling was a seasoned senior executive with a multinational food company and world-leading luxury brand. Although the two companies are very different in terms of the products they sell, they both attach great importance to quality control, driving home to Mr. Ling the important lesson that quality control and branding are inextricably linked.
'Whether you are selling a three-dollar scoop of ice-cream or a $3,000 handbag, customers look for high-quality products. Quality control is something you can't measure in terms of money, and it takes strong integrity to protect your brand. As an executive, you have to be stringent about branding.'
In 2001, Mr. Ling was posted to a Switzerland watch company for a one-year-and-a-half stint. When he returned to Hong Kong in 2003, the whole city was gripped by SARS and an economic downturn, which saw property prices plummet to an all-time low. During that period, he frequented a vegetarian restaurant in Sheung Wan whose finances were in the red. Mr. Ling therefore asked the restaurant owner if he would like to transfer to him the ownership of the restaurant.
'As a food science graduate, I always dreamed of operating my own restaurant. The cost of setting up a business was quite low back then, and I decided it was now or never. I wanted to run my restaurant as a social enterprise because I had been doing voluntary work since my corporate days, and I knew very well what job opportunities meant to those with disabilities.
'At that time, I hadn't even heard of the term "social enterprise". All I knew was that it was difficult for people with disabilities to get jobs, and it would be good if I could lend a hand. The government was then running a scheme for financing half the wages of those with disabilities for six months. I thought that was a great idea.'
Of course, things were not all smooth sailing. When Mr. Ling first broached the idea of setting up his own business, he met with opposition from his girlfriend. But he was determined to push ahead with his scheme because he thought setting up his business was 'doing the right thing at the right time', and with the support of his granny his will prevailed. His granny told him while she did not quite understand what he said about starting a business, she did agree with him on the importance of 'doing the right thing at the right time'. She even used the analogy of playing mahjong to illustrate the significance of 'doing the right thing at the right time'; to her, playing mahjong today and playing mahjong tomorrow were totally different, because the people she played with at varying times were different.
Mr. Ling enjoys meeting challenges, and he is certainly a mover and shaker. After setting up his first vegetarian restaurant, he soon established another social enterprise, Bijas Vegetarian Restaurant, at The University of Hong Kong.
It is a buffet restaurant where food is priced according to weight, and it is the first vegetarian restaurant to do so. This mode of operation makes it easy for people with hearing impairment to run the business, since they are not required to take customers' orders. He also operates the first social enterprise in Hong Kong that produces face masks.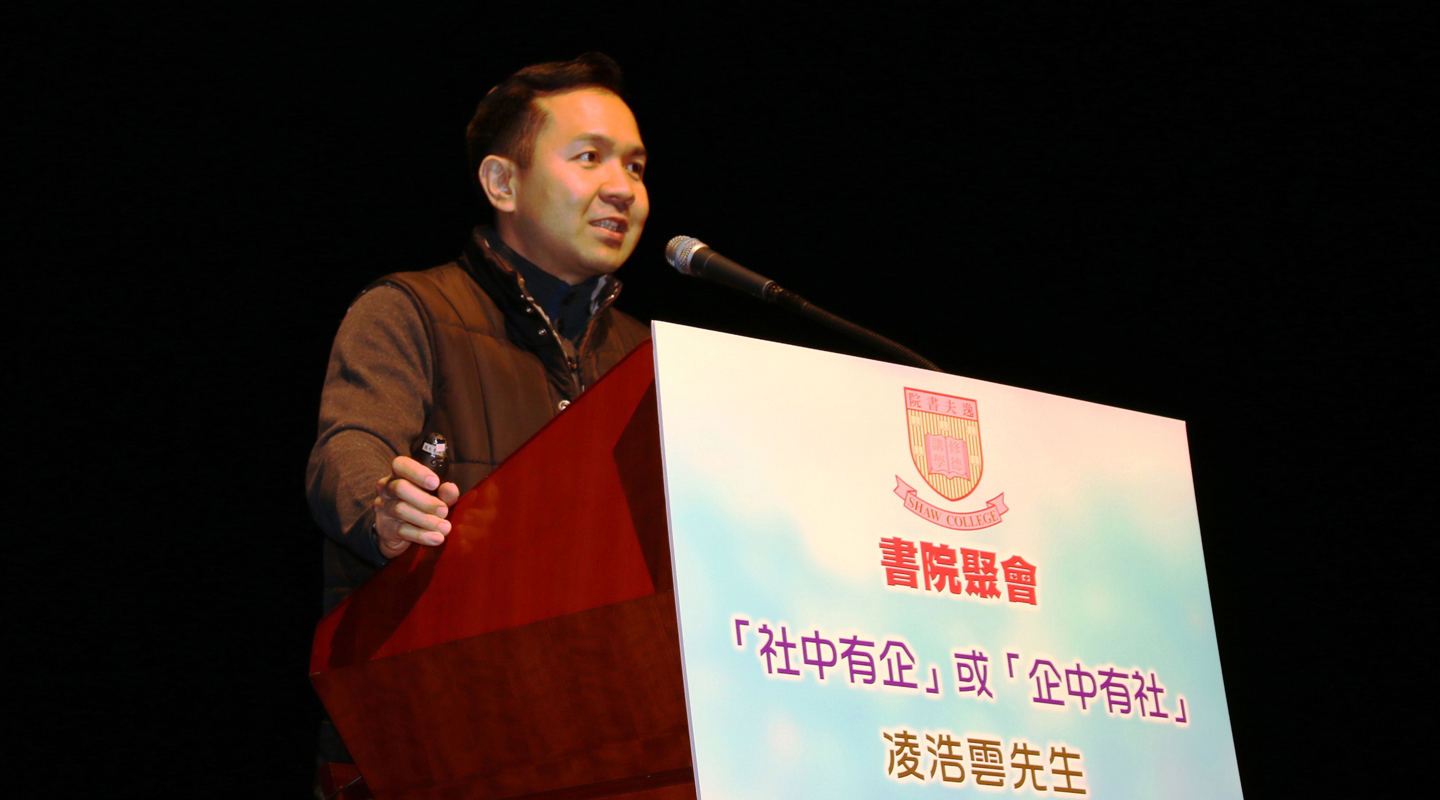 The variety of the social enterprises operated by Mr. Ling goes to show his breadth of knowledge and social networks. He humbly stresses that, to make things happen, he needs to work along with professionals of different specialties and clients.
'For instance, I don't know how to create music, so it's impossible to set up the musical social enterprise project "My Main Stage Online" on my own. I therefore put my trust in the entrepreneurial spirit of Mr. Chiu Tsang-hei, a renowned songwriter and music producer. He selected talented secondary school students and trained them up as songwriters and musicians. I used six months to incubate and fundraise for Mr. Chiu. At that time, we did not give up any opportunity to meet with charity foundations and senior executives of music companies and explain to them our vision and mission. We tried and failed many times, but we never gave up.
'I then recommended a government funding scheme to Mr. Chiu, but the application deadline was very close, with a window of less than three months. Mr. Chiu, his social enterprise partner Dickson, and I worked relentlessly for two months. We finally got the funding approval from the Home Affairs Department under the social enterprise funding scheme known as Enhancing Self-reliance Through District Partnership Programme,' Mr. Ling said.
'Although I am not an expert in music, I know how to communicate, and it is as important to communicate with entrepreneurs or supporters of social businesses as with clients or patrons. We have to convey to clients in simple and concise language what we are selling. That's what we call marketing for a purpose.'
Overseeing 50 plus social enterprises, Mr. Ling's rule of thumb is to motivate the enterprises to step out of their comfort zones and identify their 'best zones', which can only be achieved through multiple failures and trials. Mr. Ling spares no efforts in taking the first step in a new endeavour. What is more, he leads the social enterprises he oversees to make the first step.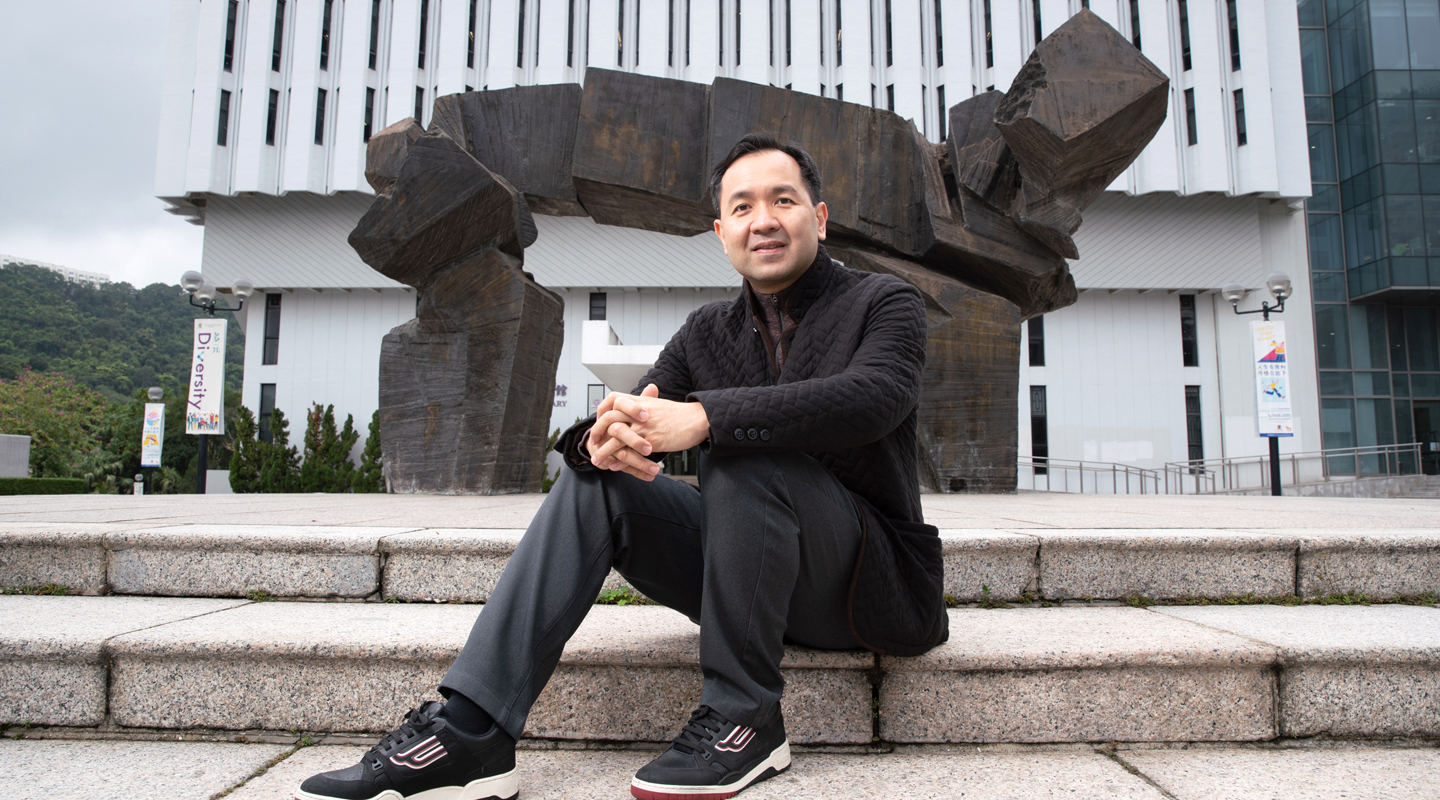 'To be brave enough to make that first step, you have to fight back the fear of failure. Even if you fail and go bankrupt, you have to try again, learn from your mistakes, and find your "best zone",' said Mr Ling. 'My co-workers and I understand clearly what our objectives are, and so we have a shared sense of commitment, which is very important.'
By elizachan@cuhkcontents

This article was originally published on CUHK Homepage in Apr 2021.