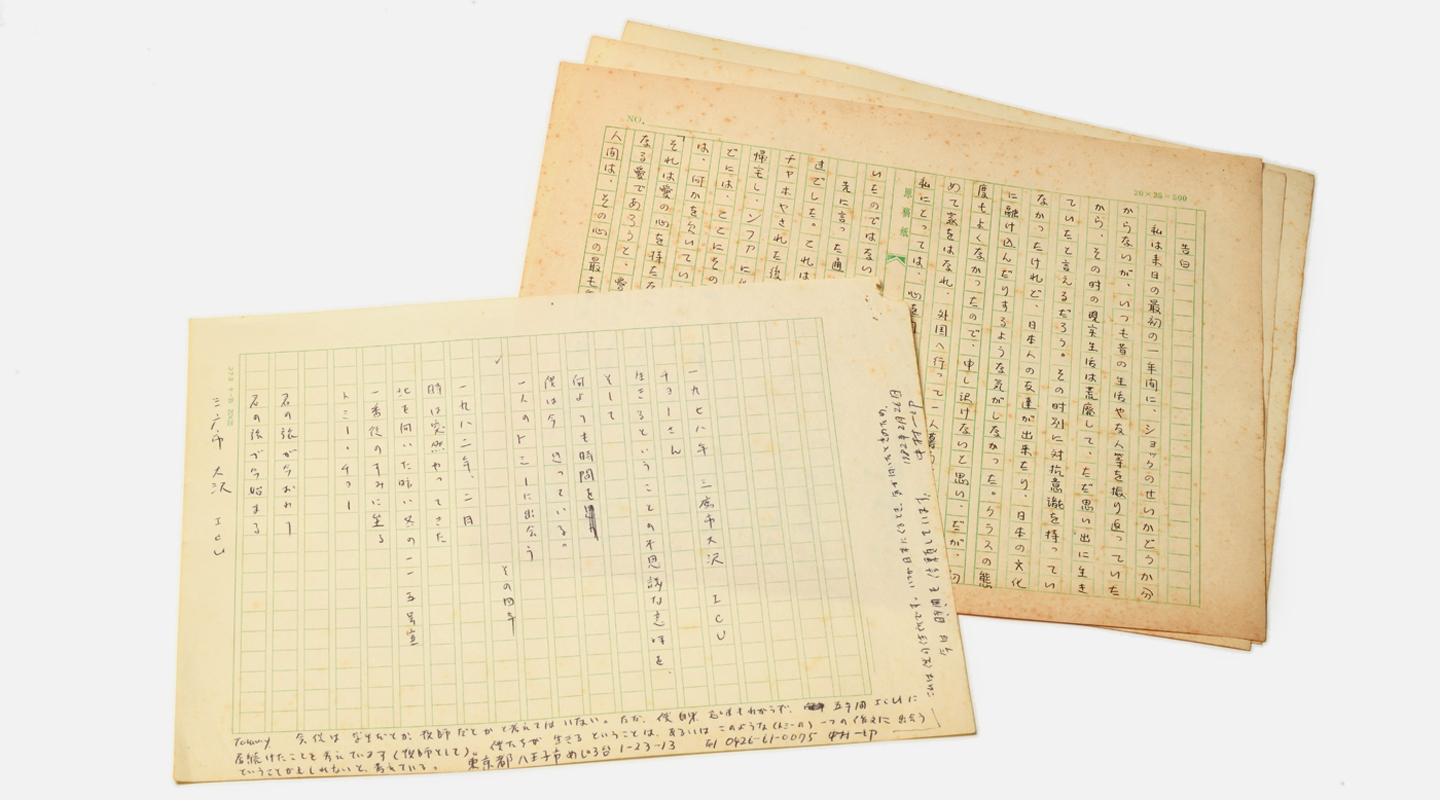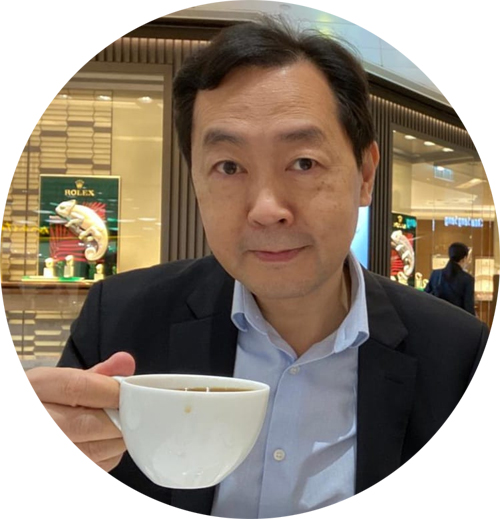 A term paper for a Japanese course in my senior year
I received a full scholarship to attend the International Christian University (ICU) in Tokyo after graduating from high school in Hong Kong. Upon arrival I did not speak a word of Japanese. Culture shock and homesickness combined to make my first months there a period of numbing listlessness, except in the hours of writing and expecting letters from home. In practically my last semester at ICU I took a course on advanced Japanese. In a term paper entitled 'Confession' I made a clean breast of my regret for missed opportunities and anxiety for the uncertain path that lay ahead. The essay apparently moved my teacher Mr. Ichiro Nakamura. He jotted down a few lines at the end of my essay and wrote: 'From now on I don't regard who's the teacher and who's the student…We live our days for the purpose of perhaps coming upon an essay like this one.'
That was so long ago. Very little of the Japanese language, as well as memories of those salad days, is left. But those four years must have been formative in some intractable ways. I still write with some of the kanjis I learned then.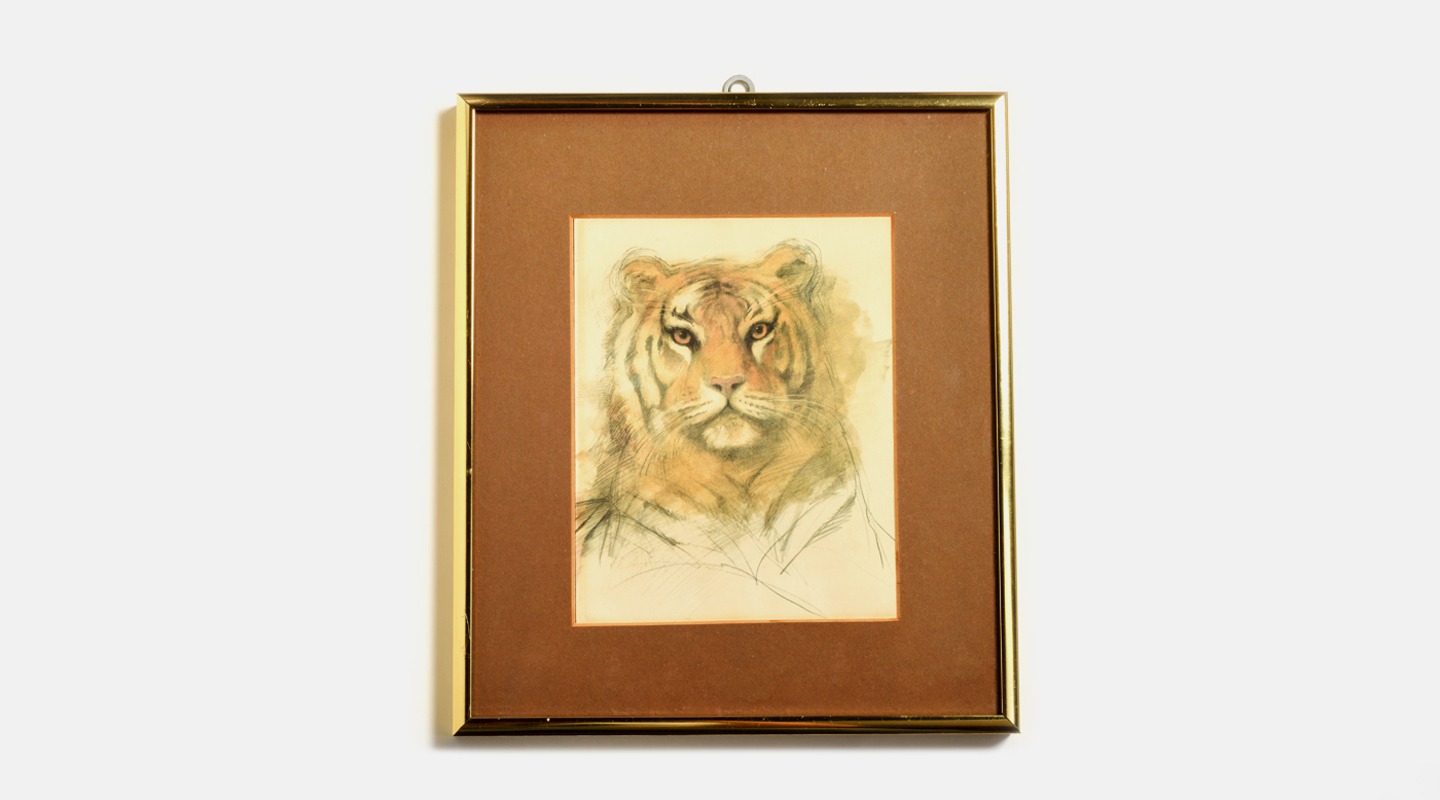 'Tiger' given by a friend during my first stint with CUHK
After getting my first MA in the US in 1984, I came back to Hong Kong and got my first job at CUHK. I was an executive officer at the Graduate School. Soon the office of the Graduate School was relocated to the newly constructed Lee Dak Sum Building. About this time a friend gave me a sketch by the Danish painter Mads Stage, which I hung in my new office. Eleven months later, I resigned and moved on. When I rejoined CUHK in 2007, I put 'Tiger' on the wall of my office at the Information Services Office.
All these years I brought this picture with me wherever I went because I like tigers for their majestic stripes and also because I always admire those who can paint and sketch. The tiger in 'Tiger' is more finesse than feral. Whenever I look at it, a verse by Siegfried Sassoon rings in my ear: 'In me the tiger sniffs the rose.'
My first stint with CUHK lasted a month short of a year, but its brevity did not prevent me from meeting many good colleagues some of whom have become lifelong friends. When I rejoined CUHK in 2007 I almost hit the ground running with the network and culture I had been initiated into decades before.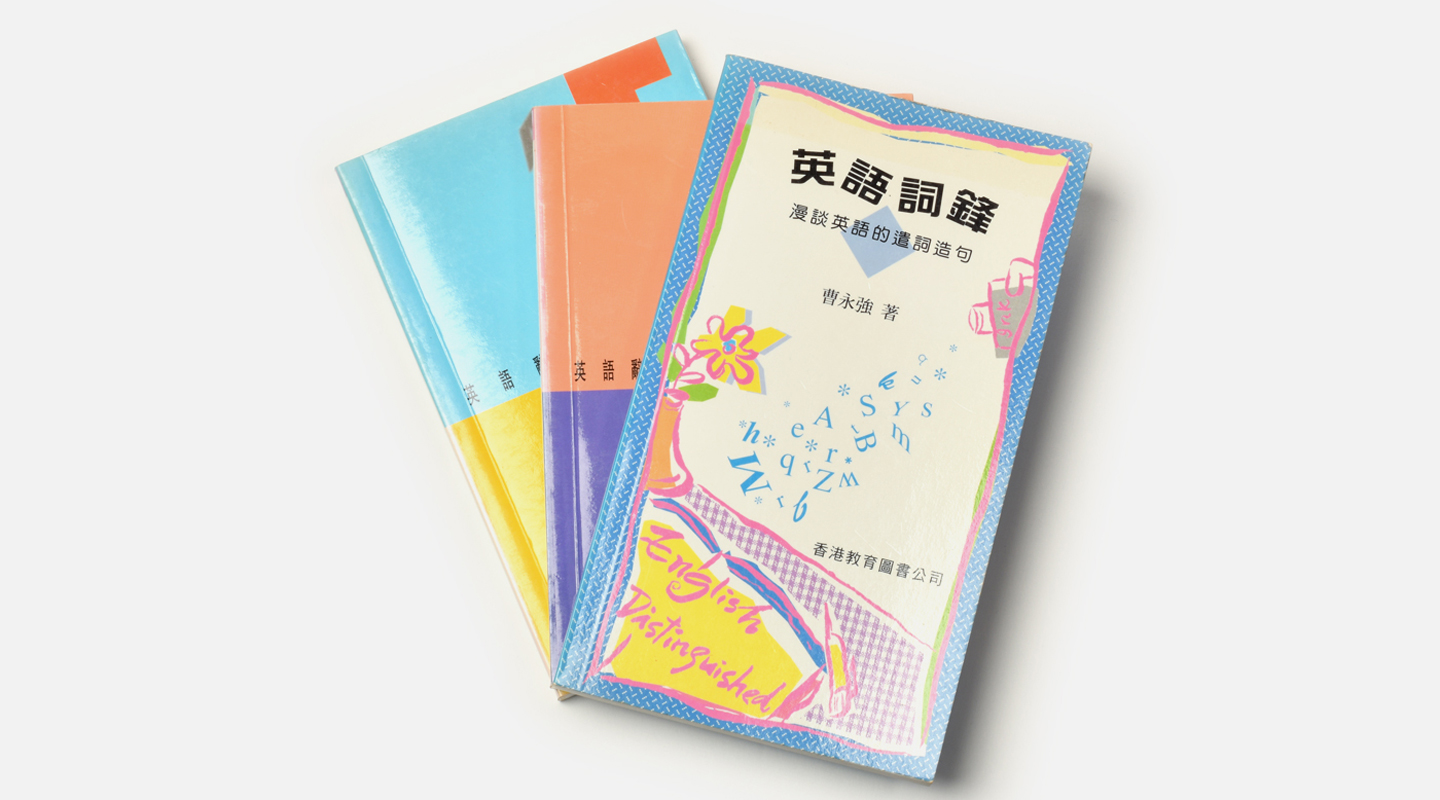 English Distinguished, my first collection of daily columns written for a local paper in the 90s
I think my interest in language began at a very tender age. Through the public exams I went from a local primary school to a British-style grammar school. In order not to fall behind, I grasped and manufactured for myself every opportunity to listen to, speak and write English. Hard work paid as I managed to stay in the top ten of the whole form every year. From there to university, graduate school and every job since then including lawyering, language has been 'the silver link, the silken tie' that runs through what I put in and what I get out.
My fondness for the English language is unquestionable. As a second language user, I do not utter but sculpt it. My first drafts are always too hideous to be shown to anyone but myself and need repeated re-writing and editing. It's like sculpting which initially works with a featureless mass but with chiselling and grinding here and there it will come into a form that becomes its own raison d'être. English may not be a spontaneous gift to us, but its perfectibility is.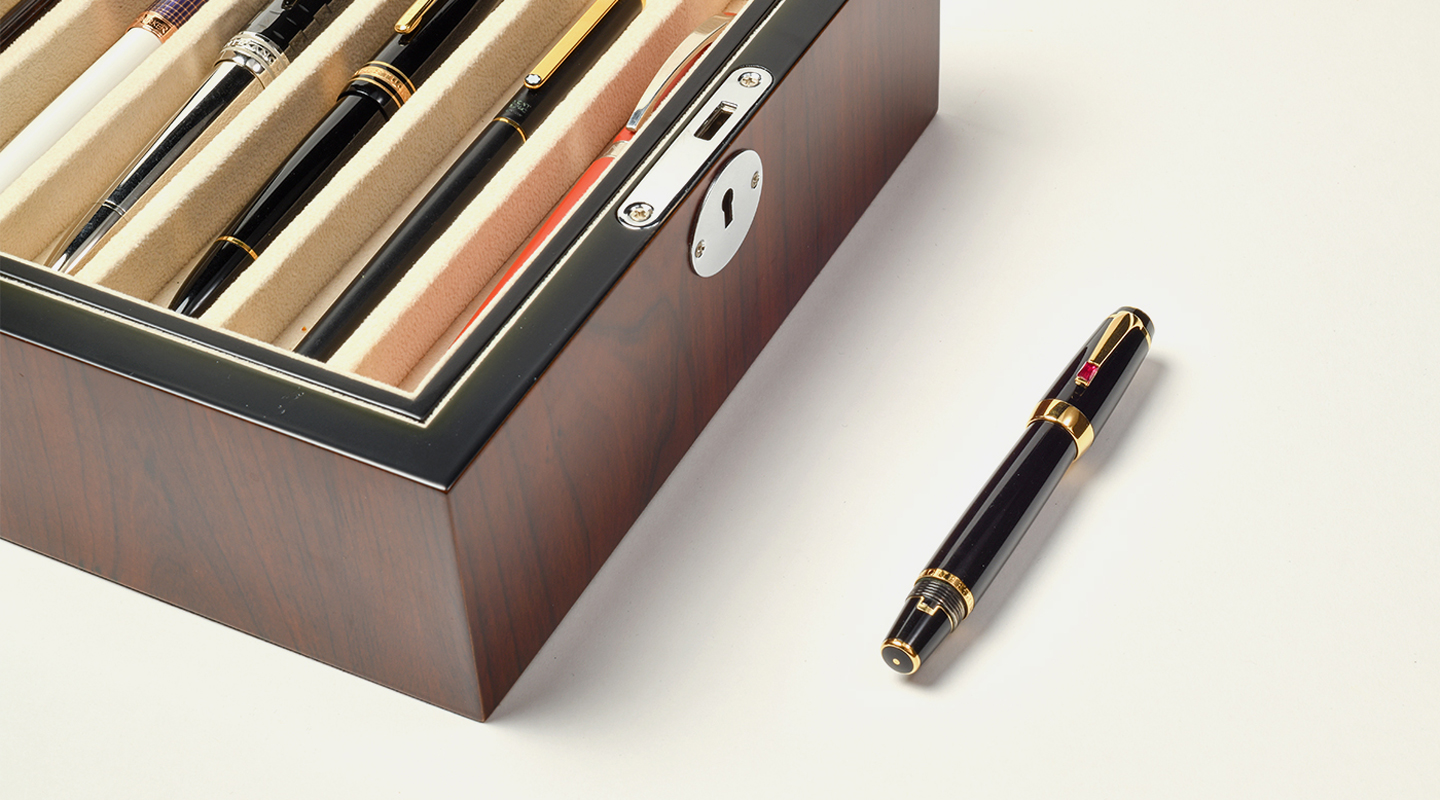 The Bohème fountain pen which I had put to paper in many hunts for the right words
Short and sweet, this Bohème pen had kept me company and helped me accost many Muses that came my way. The ruby on its clip is a nice touch of understated pride. The pleasure of writing with a fountain pen is incomparable. The steely but flexible nip surfs the paper on a thin film of liquid ink, doing twists and turns that link and sever dots, curves and lines conjuring up all sorts of wonders and amazements. You must try it to enjoy it.
Fountain pen is almost an anachronism in this computer age. Well, almost. I usually draft in longhand, patiently but often unsuccessfully drawing out my thoughts, mature or otherwise. When time permits, I will wait a while before coming back and type the draft into the computer, making revisions and amendments along the way. Further revisions and amendments would be made on the printouts. A tortuous process maybe, but words are real objects to me with colours, smells and tastes. Words, phrases, sentences and even whole paragraphs and articles can be fashioned and re-fashioned.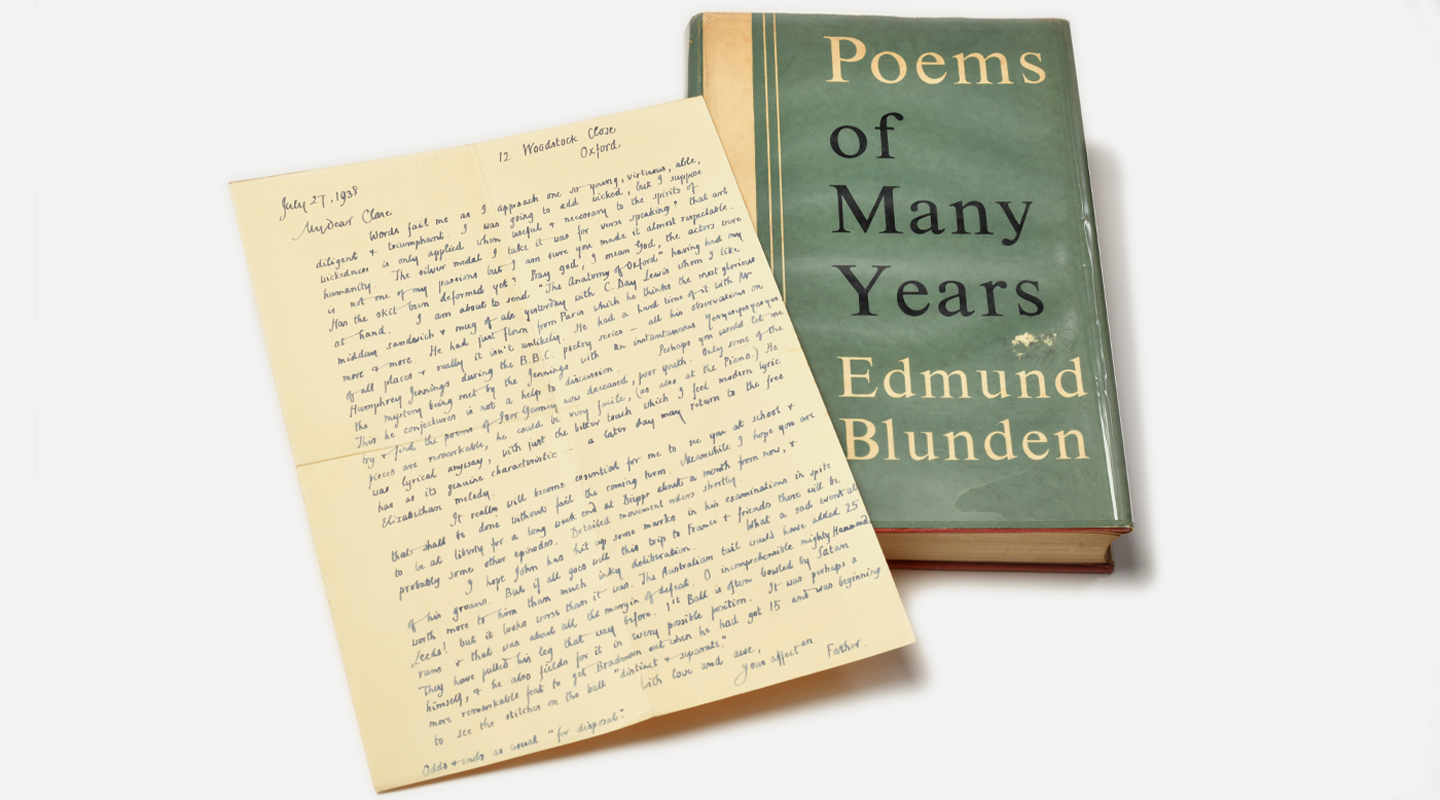 A letter from Edmund Blunden to his daughter Clare which is a bonus to my perambulations in the world of first editions and autographed copies
One of my hobbies these days is to collect first editions and autographed copies of authors I like. A few years ago I acquired online from the London bookseller Peter Harrington a book of verse of Edmund Blunden. When the book arrived I discovered to my pleasant surprise that it came with a letter dated 27 July 1938 by the poet to his young daughter who had won a prize in verse speaking. The proud father begins the letter with 'Words fail me as I approach one so young, virtuous, able, diligent and triumphant', in hands so suave and cultured that might easily be taken not to have come from a man of letters but a bluestocking.
Letters have long been one of my soft spots. I voraciously practised letter-writing when studying abroad, and take great interest in epistolary novels, particularly those in the eighteenth century with Clarissa and Pamela being the prime examples. Tutoriality and apprenticeship often take the form of letters from a veteran to a novice. The German poet Rilke wrote a series of letters to a young officer and gave him advice on becoming a poet. Ten of his letters were collected in Letters to a Young Poet, which inspired my column 'Letters to a Young Executive' carried in the CUHK Newsletter seven years ago.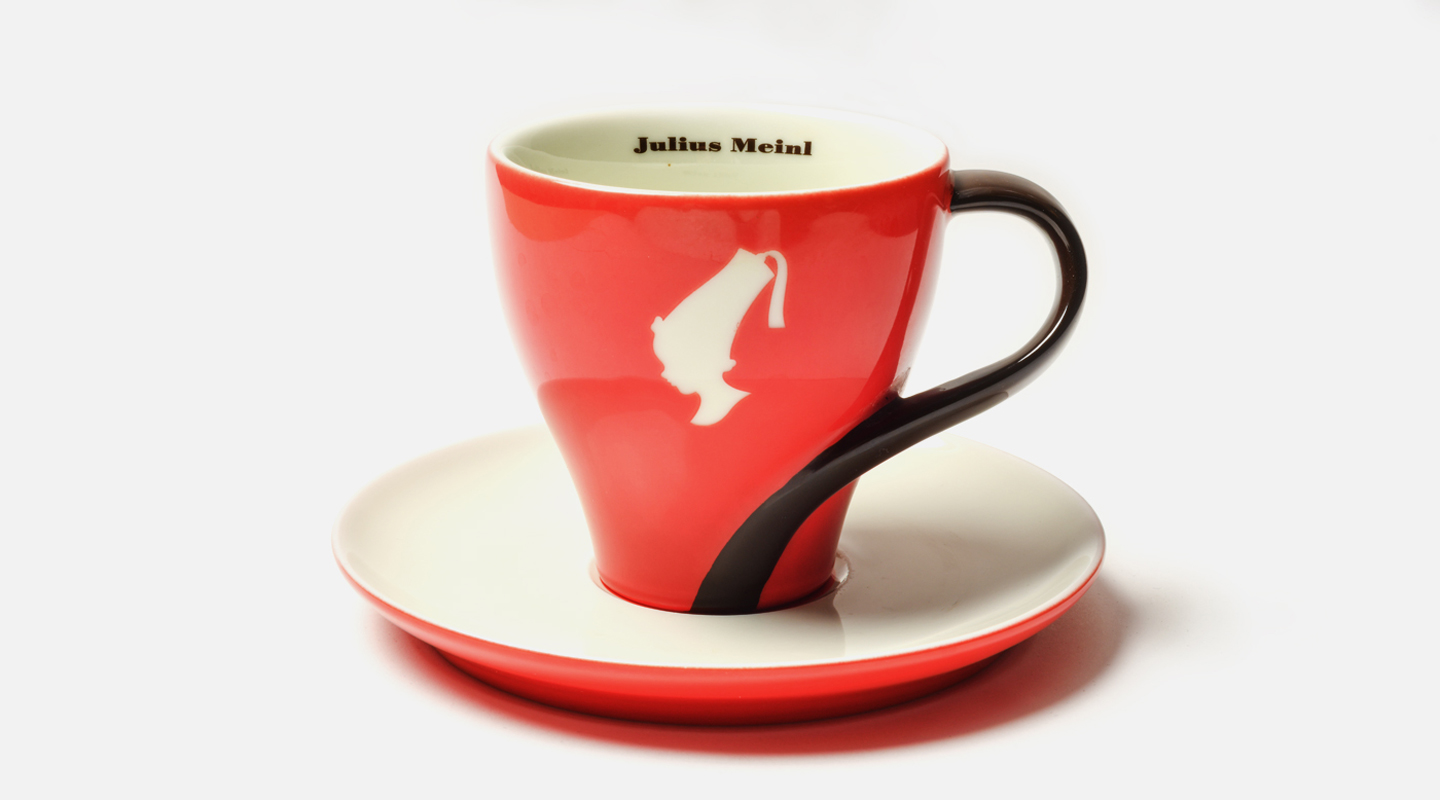 The Julius Meinl coffee cup into which I pour myself a fresh day
In the first few years as Director of Information Services, I had breakfast at the nearby Coffee Corner every morning. Milk tea was without exception on the breakfast table. One day I realized I might have got addicted to milk tea and decided to quit it. Milk tea was substituted by black coffee. Soon afterwards I wrote about the coffee and cafés on CUHK campus for the CUHK Newsletter. I was gradually initiated into specialty coffee and began grinding and pouring coffee for myself. It has become Zen for me.
Six years ago, ISO collaborated with CUHK Press to offer a series of workshops titled 'Nine Dates with Content and Coffee'. On nine consecutive Friday afternoons, I shared thoughts and views on writing, translation, design and publishing with colleagues from the Colleges. We tried different varieties of beans in the breaks. To make good coffee, one has to be in control of the totality of time, water temperature, the grounds, etc. The same degree of care and preparedness goes into writing, too. Grammar, diction, common sense…all have to work together. Craft and creativity are essential to both coffee- and content-making.
As told to christinenip@cuhkcontents
Photos by gloriang@cuhkimages