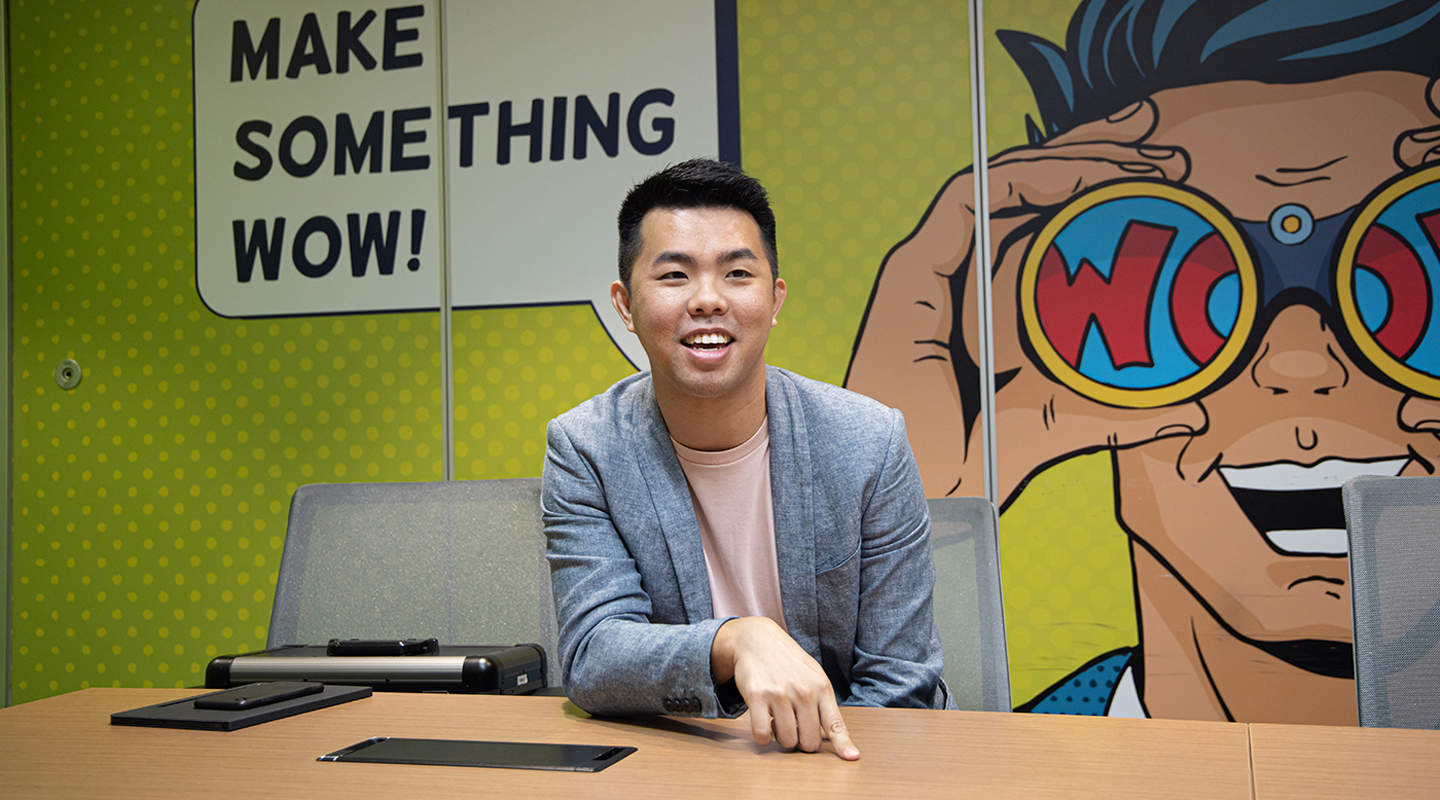 'Rehab is an inner thing. You can't force it.'
Alvin Cheung, 28, appeared tall and strong before my eyes. With classic clean haircut, he dressed in a pale pink T-shirt under a light blue canvassed suit jacket, matched with black velvet loafers. The youthful chic look did nothing to dent the impression that he looked older than his age. A health tech entrepreneur specializing in rehabilitation, Cheung was a business major at CUHK not many years back. Out of a deep love for people and stories, he took a minor in journalism, enrolling in a string of what he called 'fun courses' in video production and storytelling. The contentment reaped translated into results tangible: with minor subjects, he achieved a grade point average of 3.7.
'Honestly, I didn't study much,' Cheung was quick to admit, laughing. He went on and explained, 'I participated in a lot of activities instead, such as joining the ExCo (executive committee) of Chung Chi's Business Administration Society, playing ball games, etc. I met many people and learnt different things from them. My hallmates read medicine, economics, philosophy and others, and I spent considerable time in the School of Journalism and Communication. The ways people think and do things were eye-opening for me.'
People who love stories have a way of seeing humans as round characters. It takes an eye for detail to tell a good story, which demands a storyteller to reach for the crevices and soft spots lying deep in the human heart, imagining the ups and downs, laughs and sighs of their fellow beings. This May, Cheung was among the young entrepreneurs making it into the Forbes' 30 under 30 Asia list. In and out of the limelight, stories are plentiful.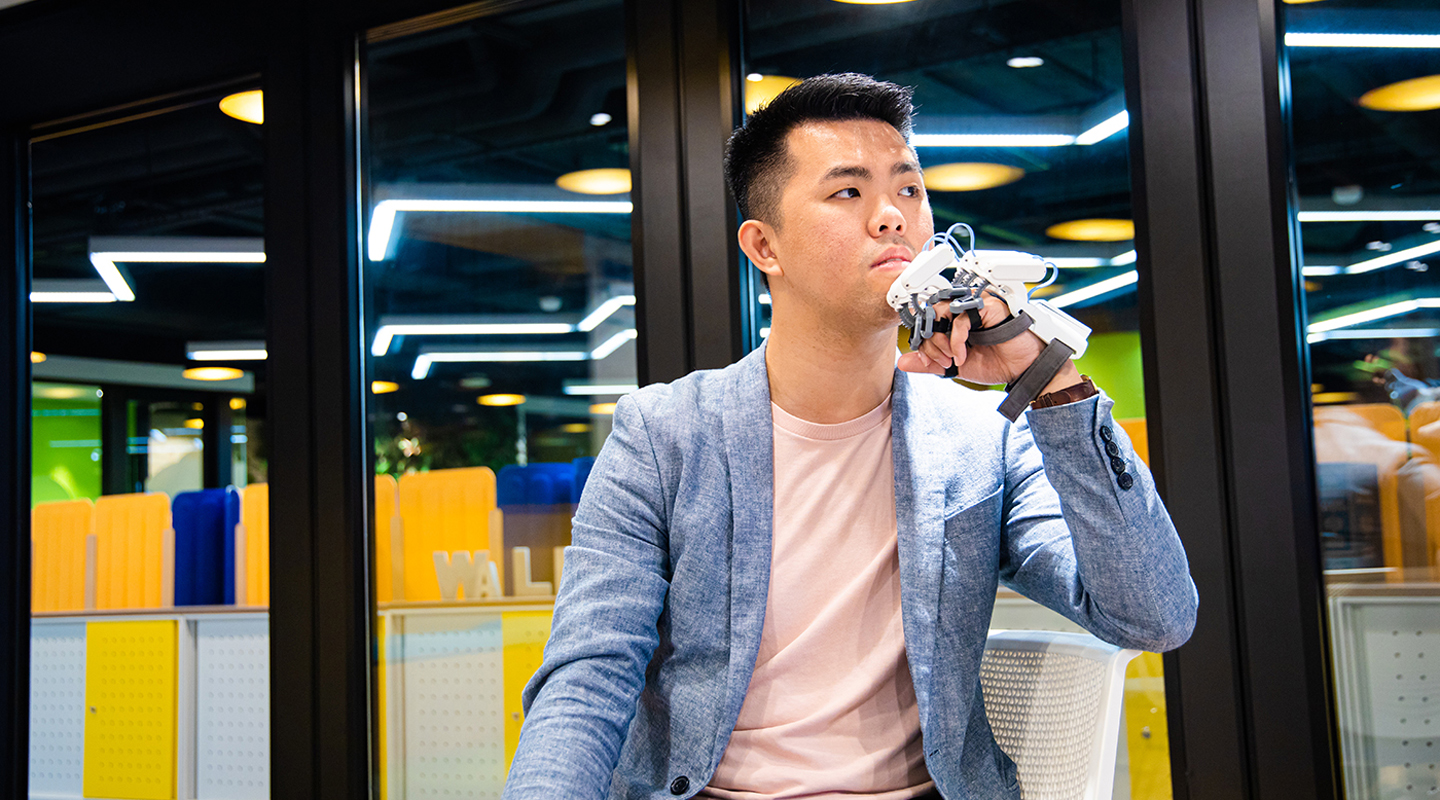 The Bromance
The story harks back to 2016. Upon graduation, Cheung joined a charitable foundation as business consultant to non-governmental organizations. There he met Newmen Ho, a biomedical researcher and engineer full of inventive ideas. The duo clicked at once and stayed in touch. On a casual day in 2017, at a fast food restaurant in Shatin New Town Plaza, they had a warm, rambling conversation over meals. The banter and fraternal ripostes filled the air with sparks. Would you dare? Why not. For real? Yes. Having never been to Ho's office, Cheung decided to join his startup Zunosaki right on the spot. His first task was to make the rehabilitative robotic gloves, made of metal and with wires flown all over, adorable and approachable.
'You took a hard path focusing on research.'
'R&D is much more fun,' Cheung snapped. 'Rehab research and products have been wanting in Hong Kong and Asia, but rehabilitation is indeed a localized, culturally specific enterprise. Take the rehab doll that helps the elderly with dementia pick up emotions and interactions: the European ones are expensive and of stouter build. Their blonde hair and blue eyes make it hard for locals to relate to. The dolls we design come with an Asian face and are much cheaper, while retaining 70% to 80% functions of their European counterparts. We have quite an edge.'
There is another reason why Cheung is drawn to medical rehabilitation: about a decade ago, his uncle suffered a stroke in prime years. Now in his 40s, he is required to stay in care home and can only work in sheltered workshops. To Cheung, conjuring a nicer ending to other rehab stories is a way to alleviating the pain of sufferers and their families, and also coming to terms with his own loss.
Doctor Gloves
After three tough years of R&D and fundraising, the lightweight and wireless robotic gloves came into being by the end of 2018. The set contains a pair of gloves, a tablet and a sensing band. The toy-like glove is made of plastic, weighing as light as a Coke. On it are adhesive straps, which fasten the palm to the glove. The tablet runs a bilingual platform—not all healthcare workers speak English—with a selection of trainings to choose from, ranging from holding a pen, chopsticks or a cup to picking up a ball.
'The hands of stroke patients are usually curled up. We can choose different exercises to loosen their grip. Each session takes five to 10 minutes,' Cheung explained. The sensing band tied to the patient's arm is another thoughtful design. Muscle movements generate electrical signals; once the band detects them, it helps the patient complete the gesture in question, which in turn encourages one to exercise more and retrains the neural system with muscle memory.
'There was a stroke patient whose hands could not move an inch, but after training with our gloves for two or three months, he can now open and clench his hands at reasonable speed. A British old lady who found it hard to unclench her fist can now move her index finger after a 15-minute pen holding exercise,' Cheung remarked. 'Don't underestimate a finger. It can mean life to her—with it she can hold a pen and push the wheelchair handle.'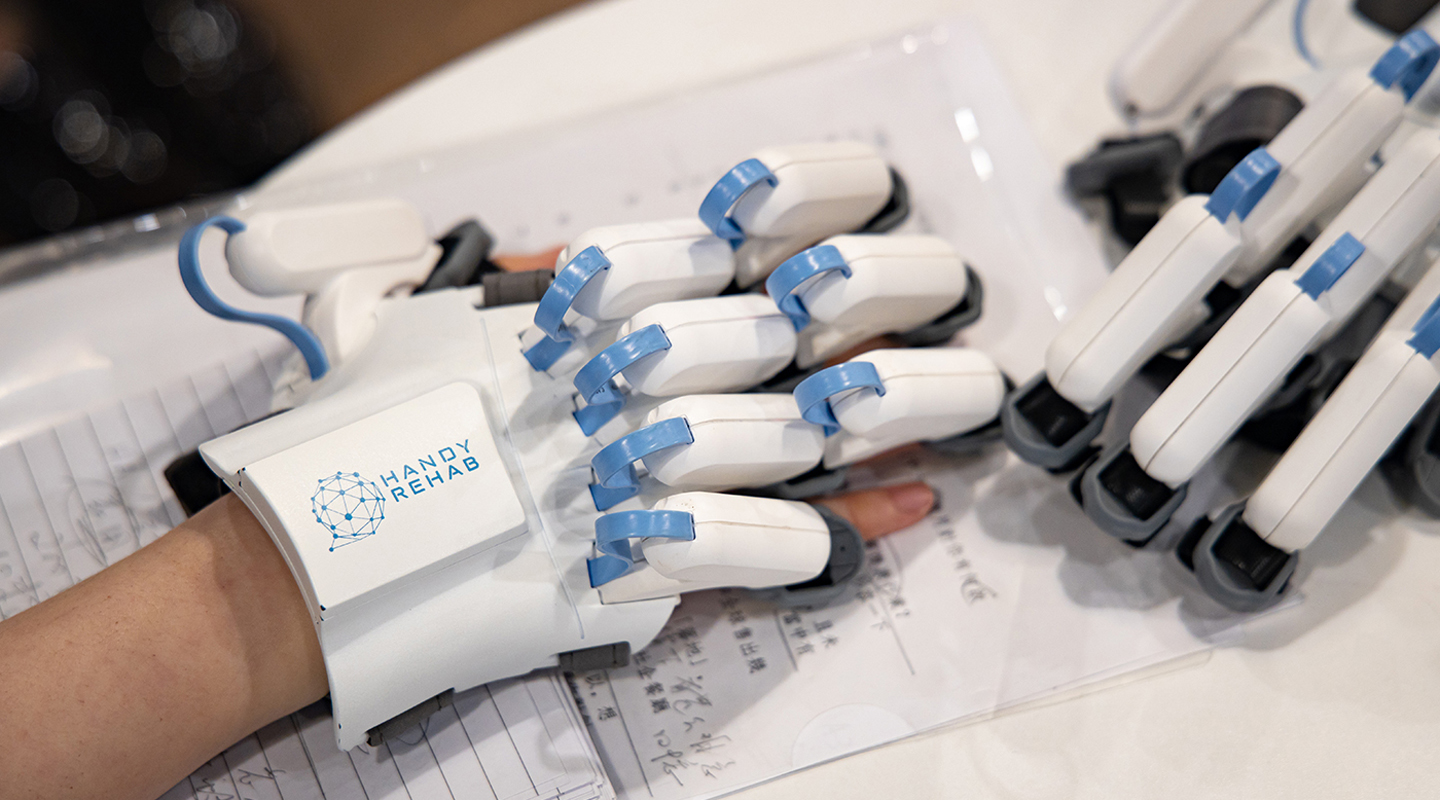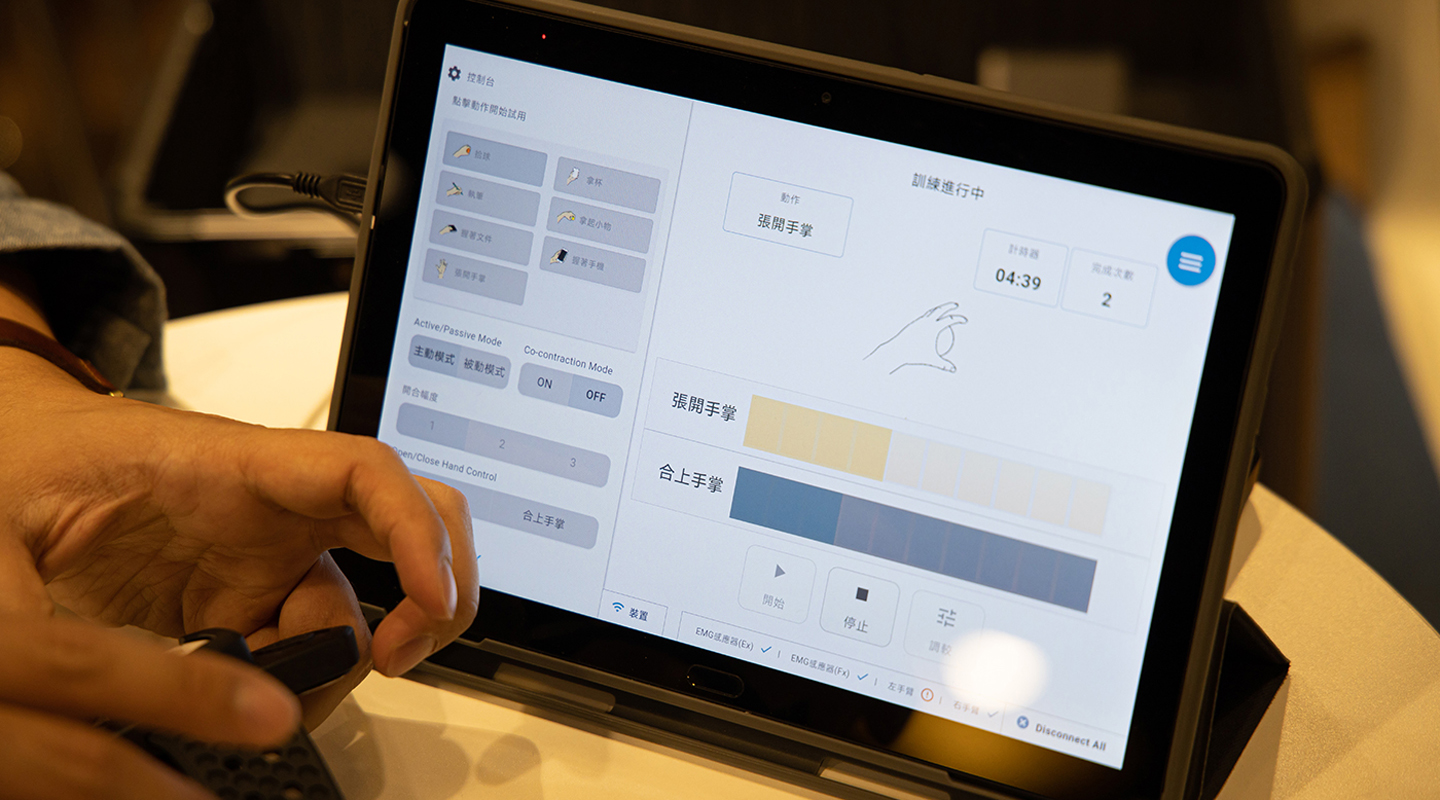 The robotic gloves have made their way to public and private hospitals, elderly homes and daycare centres. Later this year, Zunosaki will roll out the household version of its signature gloves. 'Promoting home use has been our longstanding goal, as rehab trainings are for the most part done at home. Public hospitals may allot two months of training to a patient, with her coming back two to three times a week, but for the rest of the time she is on her own. If rehab technologies like this can be used at home, recovery will be much faster.
'However, with new products, especially medical products, it is impossible to go far if we do not have the endorsement of therapists and doctors. This is why we targeted medical professionals as early adopters and pivot to domestic use when the right time comes.'
Robot that Sings Karaoke with Grannies
Another best-selling product of Zunosaki is the temi robot hailing from Israel. The bot patrols, plays music, measures body temperature and hosts video conferencing. Imported in the summer of 2019, it provides boon during the pandemic and is now in 200 care homes, which is roughly one in four in the city. The innocuous cyborg is parading in public and private hospitals as well as a social enterprise restaurant. In the past, the care home staff had to hold up a mobile phone in front of residents for their video call with family. Now it can go to their bedside at scheduled times and connect them to their loved ones.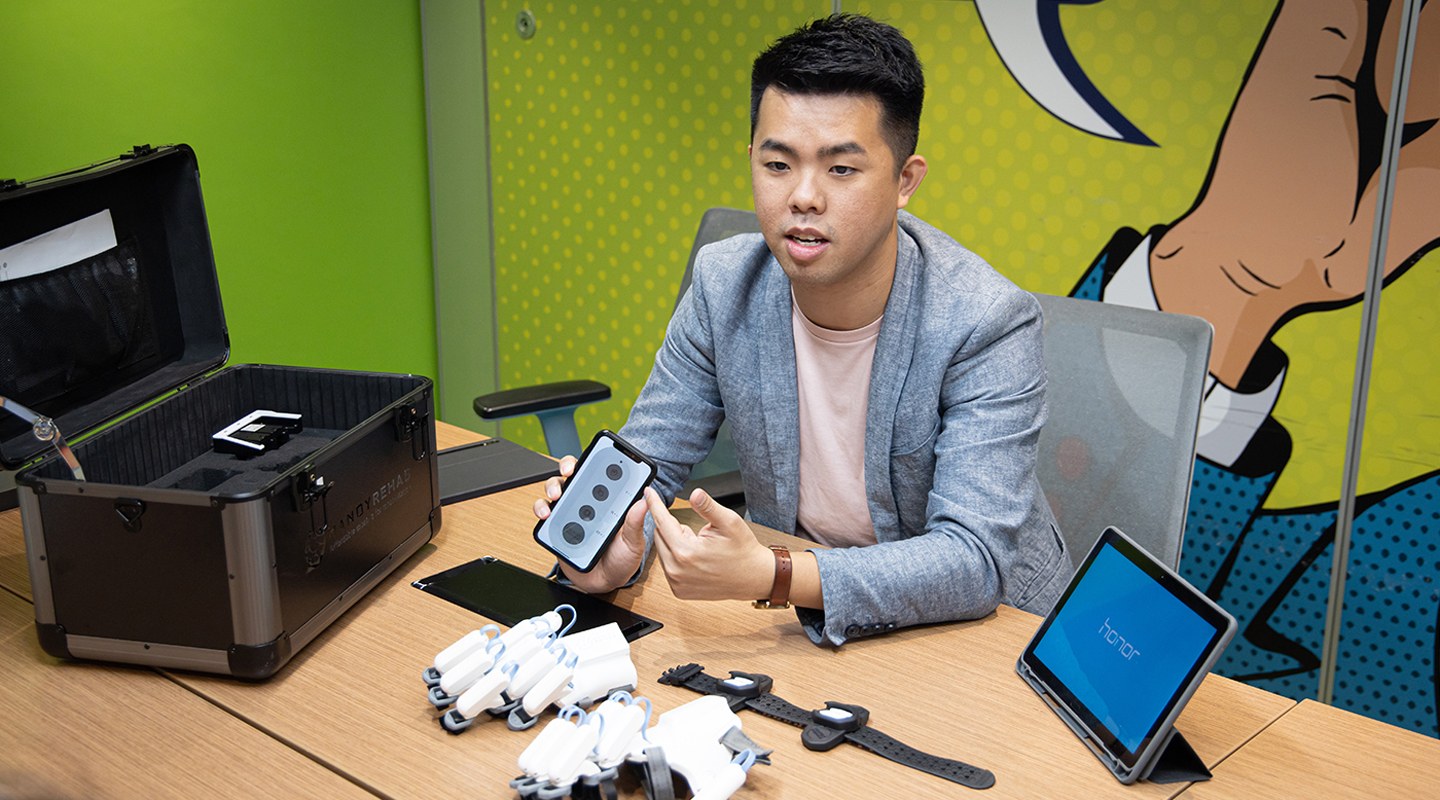 'Grannies would think a child is walking around, talking to her while playing Teresa Teng. To play music, the staff used to pull a television set into the room; now things are much easier with a walking bot. Many a pain point faced by the industry for 20 or 30 years can actually be solved by an algorithm we write in a week.'
Robots are marvellous tools. To heal traumas big and small, the key lies in stepping into others' shoes, embracing their predicaments as one's own, and fearlessly confronting the haunting, unnamable narratives. Like the transformation of Iron Man, Cheung aspires to develop rehab tools from the hand up, ultimately covering the whole body. He does not for a moment forget, though, rehabilitation is of, for and about people:
'We cannot take away the human element in rehabilitation. However striking the robots are in function or variety, they are to lessen the burden on frontline medical workers, not to replace them. Our biggest wish is to help medics with tedious and repetitive tasks, so that they can better care for patients.'
So a storyteller believes.
By amyli@cuhkcontents
Photos by Eric Sin