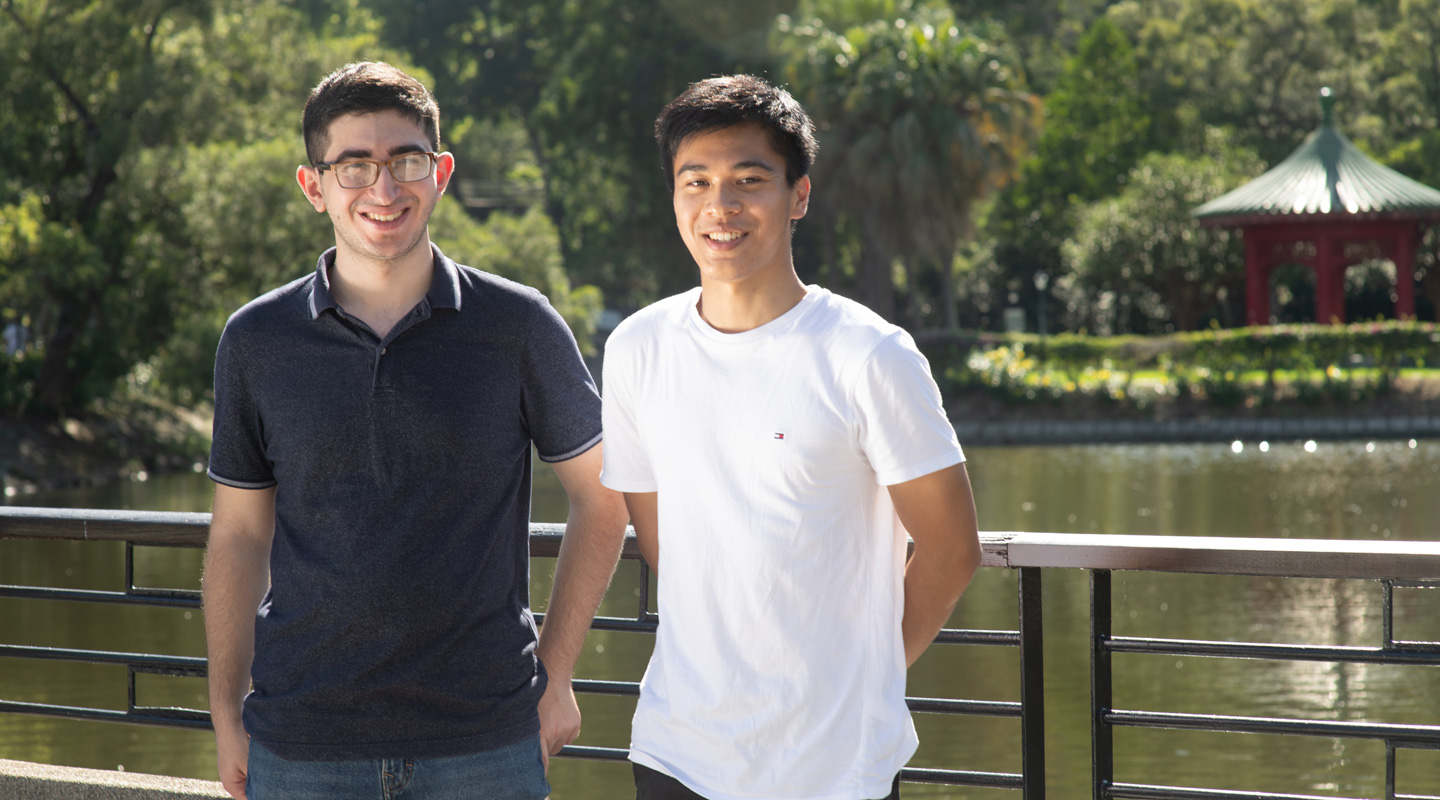 Friendship is a funny yet miraculous thing: on your first day of school, you saw someone at the playground and thought to yourself, 'Hey, that guy looks cool and promising!' So you approached the fellow and decided to play ball with him. As the years go by, he becomes someone who, in good or bad times, sticks by you through thick and thin.
Sometimes, it is the smallest things that make the biggest difference.
As fate would have it, Khachatur Dallakyan (KD)—a Year 1 international student from Armenia, a landlocked country in Central Asia to the west of Turkey—majoring in artificial intelligence: systems and technologies (AIST) and Andy Lam (AL)—a Year 3 local student majoring in biology—became fast friends after pure serendipity. Join us in the following conversations between the CUHK Newsletter (NSL) and the student duo to know more about the stories and adventures that pave their journey of friendship.
NSL: First of all, can you tell us how the two of you got acquainted and became friends?
AL: The first time we met was at a hike at Pineapple Mountain sometime in January this year. Some of my Russian-speaking friends invited other Russian-speaking freshmen to join our hike, and Khachatur happened to be one of them. During the hike, we talked about the culture and history of both Hong Kong and Armenia. Our ideals, interests and beliefs are remarkably similar, so the two of us hit it off right away.
KD: Indeed. Andy is the second local student I met at CUHK. Thanks to him, I was already feeling at home in the new environment shortly after I arrived at Hong Kong. We also went for another hike at Big Wave Bay in March, and—boy, oh boy!—was that a trek of a lifetime!
NSL: Oh? What happened at the hike?
AL: We again went hiking with the Russian-speaking friends, but this time, Khachatur and I wanted to have a little adventure of our own and decided to split off from the main group. Unfortunately, we seemed to take a wrong turn at a crossroad and ended up getting lost in the mountains. To make things worse, our friends had put their phones away as they went cliff diving on the other side of the bay. It took us nearly two hours of aimless wandering before we could contact them and have them get us out of trouble.
KD: Note to self—always make hay while the sun shines.
AL: At least we take the word 'trailblazer' to a whole new level. That's really something!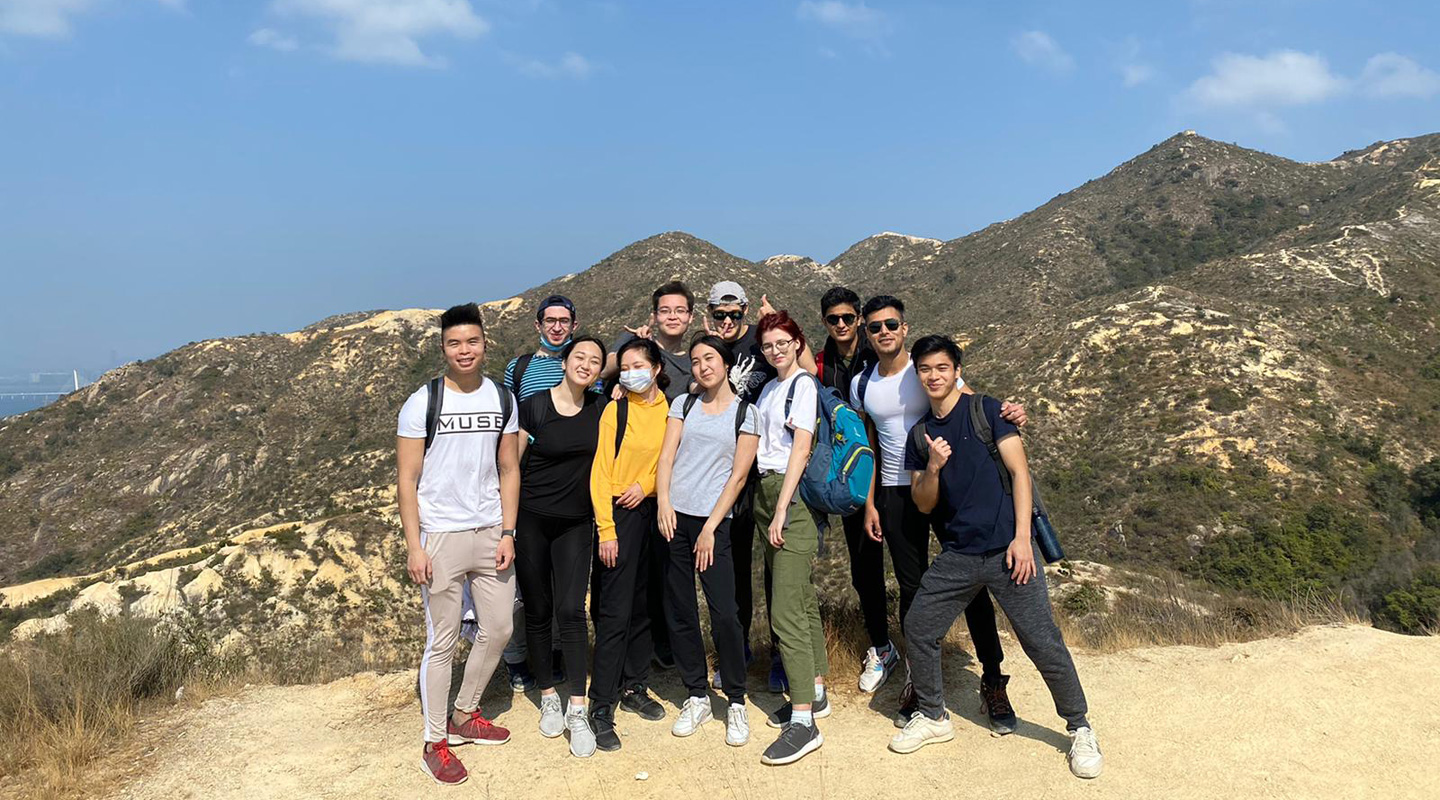 NSL: Besides hiking, do you have any other memorable or unforgettable moments that you would like to share?
AL: We've been dining out frequently and trying different dim sums and traditional cuisines in various Chinese teahouses this year. Although we had a scrumptious and wonderful time, much to Khachatur's chagrin, these restaurants usually only provide chopsticks as utensils—the worst nightmare for many foreign food connoisseurs in Hong Kong.
KD: Chopsticks are hard! I always make a scene whenever I have to use these scrawny little sticks for meals. It is truly amazing how Hongkongers can use chopsticks with ease and grace. The food here is definitely divine, though.
AL: Speaking of food, I still find it unbelievable that you like chicken feet but not our famous siu mai.
KD: Chicken feet are just like Armenian kebab! These 'phoenix claws', in fact, are quite a common dish in Latin America, too. And really, how can you guys like siu mai that much? They just look like hideous dragon eggs!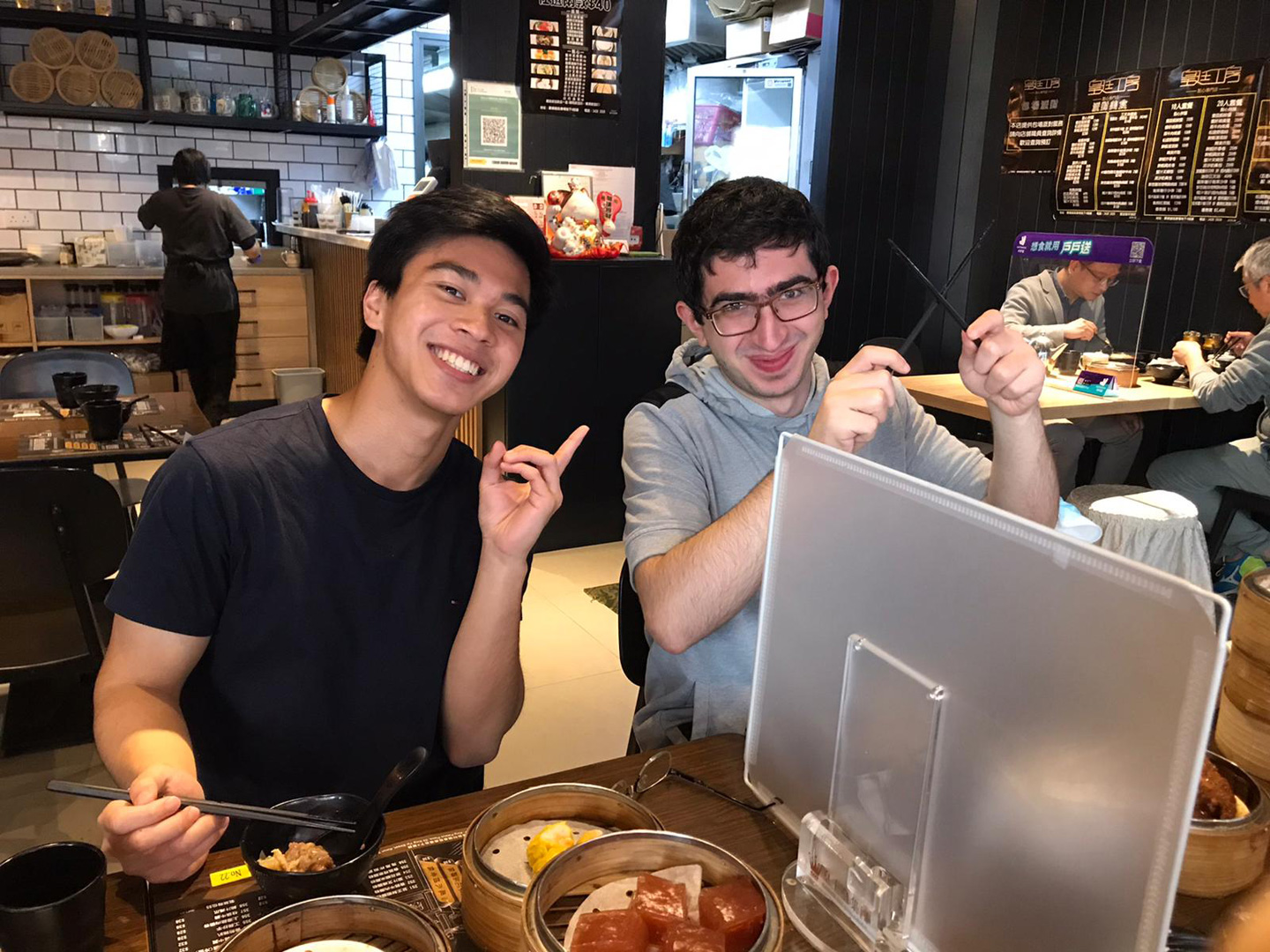 NSL: I'm sure you two have talked about the cultural differences between Hong Kong and Armenia when you hang out. Do you get any enlightenments or insights from each other?
KD: Plenty. For one, I had heard in Armenia that Hongkongers have nothing to eat and crave for cockroaches and other 'exotic' cuisines. Now I see how completely wrong I was!
AL: Khachatur is a cool guy, but after listening to his life stories and experiences, I find that Armenians are overall pretty chill and laid-back—a perfect Sunday for them would be sitting under a tree, savouring a piece of bread they bought at the marketplace, and enjoying what nature has to offer. When it comes to work-life balance, Hongkongers can surely take a page from their book.
NSL: What are some of the things you like about Hong Kong and Armenia?
KD: I am actually quite fond of the geographical distribution in Hong Kong. In Armenia, cities and residences are located in one cluster and you have to travel a few miles in order to visit the nearest beach or woodland. Hong Kong is a totally different story. There's a mix and blend of countryside and metropolitan areas. The convenience and dynamic here is something you cannot find elsewhere. There is just this tiny little pet peeve of mine…
AL: Allow me to fill in the gaps here. Khachatur told me that you can find pulpulak, a small stone memorial with running water fed by mountain springs, at almost every corner in Armenia. This is also what I like about Armenia—everyone can drink clean water free of charge every day!
KD: Let's also not forget Armenia's natural landscape! The view at Mount Ararat is breathtaking and Lake Sevan works just like CUHK's Pavilion of Harmony—you can clearly see the inverted sky at the water's reflection on a sunny day, except that Lake Sevan is many times bigger than the one at CUHK!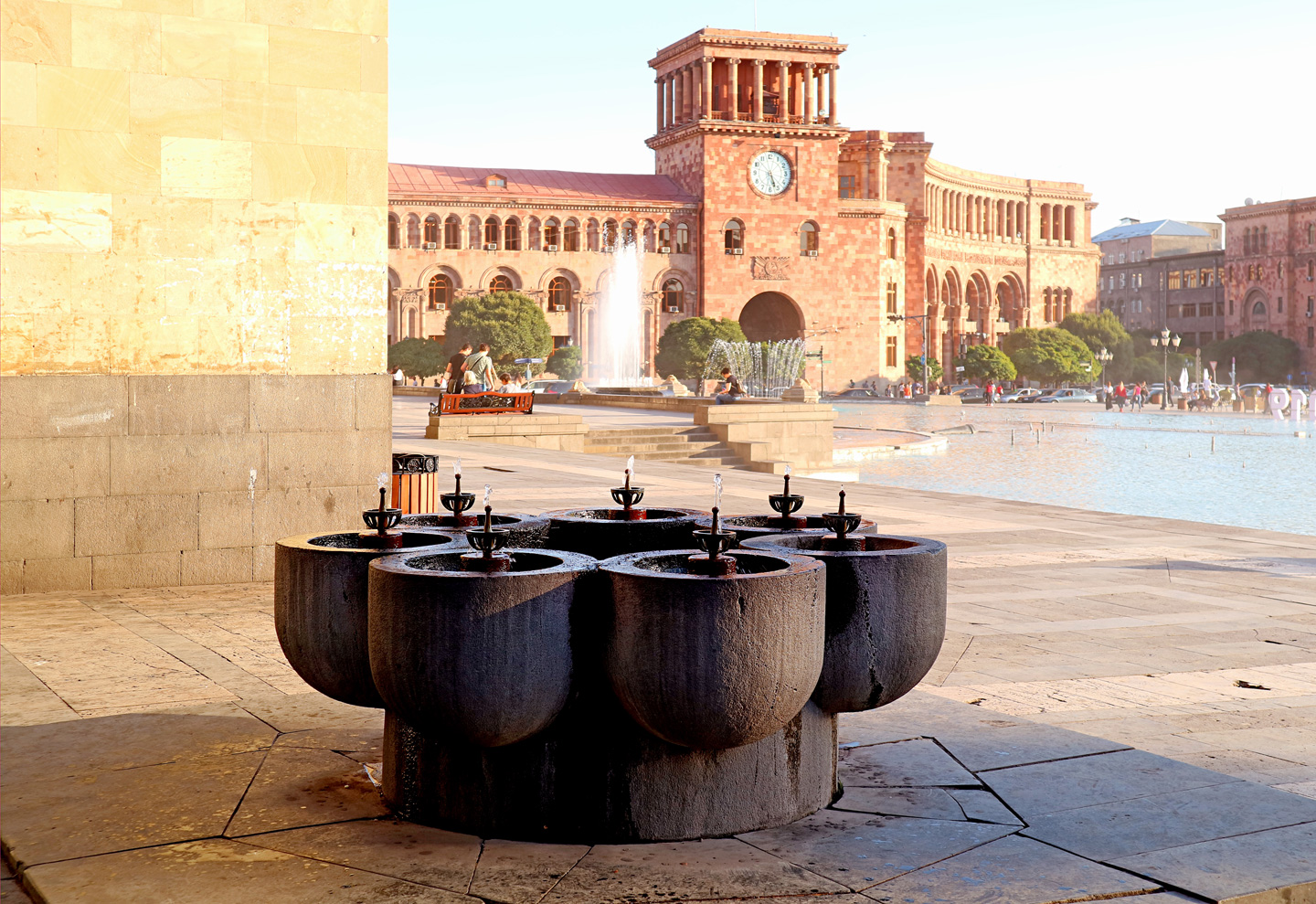 NSL: Seems like you two have a blast in your campus life! On the other hand, how's studying going? Do you have any tips for CUHK students in overcoming academic hardships or struggles?
KD: The course components and teaching methods in CUHK's artificial intelligence programme are pretty much similar to those in Armenia, plus the professors and staff here are extremely helpful whenever you encounter any academic issues, and that really makes students' lives easier and smoother. A point to note if you are an AIST undergraduate, however—the theories and principles in some of the mathematical courses can be difficult to grasp. Don't simply brush them off and progress without laying a strong foundation. Most importantly, don't get overwhelmed. Keep calm and carry on.
AL: To me, the courses arrangement of my programme is somehow peculiar, or even daunting, to current and prospective students. There aren't many courses to take when you are in Year 1, but by Year 3, you have to study a total of six major courses and the workload can be rather heavy. As much as you want to hang out with your friends like you used to, I would suggest you keep studying throughout the semester and leave all the fun after the examination period. Trust me, you have to put your head into the game.
NSL: After finishing your studies at CUHK, do you have any specific plans?
KD: Right now, I'm thinking of taking a master's degree in Hong Kong, but still I will keep my options open. You never know what life has in store for you.
AL: I will go on exchange this September and I'm hoping to pursue my master's in one of the European countries. I'm also very interested in Armenian biodiversity so I may go to Armenia someday as well.
KD: Before that, you definitely have to brush up your Armenian conversational skills. You can't even say 'thank you' (in Armenian it's pronounced as 'Shnorhakalutyun') after I've taught you all these times!
AL: Right back at you—you always mix up the pronunciation of 'thank you' in Cantonese and Mandarin.
KD: Oh. Touché.
By ronaldluk@cuhkcontents
Photos by amytam@cuhkimages and ponyleung@cuhkimages
Graphic by gloriang@cuhkimages