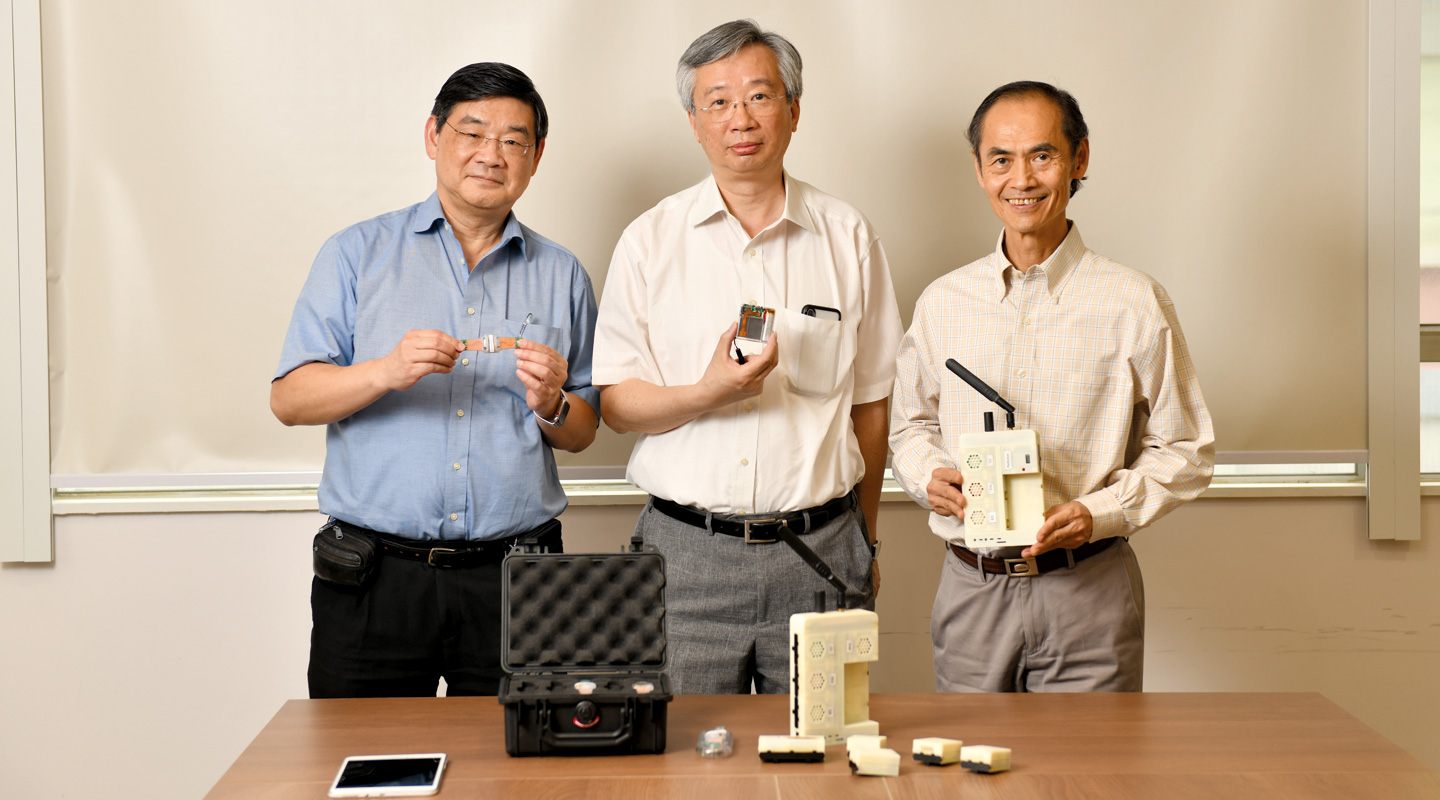 As ecological issues magnify and public health demands more attention, the notion of 'smart cities' is evolving from relevance to salience. Chronic disease remains pervasive and the demand for sustainability impacts human populations everywhere. Ignoring these plights promises steep consequences. Fortunately, CUHK's Institute of Future Cities (IOFC) shouldered the onus for the Guangdong–Hong Kong–Macau Greater Bay Area (GBA), developing initiatives for a smarter, more sustainable future.
Creating a cluster of smart cities within the GBA aligns with the vision of the IOFC and maintains their overarching goal of sustainability. A higher percentage of the global population migrates into cities with each passing year, necessitating a marriage between urban planning and technology. Prof. Fung Tung, Director of the IOFC, explains, 'Currently, over 50% of the population live in cities. Within 30 years, this number will be upwards of 70%. Urban infrastructure is becoming increasingly important and we're looking to optimize it. As cities continue to evolve, we must evolve with them.'
Established in 2013, the IOFC includes an Urban Informatics Programme and Centres of Community and Place Governance, Urban History, Culture and Media, Land Resource and Housing Policy, and Urban Sustainability. Multidisciplinary faculty and research teams constitute these divisions, hailing from fields beyond science and technology. A singular, technological focus won't catalyse change on its own. Wellness, travel, comfort, economy, convenience—multiple angles need to be considered to approach the development of a smart city.
'One single discipline, one single perspective, cannot solve a problem such as this. We are taking a bottom-up approach from many unique fields of study,' says Professor Fung. 'We have a lot of questions to answer. How can we better design cities? How can the design of buildings impact public health? How can we apply both individual data and big data? We cover a lot of ground across different areas of expertise.'
The IOFC's purview encompasses a confluence of disparate segments, including community harmony, housing costs, urban climate, building renovations, alleviation of health issues, heritage projects, and data accumulation. Sundry frames of reference become imperative. The IOFC aims to be the fulcrum upon which the future of the GBA and Asia pivots. 'Our research and innovation is driven by a human-based approach…the most important perspective,' explains Prof. Leung Yee, Honorary Senior Research Fellow of the IOFC.
Bottom Up
Personalized, wearable technology developed by the IOFC pave the way for grassroots efforts. The IOFC has developed three devices to bolster public health and information access. Prof. Leung Kwong-sak, Director of the Urban Informatics Programme and Associate Director of the IOFC, explains, 'Our smart devices will help us support the city with big data analysis. We can employ these on an individual basis to carry out environmental monitoring and check air pollution from bottom-up.'
The Wearable ECG Monitoring System, a health monitoring device, allows easy and painless observation of cardiovascular health. By connecting real-time electrocardiogram (ECG) information to an online platform, medical professionals can monitor it remotely. Artificial intelligence also monitors the online server, assisting in disease diagnosis and screening. Prof. Leung Kwong-sak explains, 'The benefit of our ECG device compared to traditional machines lies in its convenience, comfort, and portability. It has already performed accurately and reliably in a simulated clinical environment at the Prince of Wales Hospital. Our device is on par with other popular, bulkier devices currently in use.'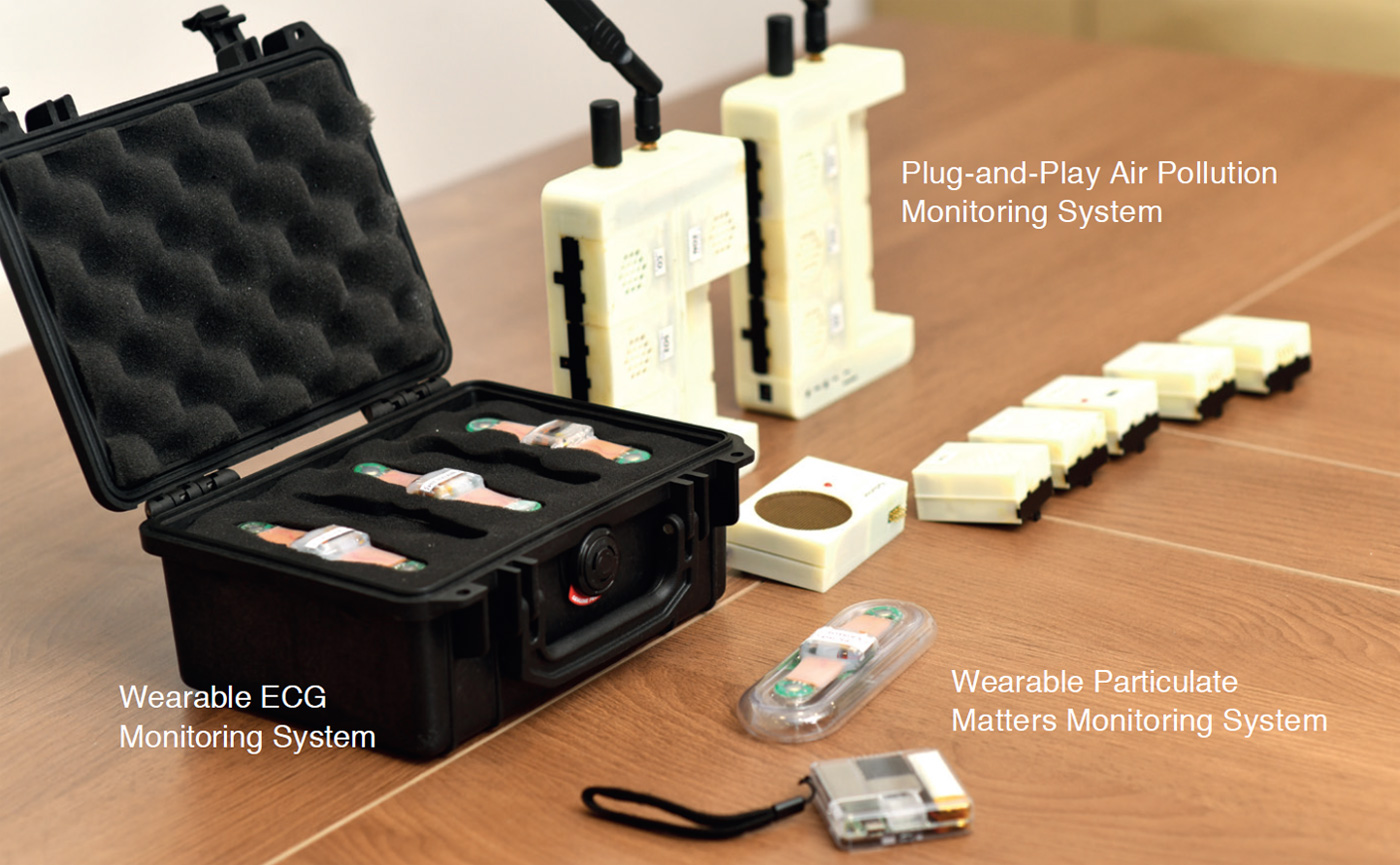 The Wearable Particulate Matters (PM) Monitoring System—small, light, and practical—measures local air pollution variables including PM1, PM2.5, PM10, temperature, and humidity. Similarly, the Plug-and-Play Air Pollution Monitoring System informs measurements of air pollutants such as ozone (O3), carbon monoxide (CO), sulphur dioxide (SO2) carbon dioxide (CO2), nitrogen dioxide (NO2), radiation, and temperature-humidity-pressure. The responsibility of measuring each variable is divided between distinct modules. 'This third device, while larger, can be carried or worn. It can be placed on vehicles, bicycles, drones, or buildings,' says Prof. Leung Kwong-sak. 'The advantage of these PM measurement devices is that they can be used indoors or outdoors, or even on the top of skyscrapers, where PM is rarely measured.'
'We designed these devices because, currently, Hong Kong has 16 total air pollution monitoring stations. This is inadequate for such a diverse city and environment as Hong Kong. Our smart devices provide a denser, more comprehensive set of data and better monitoring of the environment,' adds Professor Fung.
The Big Picture
The smart devices represent the leading edge of the smart city project. The online platform responsible for the data from each device integrates the information with data from mathematical models, satellites, and observatory stations. The amalgamation of personal medical readings and environmental information with big data affords large-scale trend analyses and promotion of public health—all of which will become more and more necessary as city populations increase.
'Big data can be used to check the performance of cities regarding goals such as sustainability, waste management, and public health,' says Professor Fung. The platform will paint a meticulous portrait of public health and pollutant distribution. These advancements in city analysis play an integral role for the IOFC to become a hub for multidisciplinary research and urban development in Asia.
'This idea of smart cities isn't our own personal concept,' explains Prof. Leung Kwong-sak. 'It's a movement that dates back to 10 years ago. We're trying to push the field. The foreseeable years ahead—within our own lifetimes—need smart technology. But, again, the goal isn't purely technological. To create living environments for people to lead happier, healthier and more sustainable lives is what the future should be about. Improving our lives comprehensively.'
Within the coming years, the IOFC intends to roll out these devices and begin to elevate cities, quite literally, into the future.
Phil Rosen
This article was originally published in No. 540, Newsletter in Jun 2019.