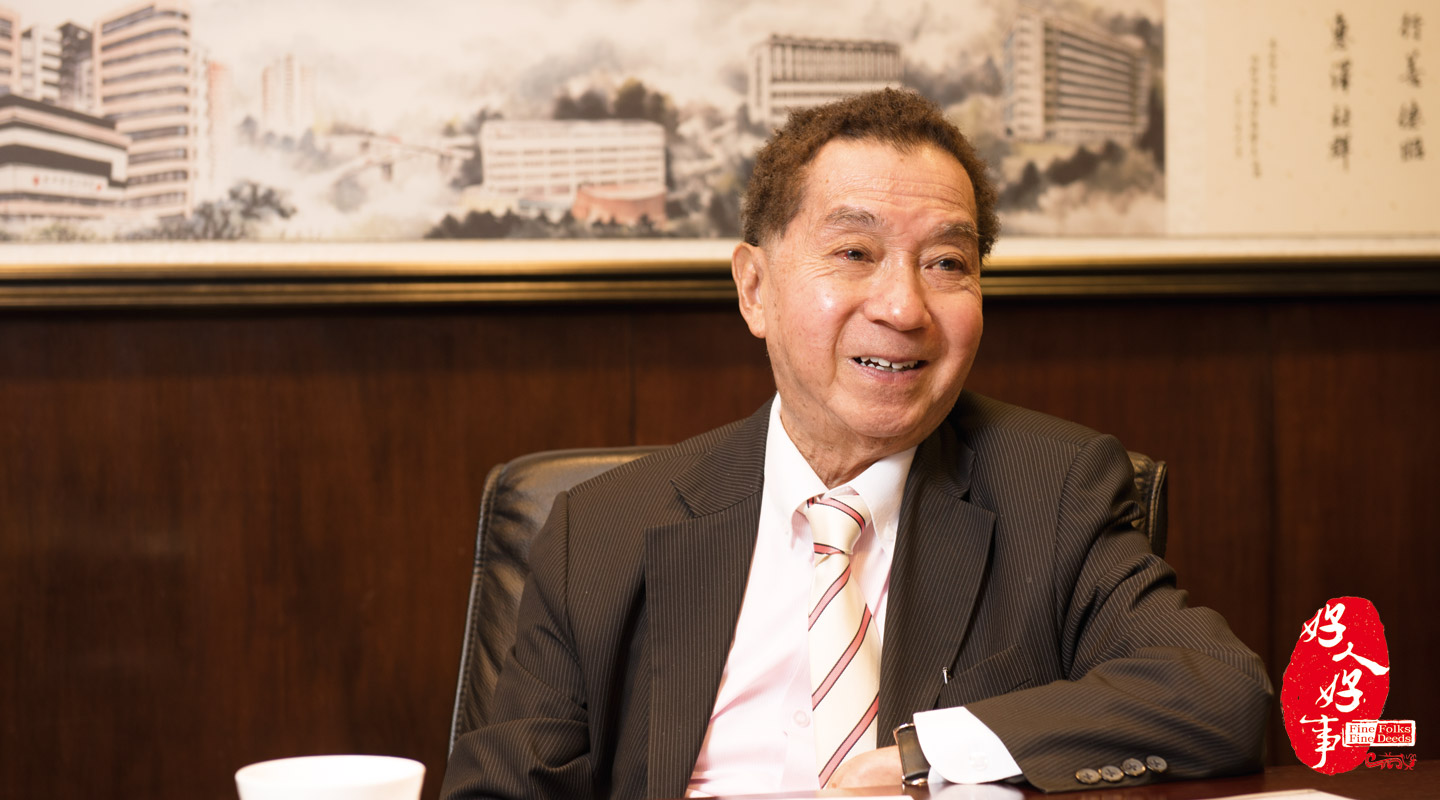 In Hong Kong, if you have arranged to meet someone at the 'Ho Sin Hang Building', there is probably only a one-third chance of your arriving at the right meeting place. On the campuses of local universities, there are at least three buildings named after the late Dr. Ho Sin-hang, not to mention the hostels, sports centres, and various amenities, etc.
Growing Up in a Philanthropic Family
Dr. Ho Sin-hang's name is held in high esteem in Hong Kong and mainland China, and is a by-word of charity. His son, Dr. Ho Tzu-leung, is one of the directors of the family foundation, The S.H. Ho Foundation Limited. Philanthropy runs in the family, and Dr. Ho recalls how, as a young child, he was often reminded by senior members of his family to give a helping hand to those who were poverty-stricken or deprived of education opportunities. 'My father taught us to give to others what you have been given, and that wisdom still rings true today. We are always grateful for what we have, and we are glad to offer help to needy friends and relatives. To be able to help others is a gratifying experience.' Dr. Ho remembers how in the 1940s and 1950s the influx of refugees from the mainland had led to undesirable living conditions and much hardship. 'I lived in Tai Hang at that time, where squatter huts once abounded. Fires broke out from time to time, razing homes to the ground, and that sight has been seared in my memory.'
The S.H. Ho Foundation Limited is known for its generosity towards the impoverished and victims of disasters, with education and health care being its priorities. Born into a family of meagre means, the late Dr. Ho Sin-hang started working at 14. A typical self-made man, he subsequently established himself in the financial sectors, and laterco-founded Hang Seng Bank. 'My father didn't have the opportunity to study and he therefore attached much importance to education. He thought that education was the prime driver of social development: education is indispensable to a child's character formation and imparts practical knowledge essential for his contribution to his own country.' Both father and son believed that there is always room for improvement in medical service, and more resources should be invested in this sector. Dr. Ho's professional knowledge of medicine helps him identify areas where financial support can be put to good use. Adorning the wall of the Foundation's boardroom is a painting of CUHK's campus presented to the Foundation by the Department of Medicine and Therapeutics as a token of appreciation.
Decades of Support for CUHK
From the 1970s onwards, the foundations of the Ho Family have offered unstinted support to CUHK. Under the aegis of Dr. Ho's personal charity fund, the Faculty of Medicine's Dr. & Mrs. Tzu Leung Ho Honor Society was instituted, and every year distinguished students are selected as members and awardees of its Gold, Silver and Bronze Medals.
The biggest single donation made by the Ho Family to CUHK is the one by The S.H. Ho Foundation in 2006 for the setting up of S.H. Ho College. Dr. Ho worked closely together with other senior members of the College, leading to visits to Europe and the US in 2006 by Prof. Samuel Sun, Master of the College. These visits took him to famous institutions like Claremont McKenna College, Princeton's Whitman College, Yale, Cambridge, Oxford, etc, to learn about the best practice of the collegiate system. Upon the foundation of the College, Dr. Ho took up the chairmanship of its Committee of Overseers to spearhead the development of the new College.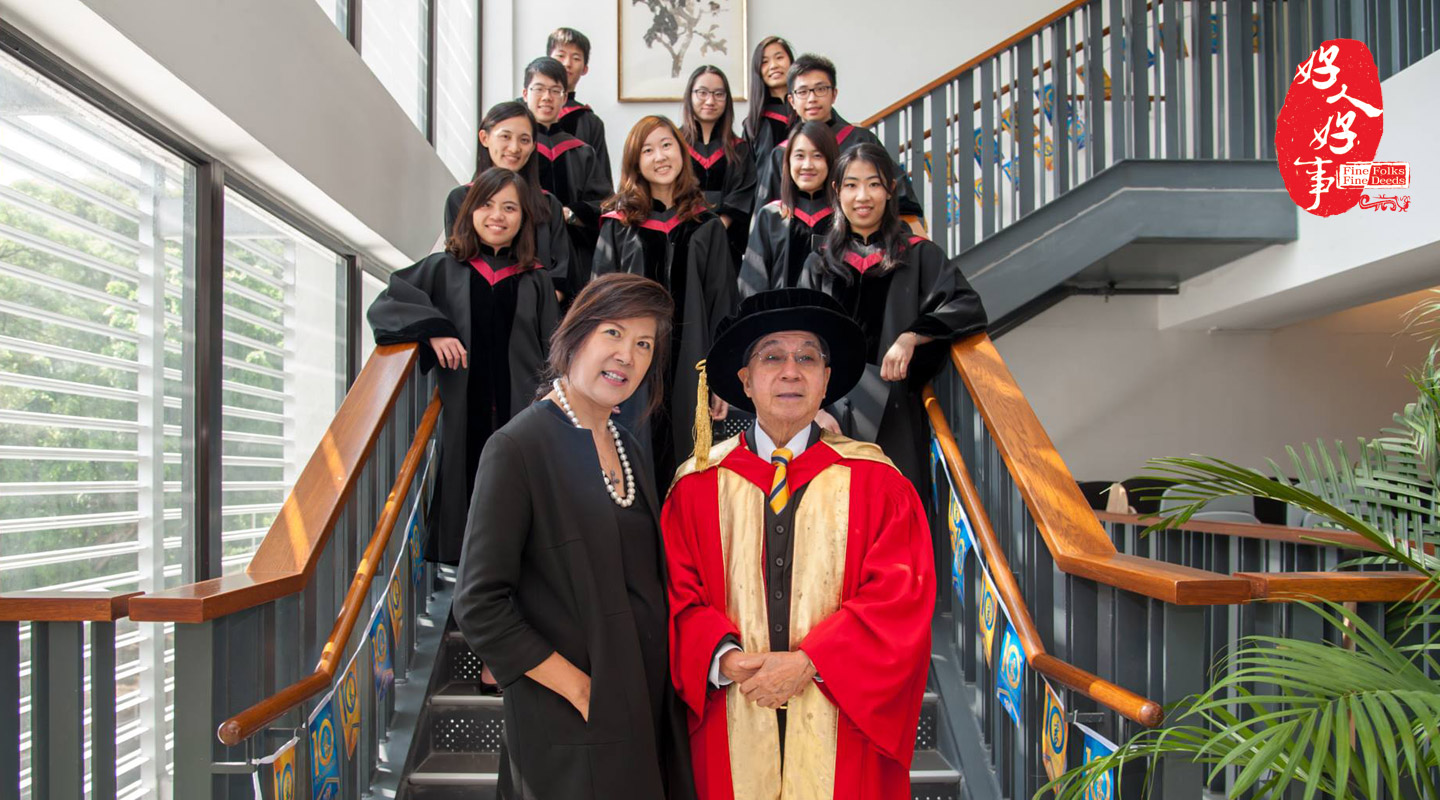 The Allure of a Small College
Dr. Ho says that when Prof. Lawrence Lau, former CUHK Vice-Chancellor, first put forward to his brother, Dr. Ho Tzu-cho, the proposal to build a college on a fully residential and communal dining basis for 600 students, the two brothers found the idea meaningful.
'In my father's lifetime, his friends had offered him much support in his career development. I thought they would continue to support the founding of a college in remembrance of him to benefit more students.' In fact, the families of Dr. Ho Tim and Sir Quo-wei Lee also donated generously for the establishment of S.H. Ho College.
Dr. Ho's belief in the collegiate system is partly based on his personal experience. 'As a student in the US, I boarded in a four-room apartment where eight students shared a living room, and it was like living with one's family. Such an environment provided students with an opportunity to bond, and such bonding is what's missing in many other institutions. I believe that the University could set up a small-scale college where students could build lifelong friendships and networks for a more rewarding campus life and personal development.'
Understanding the Young Generation
The S.H. Ho College has just celebrated its 10th anniversary. Dr. Ho gladly notes, 'Under the leadership of Professor Sun, the accomplishments of the College have exceeded our expectations. It is now one of the most preferred Colleges for the University's freshmen, as well as a model for many small-scale colleges in Hong Kong and overseas. The students of S.H. Ho College distinguish themselves in charitable activities, because the College attaches much importance to students' interpersonal communication and compassion for humanity. Many of our activities are devised to support the underprivileged, the elderly, and the young.' His unswerving support for the College is unquestionably one of the factors accounting for the College's success. The Dr. and Madam Tzu-leung Ho Scholarships for Distinguished Medical Students offer financial support to the College's medical and nursing students. To widen students' horizons, The S.H. Ho Foundation set up funds to promote perpetual bilateral exchanges among the students of S.H. Ho College and three world-renowned universities──Cambridge, Brown and Peking. The arrangement has benefited 34 incoming and 21 outgoing students so far.
Dr. Ho not only resembles his father in philanthropic learnings, but also in modesty. He hopes that students who have benefited from the Ho Family's help would go on to become good citizens and, in return for what they have received, educate those who come after them. 'Don't say that you have lost hope in our young people, or compare them with students in the past. They see the world differently from the way we see it, and they have their own difficulties. In this fast-changing world, it seems that we are materially better provided than before, but the resources of the Earth are running short, which means that the future generations have a harder future and a heavier burden to bear.' In the view of this humble veteran citizen, the youth are always society's most treasured asset.
Some examples of facilities, funds and research institutions set up under the auspices of the Ho Family
Non-Resident Students' Hall of New Asia College
Madam S.H. Ho Hall
Madam S.H. Ho Hostel for Medical Students
S.H. Ho Professorship of Ophthalmology & Visual Sciences
S.H. Ho Professorship of Visual Sciences
C.N. Yang Visiting Professorship Fund
Ho Sin Hang Engineering Building
S.H. Ho Nursing Teaching and Learning Centre
S.H. Ho Centre for Geriatrics and Gerontology
S.H. Ho Urology Centre
S.H. Ho Cardiovascular Disease and Stroke Centre
S.H. Ho Infectious Disease Ward
S.H. Ho Sleep Apnoea Management Centre
S.H. Ho Centre for Digestive Health
This article was originally published in No. 489/490, Newsletter in Dec 2016.