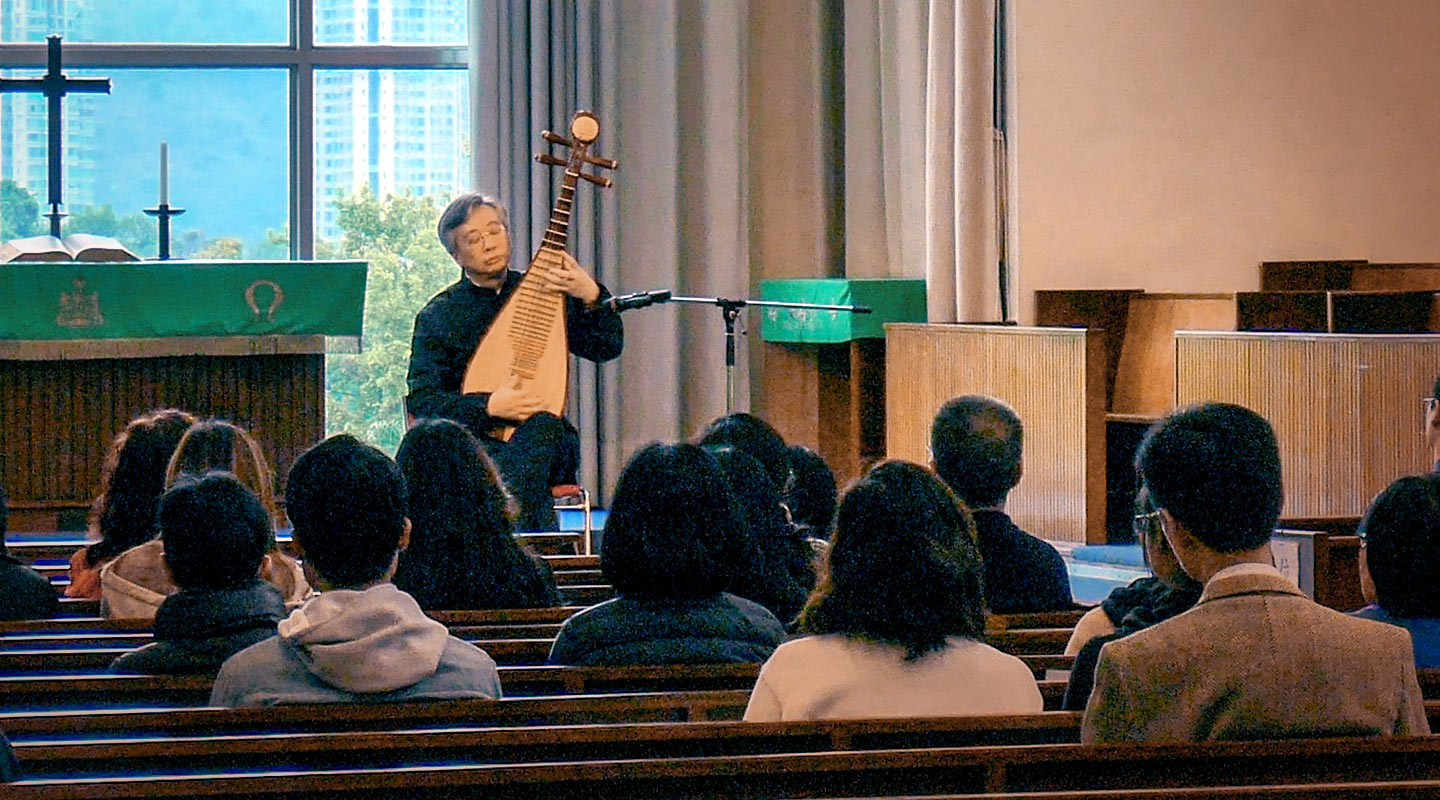 Prof. Fung Tung opened the recital with his mellow rhythm and flawless technique, gliding his fingertips across the pipa strings. Like the mist lingering over the distant hills behind him, his mellifluous ancient melody filled the spacious Chung Chi College Chapel and held the audience spellbound.
Since its first appearance in the Qin dynasty, pipa has existed for more than 2,000 years. The lute-like instrument takes its name from the direction of plucking: 'pi' and 'pa', which mean plucking away from and towards oneself, respectively. All the string instruments played by being plucked in one's lap were named 'pipa' before the Tang dynasty. Pipa pieces are categorized into wen and wu. The wen style is more lyrical and slower in tempo; the wu pieces are more rhythmic and vigorous. The wen-style Wild Geese Descending on a Sandy Beach, The Green Lotus and The Moon Aloft played by Professor Fung ushered in a welcome breeze amid the hustle and bustle of modern life.
Professor Fung has been playing pipa since the age of 12, under the tutelage of the southern school grandmaster Mr. Lui Pui-yuen who is a pioneer in the Hong Kong Chinese music circle. Mr. Lui founded the Chinese National Music Troupe in 1961. He was one of the forerunners of the Hong Kong Schools Music Festival and the first pipa teacher in CUHK's Department of Music. Professor Fung considered himself extremely fortunate to have played The Green Lotus with the octogenarian in 'In Praise of Elegance: Lui Pui-yuen Pipa Guqin Recital' at the University of Hong Kong in 2014.
The Moon Aloft played at the Midday Oasis impressed me the most. The piece describes the oblique ascension and descension of the moon above the sea. Among all the ensemble and recital editions, pipa recital is the most challenging. Professor Fung played the score transcribed by Mr. Lui. His refined tremolo and crescendo were mesmerizing, lifting me to the dreamy sky to appreciate the sublime moon up close. After a vivacious allegro returned the first motif. The moon gradually descended and its surroundings settled into tranquility again.
Pipa is a single melodic instrument, for which nothing is as important as its tone quality. Those who are used to popular music or chordal harmony may find the pipa performance less gripping. But I like the quaint and quiet wen-style pipa pieces, which are soul-cleansing enough.
J. Lau
This article was originally published in No. 535, Newsletter in Apr 2019.