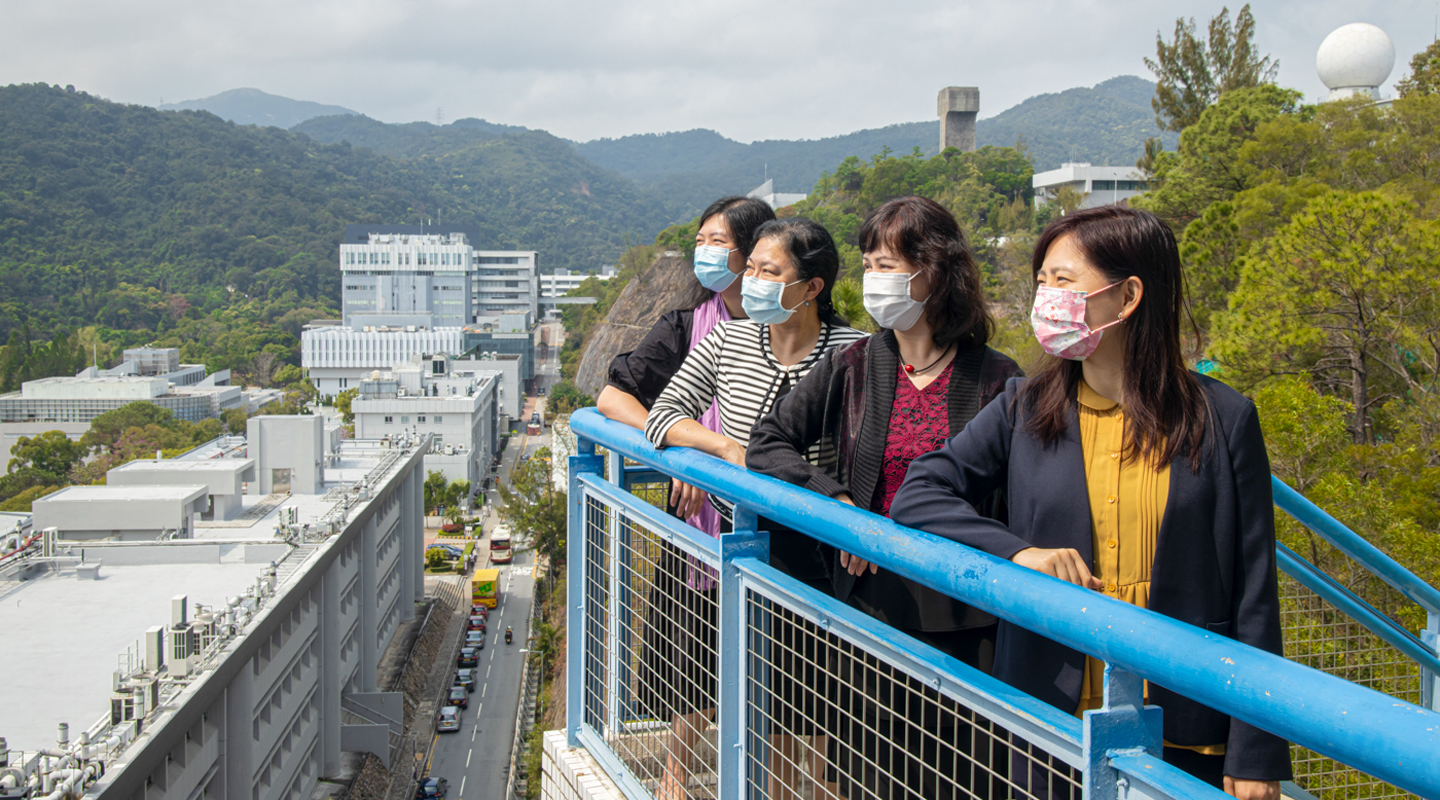 The yearning for a happy career—a job that reflects our passions, uses our talents and provides a deep sense of meaning—is a modern product. For centuries, humankind was too busy struggling to put food on the table to worry about whether they had an exciting and life-enhancing career. But today, material abundance and technology advances have freed our hands and minds to expect much more out of life.
We have entered a new age, in which it is not enough to hold a comfortable position offering the old-fashioned perks of a healthy salary and job security. Employers are also beginning to recognize the importance of workplace wellness and are taking steps to help nurture the positive aspects of employees' work experience, reducing burnout and turnover in the process.
Since 2010, CUHK's Human Resources Office (HRO) has been looking into ways to promote Positive Workplace and Staff Development (PWSD) initiated by the University management, a framework that is now supported by the pillars of Positive Performance Management (PPM) and Workplace Courtesy and Civility (WCC). In other words, after a decade of outreach, expert consultation, literature review and opinion survey, they figured out the desirable workplace climate, leadership qualities and co-worker relationships that CUHK staff most treasure. CUHK Newsletter talked to four members of HRO who are involved in the building of the PWSD framework, and asked them for the keys to real fulfilment at work.
The C.A.P. of a Good Workplace
To find out what makes a great place to work, HRO had consulted Prof. Chiu Chi-yue, Dean of Social Science and a member of the PWSD Committee, who spelled out three magic words: Competency, Acceptance and Predictability. If your strengths are fully utilized (C), you can show your true self in your team while feeling belonged (A), and you can foresee you will be treated fairly and your hard work duly acknowledged (P), congratulations! You probably wake up every morning feeling excited about going to work.
On the contrary, in a workplace without the elements of C.A.P., you will feel useless, excluded and underrated. Your co-workers and supervisors are capricious, moody and hard to read, so you often feel tense, aggrieved and helpless. 'As Professor Chiu pointed out, a missing C.A.P. accounts for workplace bullying scenarios,' Assistant Director of Human Resources Betty To put it in a nutshell.
The E.A.R. of a Good Colleague
'If the C.A.P. are attributes of an ideal working environment, E.A.R. are what each team member needs to practise to foster such an environment,' said Fion Law, Human Resources Manager.
'Empathy' and 'Respect' represented by the letters E and R are easy to understand—we should learn to overcome bias and see things from other people's perspectives, and embrace the fact that we are all different and we all make mistakes. What needs elaborating is 'Appreciation' represented by the letter A: it surely means we should look on the bright side at work and lavish praise on our colleagues, but it does not imply we need to hold back on any criticism. 'If someone performs under par, they should be given immediate and honest feedback. When they are told that something isn't working for some months, they may feel shocked and uncomfortable because they have been doing something wrong for so long. According to expert opinion, the golden ratio of genuine assessment is 5 (praise) : 1 (criticism),' said Fion, who added that the E.A.R. are also the most treasured workplace civility norms voted by participants of the WCC engagement workshops.
Good Chiefs, Good Vibes
In 2019, HRO conducted a survey on Workplace Courtesy and Civility among CUHK employees. When they were asked which stakeholder plays a most important role in fostering positive experience at the workplace, the most popular answer was 'unit heads and supervisors'. Human Resources Manager Angel Leung interpreted it this way: 'Unit leaders are like the patriarch or matriarch of a family, whose attitudes and behaviours are closely observed and followed. Managers who are able to remain calm in all circumstances and emphasize hope and opportunity are more likely to inspire trust because the team know that whatever the issue, they can rely on their leaders to find a way forward. Managers who are impulsive, anxious or prone to anger instil fear in their subordinates, so everyone puts their heads down and clams up.'
Betty added, 'Difficulties and challenges are a part of everyday life. In each happy office there is always a magnanimous chief, who sees mistakes through the lens of growth and opportunity, allows diversity of capabilities in a team, and steadies the ship during turbulent times. This is so much easier said than done.'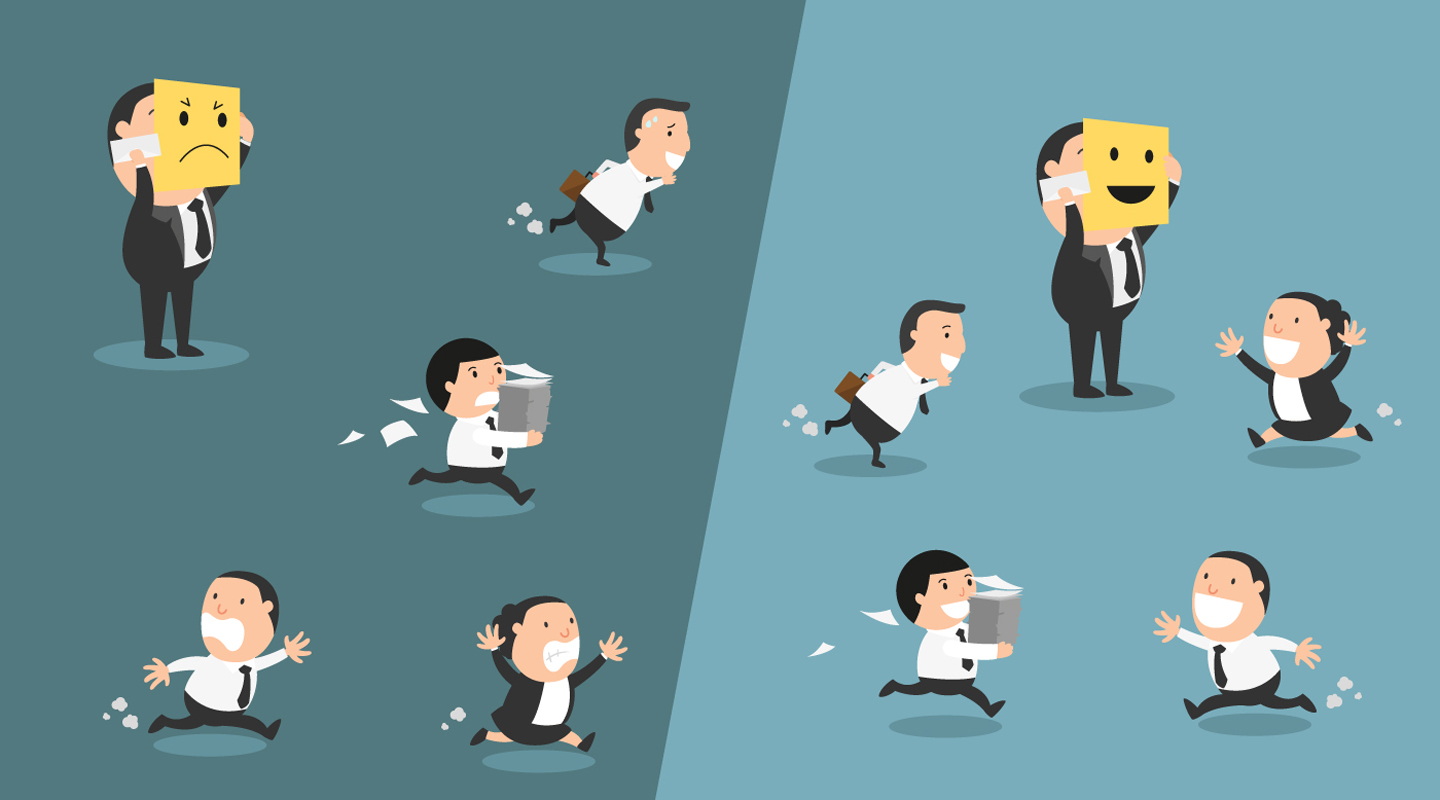 Shall We Talk?
As Director of Human Resources, Corinna Lee believes good leaders give their teams the freedom to do the work they feel passionate about, which does not mean they go unmanaged. The crux lies in open and clear communication when differences arise. 'It is normal for people to disagree, but instead of dismissing the ideas of others like a "know-it-all" or playing the blame game, managers should keep an open mind and try to understand other points of view, and at the same time express clearly their own thoughts, so that both sides feel respected.'
It is also through good communication and mutual understanding that employees are able to set goals in alignment with what the organization expects. 'Many people think they have given their best at work, but still feel unnoticed and undervalued. A most common reason is what they fulfilled brilliantly were 1, 2 and 3, but in fact, their managers were expecting A, B and C,' illustrated Betty. 'We toil away at our jobs and thought less talk means more work, which is terribly wrong.'
Gratitude Begets Gratitude
In positive psychology research, gratitude is strongly and consistently associated with greater happiness. Gratitude helps people feel more positive emotions, relish good experiences, improve their health, deal with adversity and build strong relationships. To help CUHK employees bring these benefits into their lives and workplaces, HRO organizes every December the Staff Appreciation Day, when small gifts sponsored by the PWSD Committee are distributed, thank-you cards are sent to one another, and kindness is celebrated in the thanksgiving spirit of the season.
The tokens of appreciation have evolved over the years, from plastic folders to tote bags, stationery cubes to green plants, and floral tea to cutlery set, which have demonstrated increasing meaning and utility. In earlier versions of the annual event, only a limited number of gifts were dispensed at designated time and places. The feedback was so rapturous that HRO later decided to have the presents hand-delivered to every full-time employee. 'The logistics pose enormous practical problems, but when we received photos of blossoming plants on people's windowsills, or were told an office held a cake party to pair with our floral tea, we felt immensely encouraged. By showing gratitude, we uplift others AND ourselves!' said Corinna.
'For each of our events that promote positive workplace, I hope our colleagues are not just passive observers or recipients, but would internalize the values imparted, and practise empathy, appreciation and respect in everything they do or say. It is only then that we can say a campaign has led to a culture shift.'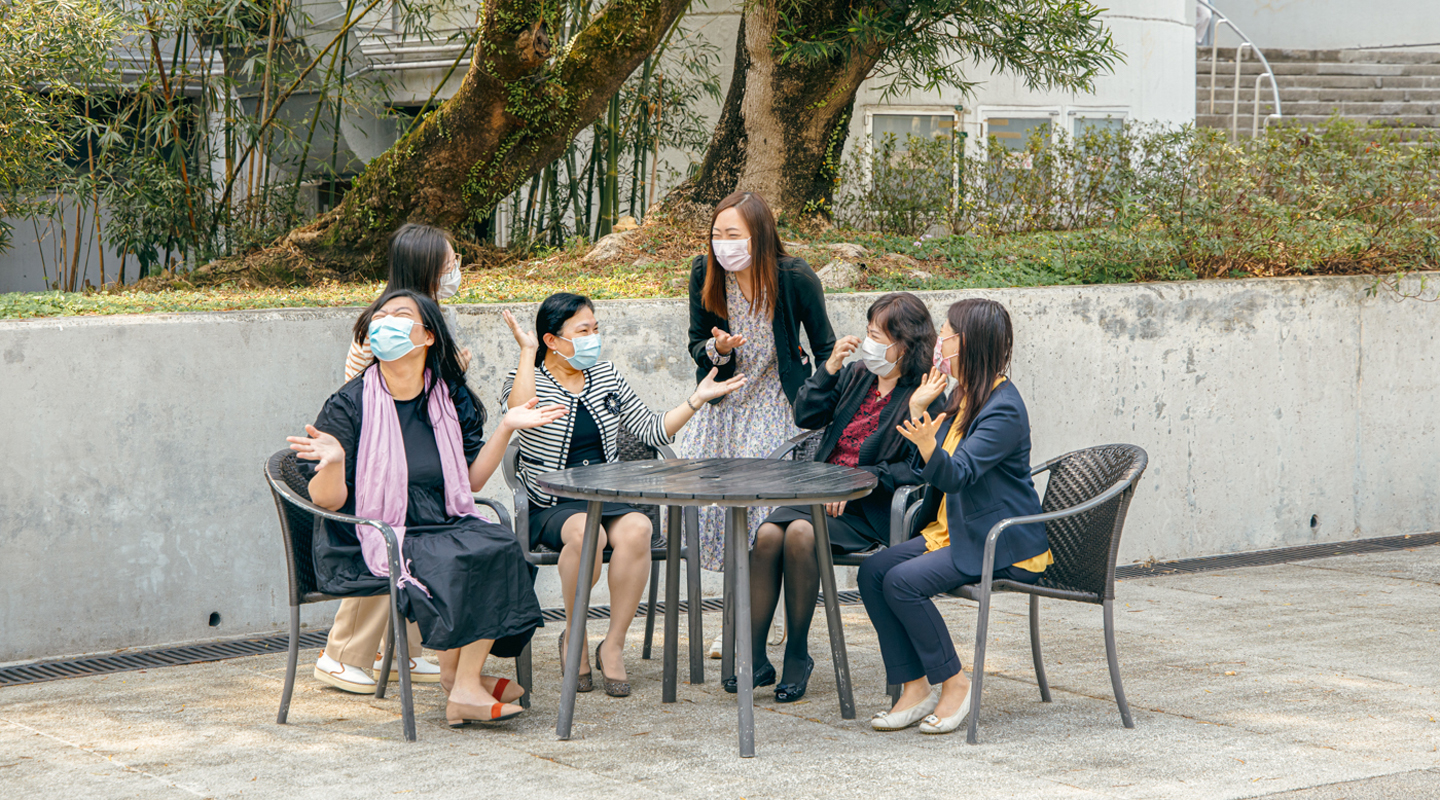 By christinenip@cuhkcontents
Photos by Eric Sin