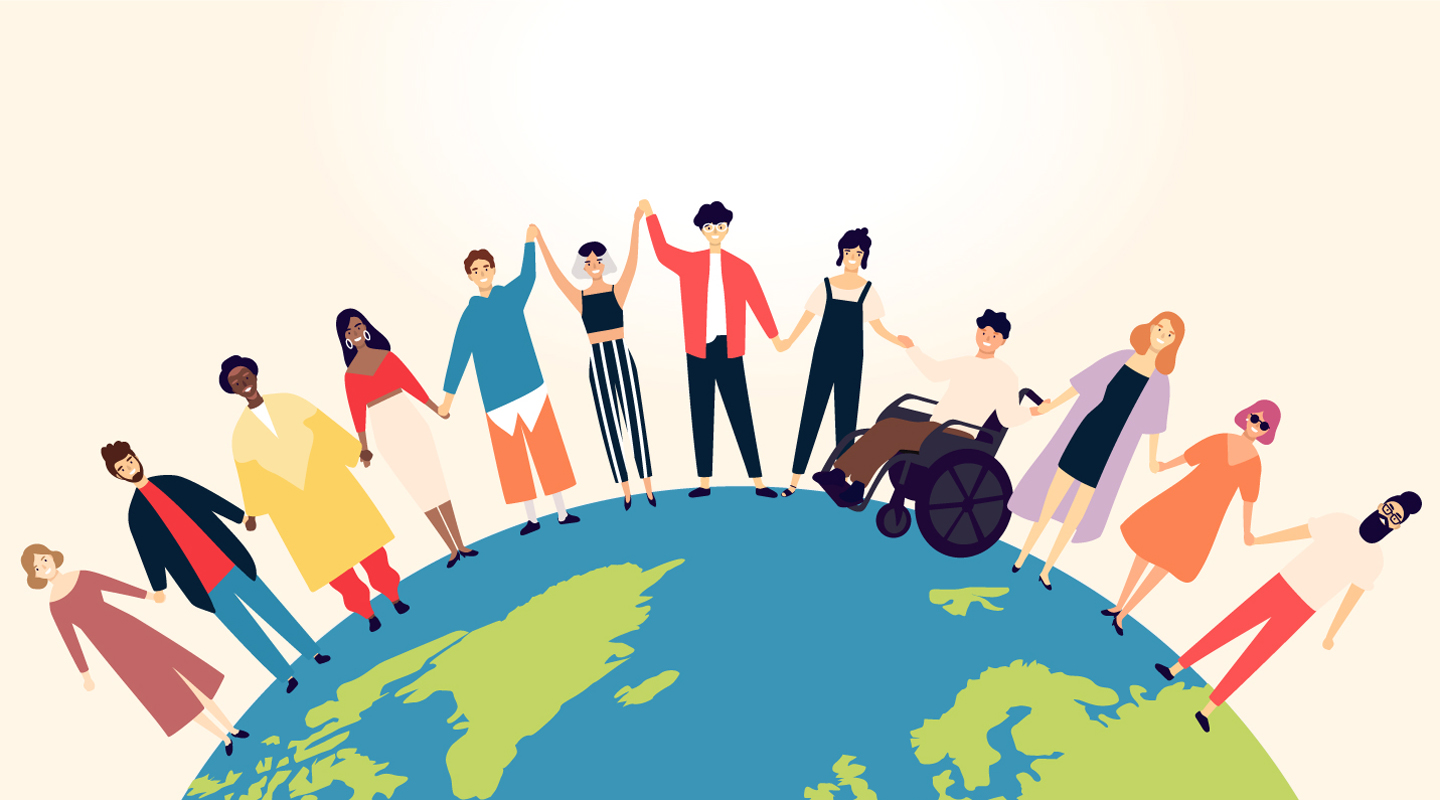 Five oceans, seven continents, 195 countries and approximately 7.8 billion people, all packed nicely in a tiny blue planet called Earth.
When we think about it, humans, at heart, are actually all the same.
Sure, you and I may be of different races, worship different gods, have different genders or sexual orientations, yet at the end of the day, we are all beings with more in common than not. To quote the famous US president John F. Kennedy: we all breathe the same air; we all cherish our children's future; and we are all mortal.
Indeed, every one of us has hopes, dreams, feelings and, most importantly, deserves to love and be loved. This is why the notions of 'diversity' and 'inclusion' (commonly known as 'D&I') have never been more indispensable in this day and age: with a myriad of people living around the world, creating spaces for every voice to be heard and validated—that's diversity—as well as cultures that work towards equity and respect differences—and that's inclusion—are therefore of paramount importance.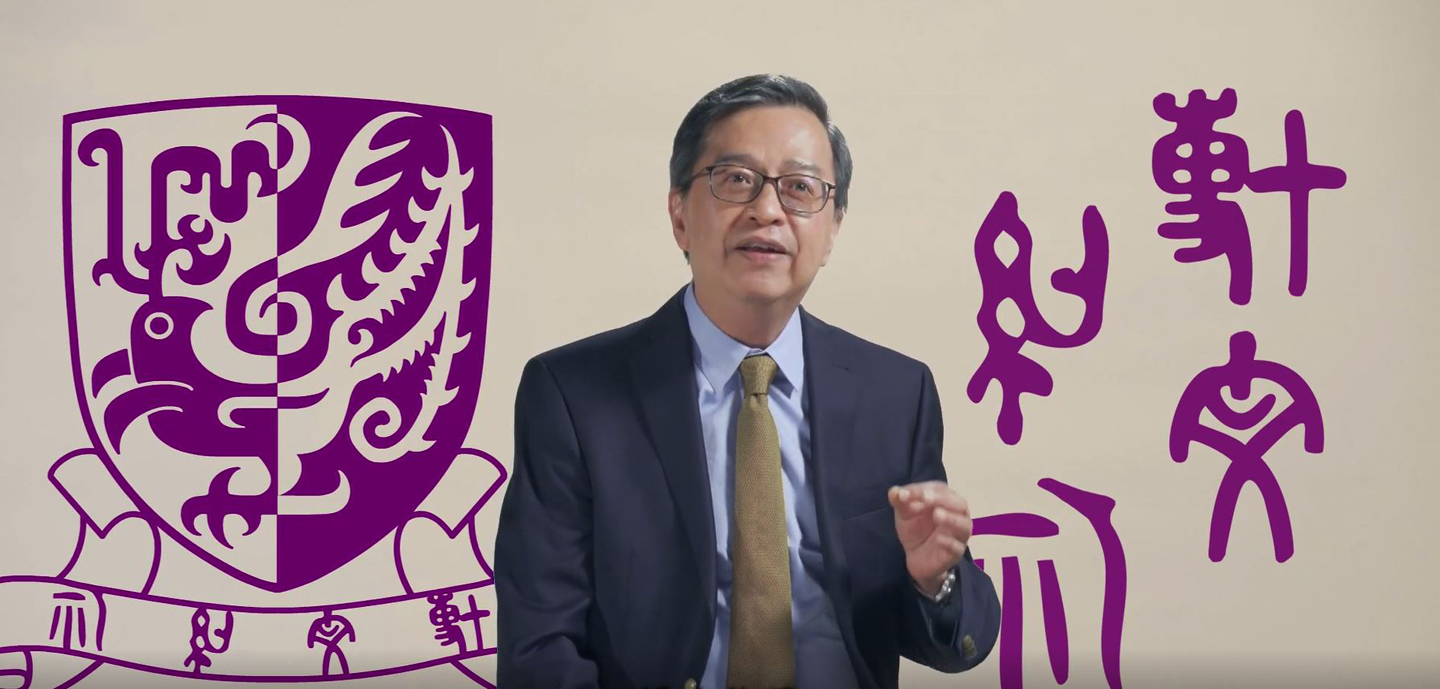 'A university is always an environment that should be conducive to the flourishing of different conceptions,' said Prof. Alan Chan, Provost and chairperson of CUHK's Diversity and Inclusion Steering Committee. 'Just as biodiversity makes for a more wholesome natural environment, social diversity will, too, contribute to a more vibrant society, and if we embrace diversity, we need to make sure that there is inclusion.'
To engage the University community in celebrating the uniqueness and recognizing the potentials of different individuals, CUHK has held its inaugural Diversity and Inclusion Week between 4 and 18 March, featuring a full calendar of events and activities for everybody to participate.
Kicking off the activity week was the pledging ceremony organized by the Diversity and Inclusion Office. Besides epitomizing CUHK's pledge to uphold the principles of openness and inclusivity, the ceremony served to commemorate the inauguration of D&I student ambassadors, appointing 27 students to promote and spread the message of diversity and inclusion on campus.
'We will make sure that those who study, learn, do research, work and live on campus will feel welcome and develop a strong sense of belonging to the University,' said Prof. Rocky Tuan, Vice-Chancellor and President of CUHK. 'To achieve this, we cannot do it alone. We need both your active engagement and constructive suggestions for advancing equity and inclusion.'
From race and gender to anti-discrimination and social equality, scholars and speakers from all walks of life were invited to partake in and go over a wide palette of issues with the participants in this content-packed, awareness-raising Diversity and Inclusion Week. Below are the highlights.
Race and Culture—a Global Melting Pot
Home to over 40 distinct nationalities that span some 15 different countries and regions, the CUHK campus is a treasure trove of talented and high-calibre students and staff from all over the world. With such cultural diversity right here on campus, what better way to celebrate the activity week than to have these individuals share their life journeys and give us some food for thought?
Organized by the Alumni Affairs Office and as part of the Diversity and Inclusion Week talk series, a sharing session was given by Innocent Mutanga, founder of the Africa Center Hong Kong and alumnus of New Asia College, on how he was received by people in Hong Kong. 'As a Zimbabwean myself, I would say Hongkongers are cautious yet, at the same time, curious,' he said. 'People always want to know and ask me different kinds of questions, but sometimes their words just came out wrong. At one time a high school student asked me, "Innocent, is there a reason why your hair and skin look so black?", I literally did a double take!
'To better understand people of different backgrounds, you have to step into the shoes of others and understand the context first. Before you figure out what is really happening, do not dive head-first and abruptly jump to any conclusions,' Innocent remarked. 'It is all about empathy, really!'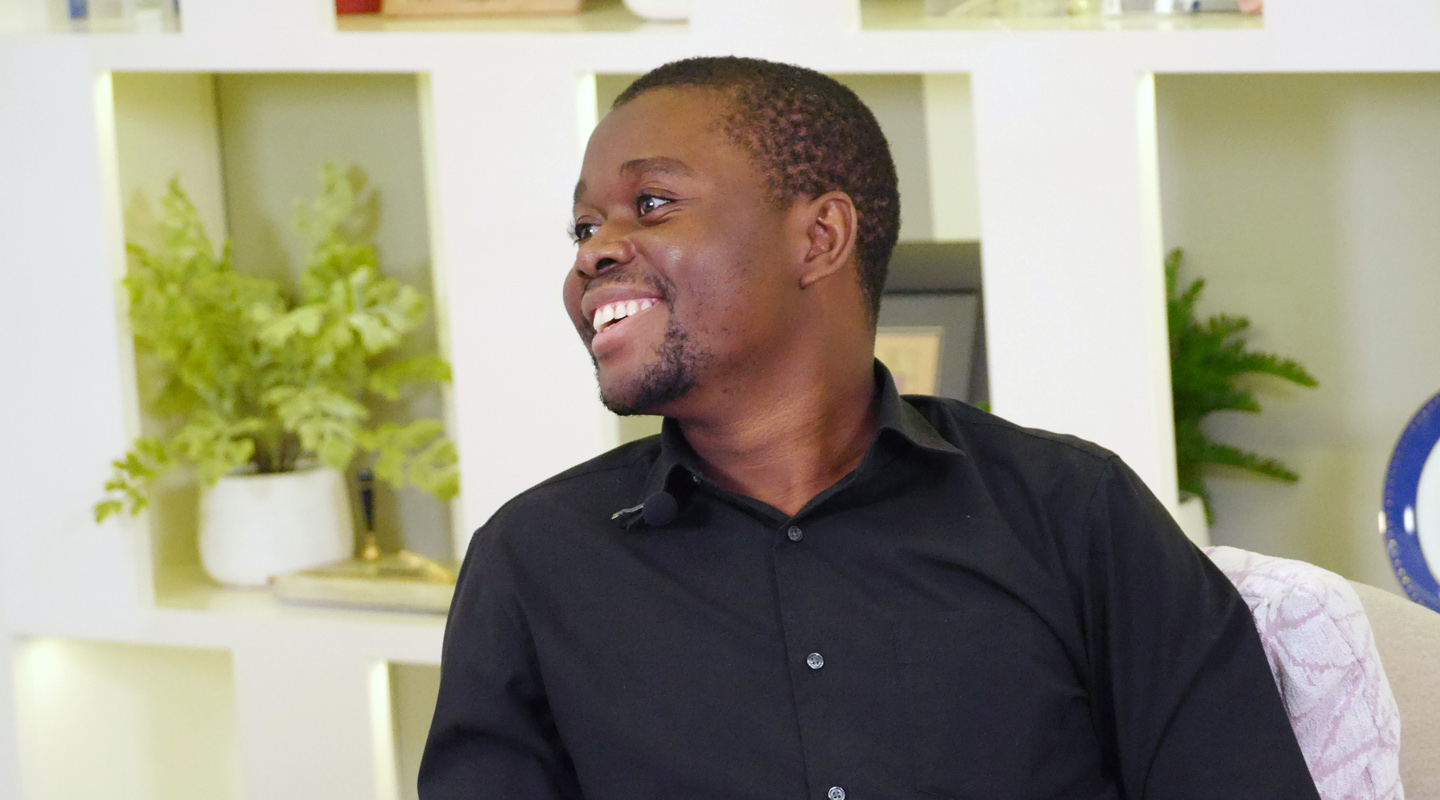 During the pledging ceremony, Vivek Mahbubani, an Indian stand-up comedian based in Hong Kong, also shared his views on how normal folks should embrace D&I in their everyday lives. 'Instead of just talking about it, think about how you can look at life differently and make it so much more interesting!' he jubilantly expressed. 'For example, whenever I get off the MTR at Central, people there will think of me as a successful businessman; whereas when I get off at Sham Shui Po, people there will regard me as a construction worker. Some may see this as racism, but I actually take this as a compliment and think to myself, "Hey, Hongkongers see me as some sort of multitalented guy, or superhero, perhaps!"
'As a comedian, the best fun that I find is to mix and blend with everyone else. Think of being different, putting on a smile, and having a good time altogether!'
Apart from talks, the Diversity and Inclusion Week was filled with loads of interactive activities for participants to discover new cultures and make friends: there is the Language Exchange Programme organized by the Independent Learning Centre, which allowed students of different nationalities to teach each other their own languages, share cooking tips for their local cuisines, and virtually visit landmarks around Hong Kong. There was also the D&I Virtual Fairs 2021 organized by the 10 non-local student associations of CUHK, which hosted an array of intercultural game booths for visitors to frolic.
Gender Norms and Equality—from Household to Breadwinning
Gone are the days when it was the societal norm for men to do the outside work while women undertook the domestic chores: more and more women have seceded from the feminine ideal of stay-at-home mother and entered the workforce to become masters of their own fate. Nevertheless, the challenges they face today are still aplenty.
Under the theme of 'Empowering Women Academics in Higher Education: A Dialogue', the Task Force on Women and Family-friendly Policies held a panel discussion and invited various professors from different Faculties to talk about how female researchers can advance in their professional careers and also pertinent issues found in the academia.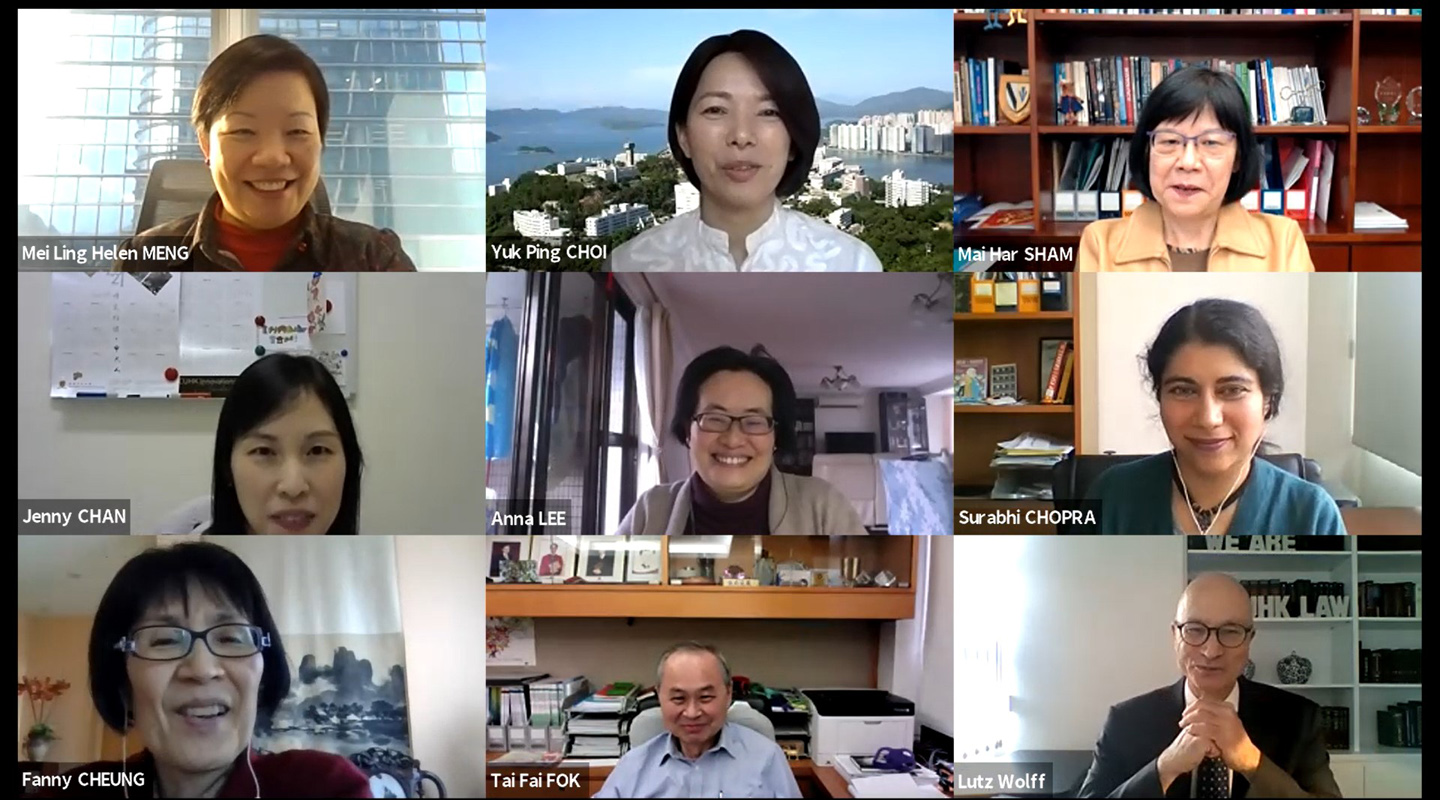 Prof. Sham Mei-har and Prof. Fok Tai-fai, both Pro-Vice-Chancellors and co-convenors of the Task Force, have their fair share of anecdotes in the academic arena. In order to excel and sail smoothly in the field, the crux, they believe, is to step up, reach out, and have faith in yourself.
'You have to convince yourself that you are good enough—peer feedback in academia tends to be negative and can often be harsh, so be adamant, take criticisms positively, believe in yourself, and keep moving forward,' said Professor Sham.
'The problem of discrimination does exist in our field—I have seen female colleagues being squeezed out of the medical academia as those working around them believe that women should assume the role to look after their families. We must act together and take initiatives to voice out when we see something unjust,' Professor Fok added.
To further address the gender issue, an International Conference, titled 'Gender and (Im)mobility in Uncertain Times', was organized under the auspices of the Diversity and Inclusion Week.
To further address the issues in relation to gender, the International Conference, titled 'Gender and (Im)mobility in Uncertain Times', was organized by the Gender Studies Programme and also as part of the Diversity and Inclusion Week. With the support from Worldwide Universities Network, the conference dived into topics such as workplace dynamics, family relations, social inequalities, and gender diversity across societies in Hong Kong, mainland China, the UK, the US, and many more. There were also workshops to broaden participants' horizon on how anti-discrimination laws in Hong Kong can offer protection to all, with a focus on issues such as sexual harassment and updates on breastfeeding by nursing mothers.
Diversity and Inclusion—Variety is the Spice of Life
'Diversity is being invited to the party;
Inclusion is being asked to dance.'
The author of this quote, Vernā Myers, has raised an interesting point on how we can comprehend the concept of D&I—true diversity and inclusion is about representing and involving everyone; everyone should live it up and join in the fun.
To this end, the Diversity and Inclusion Week included a wide range of workshops for all kinds of audience to participate. For instance, students and their families could join the sign language and Kalimba workshops to learn about communication through gestures and music, whereas staff and alumni could delve into the artistic world and try their hands at pastel Nagomi art and flower plaque designs.
For sport enthusiasts and those looking for a different workout regime, they could take part in the 'Fitness x Mentorship' Scheme, organized by the I·CARE Centre for Whole-person Development, to partner with various members of the community, including the elderly, the intellectually disabled, and ethnic minorities, and pursue sports in a brand-new perspective. If you prefer to stay indoors, you could choose to watch the online videos created by the Office of Student Affairs to learn about Hong Kong athletes' perspectives on sports diversity, as well as try out some easy exercise tutorials, such as yoga and Baduanjin, at home.
'As an athlete, you have a lot of opportunities to interact with people all over the globe. You get to learn about their training modes, customs, and even philosophies of life,' said Camille Cheng, Asian Games medallist and CUHK alumnus. 'Doing sports is just like everyone speaking the same language. It helps one embrace diversity and open up to new ideas,' said Margo Ma, Hong Kong elite Karatedo athlete and CUHK assistant lecturer.
CUHK's commitment to engage every University member in a diversified and inclusive environment is definitely on full display, as evidenced by the lively and exhilarating activities organized in the Diversity and Inclusion Week. The University's resolve to make everyone feel welcome, valued and accepted will amount to little, though, unless we are ready to emulate ourselves and appreciate the ethnicities, cultures, and identities around us.
'In CUHK, all we have to do is to remember our University motto, "Through learning and temperance to virtue"—learning and proper conduct that exemplify humaneness, mutual respect, understanding, and being considerate. These together form an integral whole that helps recognize and celebrate diversity and inclusion,' Prof. Alan Chan commented.
By ronaldluk@cuhkcontents
Visual design by amytam@cuhkimages