Research, writing, editing, printing – 20 issues have passed, almost imperceptibly. The academic year has come to a close and it's time to bid a temporary farewell...

What happens when multi-coloured Lego bricks are combined with an ethereal Chinese ink-and-wash painting? Zhang Xiaoli, fresh graduate of the Department of Fine Arts, makes a creative attempt by copying a painting of Shen Zhou, a painter from the Ming Dynasty, from a modern perspective. The photo above shows part of her 550cm-long work A Copy of Handscroll Landscape of Shen Zhou. Together with other some 30 works by the fresh graduates of the same department, the painting is on display at the Art Museum of CUHK until 29 June.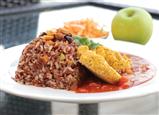 Copyright © 2020. All Rights Reserved. The Chinese University of Hong Kong.