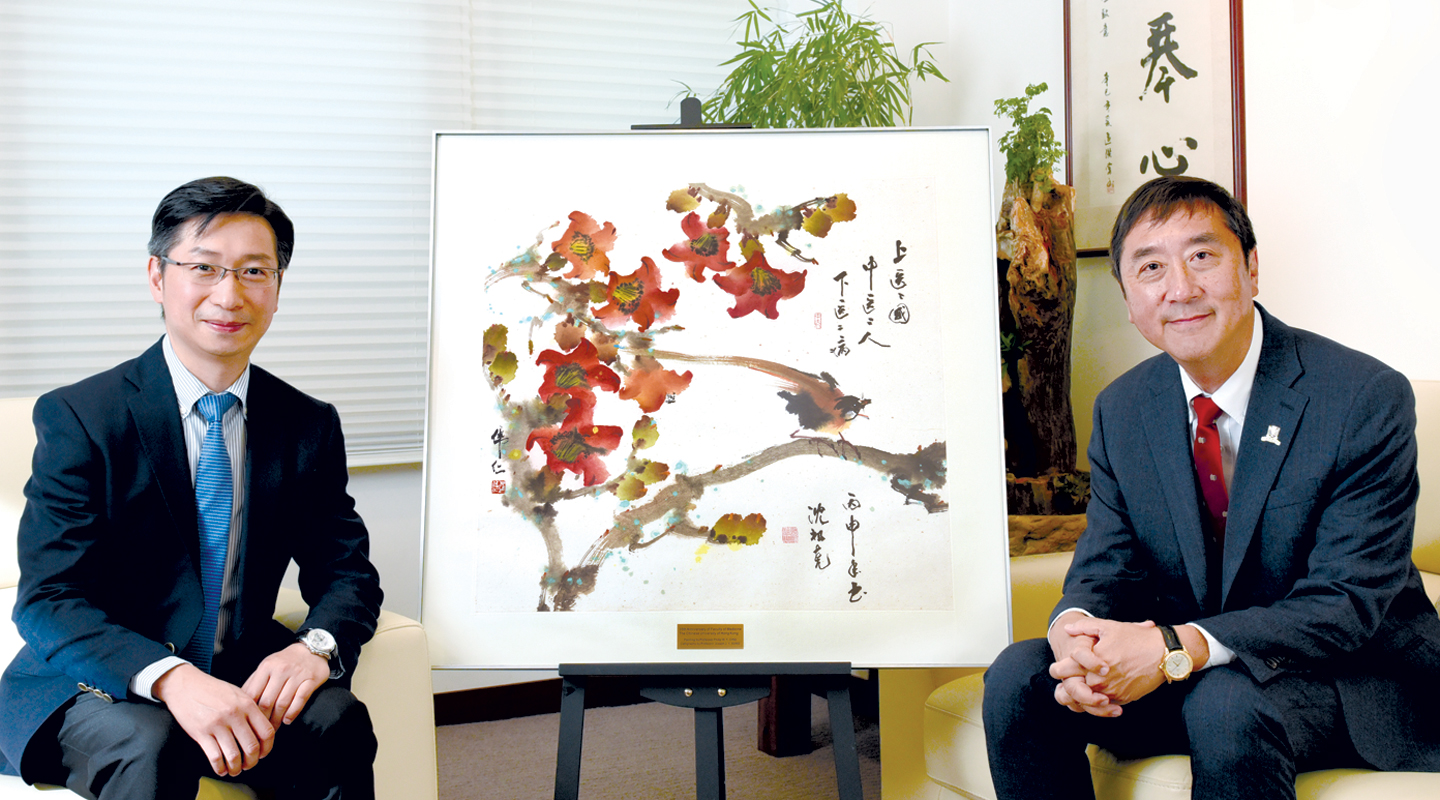 This year marks the 35th anniversary of the Faculty of Medicine, CUHK. At the Gala Dinner to be held on 25 September 2016, a traditional Chinese painting drawn by Prof. Philip Chiu, Professor of the Department of Surgery and Assistant Dean (External Affairs) of the Faculty, will be put up for auction. The successful bidder will find him/herself in possession of an exquisite painting as well as the precious calligraphy from the hand of Vice-Chancellor Prof. Joseph J.Y. Sung. The proceeds of the auction will be used to promote the future development of the Faculty of Medicine.
Healing with hands and heart
Professor Sung's inscription comes from the classical medical encyclopedia Bei Ji Qian Jin Yao Fang: 'A great doctor treats the state; an average doctor treats the patients; and a below-average doctor treats the diseases.' Bei Ji Qian Jin Yao Fang was written by Sun Simiao, a famous doctor in the Tang dynasty. Sun was famous not only for his medical knowledge but also for the high ethical standards he upheld, and he is regarded as one of the noblest medical practitioners in Chinese history.
Professor Sung explains, 'I hope to encourage medical students to have a broader perspective. Sun's quote outlines the three grades of doctors. At the bottom, there are those who have substantial medical knowledge and skills to cure physical diseases. In the middle, there are those who not only focus on patients' physical illnesses but also take care of their mental well-being. A disease does not only point to problems within the patient's physical body, but may be symptomatic of psychological disturbance or family problems as well. A doctor has to analyse matters from many angles in order to find the root of the disease. Lastly, Sun believed that the best doctors look beyond individual patients to care for the well-being of the society as a whole. In modern Chinese history, Sun Yat-sen and Lu Xun, who had practised and studied medicine respectively, were shining beacons for the people in turbulent times.
'On the other hand, medical practitioners can do good by innovating on medical technology. For example, endoscopy has enhanced the diagnosis and management of peptic ulcer and effectively minimized patients' pain. Doctors can also enhance the community's wellness through public health measures.'
Lastly, Professor Sung hopes to see medical students reasonably versed in the humanities so as to have a more comprehensive view of the social problems.
This raises the question of how medical students can broaden their knowledge base given their heavy curricula and workload. Professor Chiu said, 'It is never an easy task to take in such a massive amount of knowledge in five to six years' time. However, the University's distinctive college system, together with the General Education programmes, offers an opportunity for medical students to get to know classmates from a wide range of disciplines, which further extends their networks and consolidate their communication skills. Interpersonal skills are becoming increasingly essential for doctors, as they need to communicate with patients and their family members. Lastly, an essential attribute of a doctor is the embracing of high ethical standards, which is why we place so much emphasis on ethics in the medical curriculum.'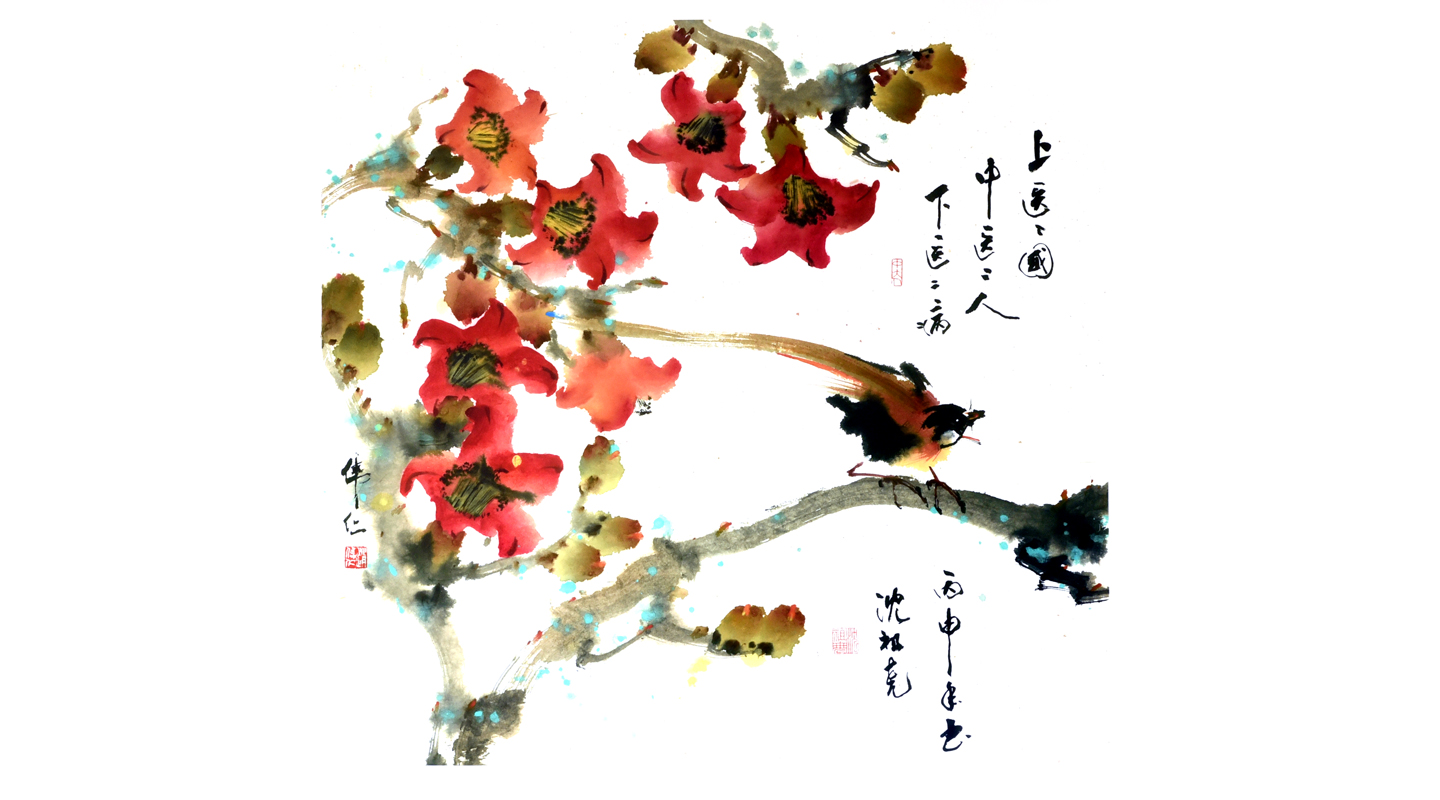 Transforming passion to perfection
The subject of Professor Chiu's painting is a black paradise flycatcher with a long tangerine-coloured tail perching on the branch of a kapok tree blossoming with red flowers. The composition is elegant and the bird and the tree are lifelike. Professor Chiu's mother, Prof. Ng Yuet-lau, is a renowned painter herself and the President of the Ling Ngai Association. Both mother and son were under the tutelage of Chao Shao-ang, a master of the Lingnan School. For the Faculty's 35th anniversary, Professor Chiu has resorted to his favourite genre—flowers–and–birds painting. He explains, 'Kapok trees are generally taller than other trees, implying that the Faculty of Medicine will shoot above other medical schools in terms of teaching and research quality. Paradise flycatchers have long tail streamers, symbolizing longevity. It is my wish that the Faculty of Medicine will continue to prosper for a very long time. Professor Sung's inscription not only embodies what the Faculty expects of our students, but also offers encouragement and reminders to the doctors and teachers of the Faculty.'
Given their hectic schedules, it seems almost impossible to find time to practise calligraphy and painting. However, Professor Sung and Professor Chiu both agreed that cultivating their pastimes enable them to relax. They still find time to pursue their hobbies no matter how demanding their work schedule is. Professor Sung said that practising calligraphy had introduced him to famous verses and quotes in the Chinese language, which further deepened his understanding of Chinese culture and derived for him new perspectives on knowledge and life's losses and gains.
Greater access greater good
Professor Sung believes that it is a remarkable achievement for the Faculty to get into the league of the world's top 50 medical schools in 35 years' time. This accomplishment relies on the collaboration of the various departments and their colleagues, which supports the Faculty's continuous advancement in its research and teaching quality. Currently, the health care system of Hong Kong is very much polarized. While the rich always have the means to receive the best treatment at private hospitals, the poor must queue for a long time at public hospitals. Looking ahead, Professor Sung hopes that the Faculty will have its own medical centre in three years' time to help address some of the problems in this polarized market, and to offer an alternative to the public for affordable first-rate health care services.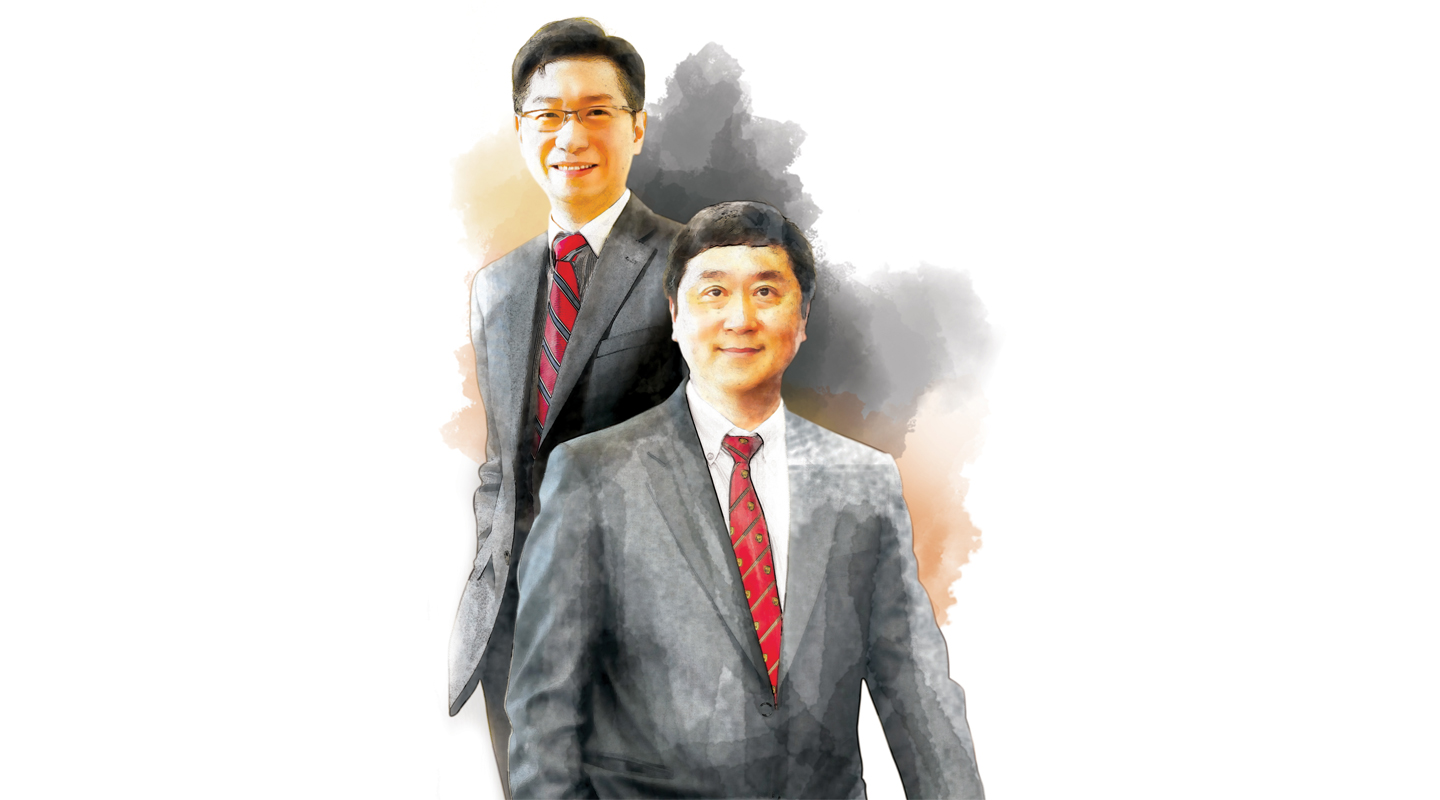 This article was originally published in No. 482, Newsletter in Sep 2016.