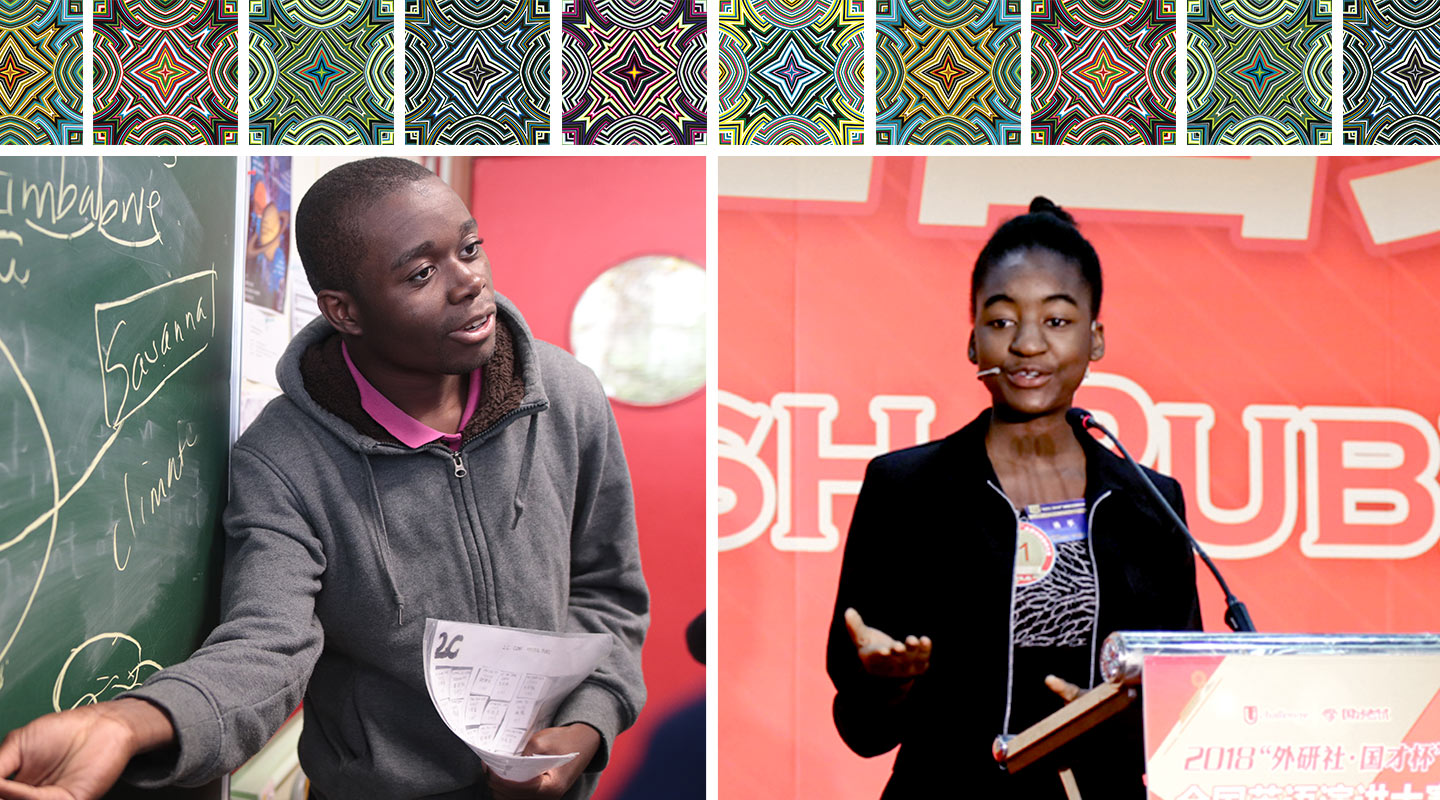 To most people in Hong Kong, the distant African continent is either a mystery or an unknown. At present, there are about 3,000 Africans living in Hong Kong, with CUHK hosting 10 African students. What draws them here, and how do they think and feel? The stories of two students from Zimbabwe may give us a hint. A Year 4 anthropology student, Innocent Mutanga champions the cause of social justice through awakening the public to the conditions and needs of the marginalized and the vulnerable in society. Myrmidon Kangara, a Year 2 law student, is a champion of the spoken words who wins arguments and hearts. The minority of minority, they do not take the backstage but show Hong Kong and beyond how distinguished they are in words and deeds.
The World is Innocent Mutanga's Oyster
To learn about a person, one starts with the name. The very innocence denoted by Innocent's name belies a complex and harrowing time in Zimbabwe's history. The African country was a British colony before its independence in the sixties. To help missionary teachers pronounce the name, Innocent's grandfather decided to give the child an English name. It's as if he's singled out for the clashes of cultures and the struggles for surviving changing times and places. Always at the top of his class, Innocent was awarded a government scholarship upon finishing high school to go to the US to study actuarial science, physics and philosophy. In the summer of 2013, he flew back to his home country on the eve of the general election in support of ending the then current regime's iron-fist rule. His political involvement led to him being kidnapped and his friends getting killed. He managed a narrow escape but found he had nowhere to go to. It's only at the bustling airport that he found out Hong Kong did not require a visa and so he decided to take a chance.
A hard landing awaited him in Hong Kong. He once took up abode in Tsim Sha Tsui's Chungking Mansions (a mansion only in name), and there were times when he strolled the night streets to ward off sleep and cold in the winter months. The trying circumstances, however, did not break him. He made a living by teaching English and editing college application essays for students. Putting his natural resourcefulness and actuarial training to good use, Innocent even advised customers of fast-food restaurants on orders that saved money or food or both, and sometimes for himself as well.
Anthropology as a Way of Life
Innocent soon settled in and began to build his own circle. He frequented the Chungking Mansions where he met Prof. Gordon Mathews, chairman of CUHK's Department of Anthropology, and his students. He joined in their discussions about nationality, culture and language and was duly initiated to the discipline. A conversation with a master's student opened his eye to the subject's extraordinary breadth and depth and helped him make up his mind. 'Anthropology studies things present and past, and is about different food, languages, cultures and peoples… these are no strange things in my life. Am I not cut out for anthropology?' He went on to explain that anthropology is very important education to him, 'Anthropology casts its sight on the exotic and emphasizes mixing with the local. It's a counterweight to my training in mathematics and physics so far. It teaches me humility, to think and feel as others do and take care of the neglected.'
Once he threw himself into anthropology, Innocent was true to his colours and embraced research into the multiple disadvantaged identities, for example, being both refugee and female. For the final year thesis, he takes upon the Chinese hedge funds, studying its moral compass and the socio-historical context in which they make decisions. 'China is going to lead the world, but many people are apprehensive about its moral standing. To figure this out, what better way is there than to study the moral grounds of its hedge funds where the nation's money and interests are at stake?'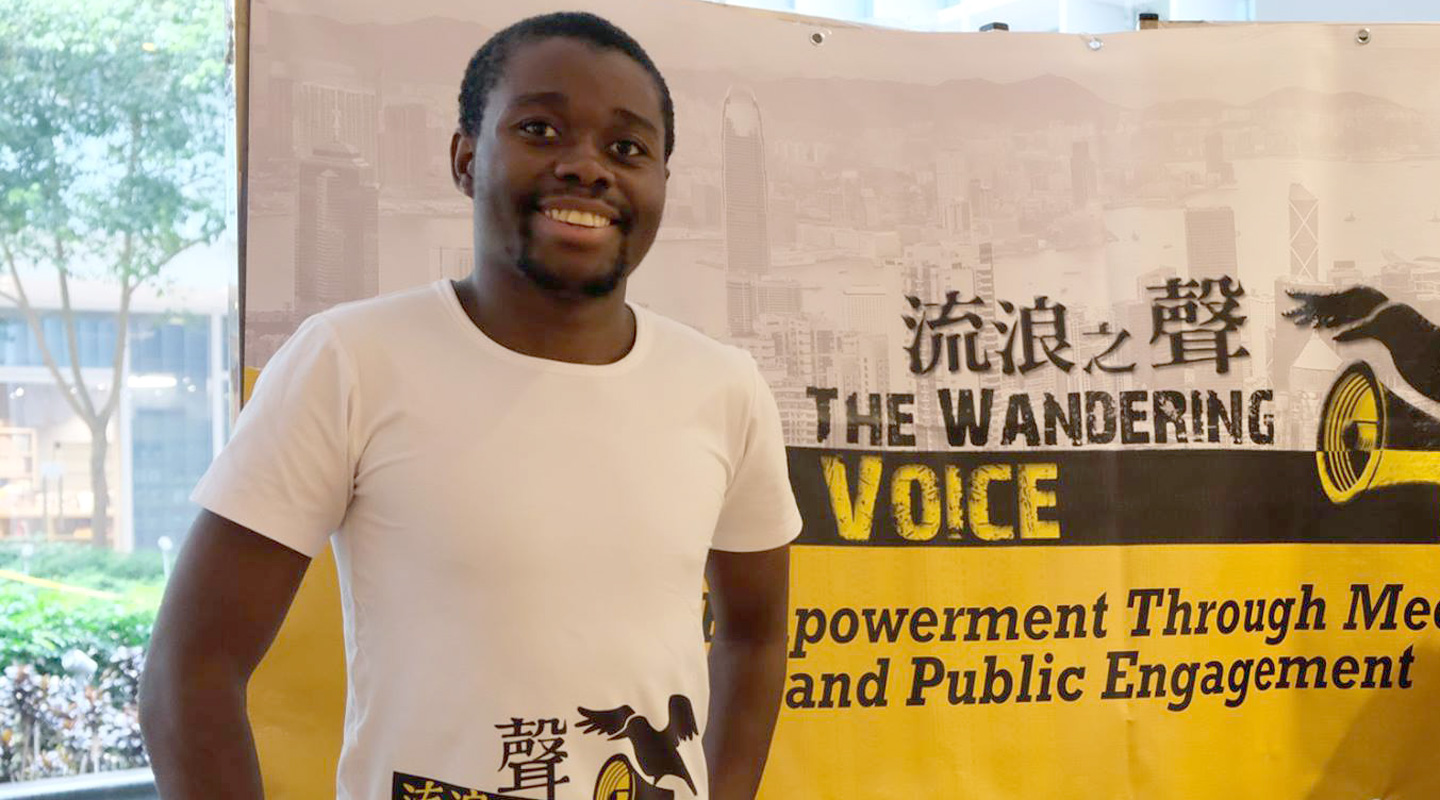 A Rising Phoenix Straddling all Worlds
Out of Africa, Innocent plunged right into the world of knowledge, but his classroom has more than four walls. As a member of the CUHK English Debating Team, he pulled off the joint-university Human Rights Debate Competition this January. Beyond the campus, he co-founded The Wandering Voice, an online platform where domestic helpers, refugees and ethnic minorities can tell their stories, with a Taiwanese friend studying journalism in Hong Kong. The platform was so well-received that its stories were frequently cited by lawmakers and the Chief Executive responded to its report on refugee children. Invitations flew in all year round from journalism schools and schools on all levels. Stepping into 2019, Innocent founded the Africa Center Hong Kong to bring the real Africa to the world by organizing book clubs and forums.
Those who have tasted the gall of life will understand others' pains and sufferings better. In an interview with an African model for a story in The Wandering Voice, Innocent learned of the injustices she suffered in a predominantly white fashion industry. He then co-founded the 'Harmony' fashion and music show. Held in Lan Kwai Fong last December, the show, which was run by refugees and ethnic minorities from modelling, fashion, music to the rundown, was greeted with a large turnout. Harmony has since metamorphosed into a social enterprise that runs the refugee-curated gala twice a year. A T-shirt collection designed by refugee fashion designers will soon be launched, showcasing their talents and educating the public about the socially disenfranchised.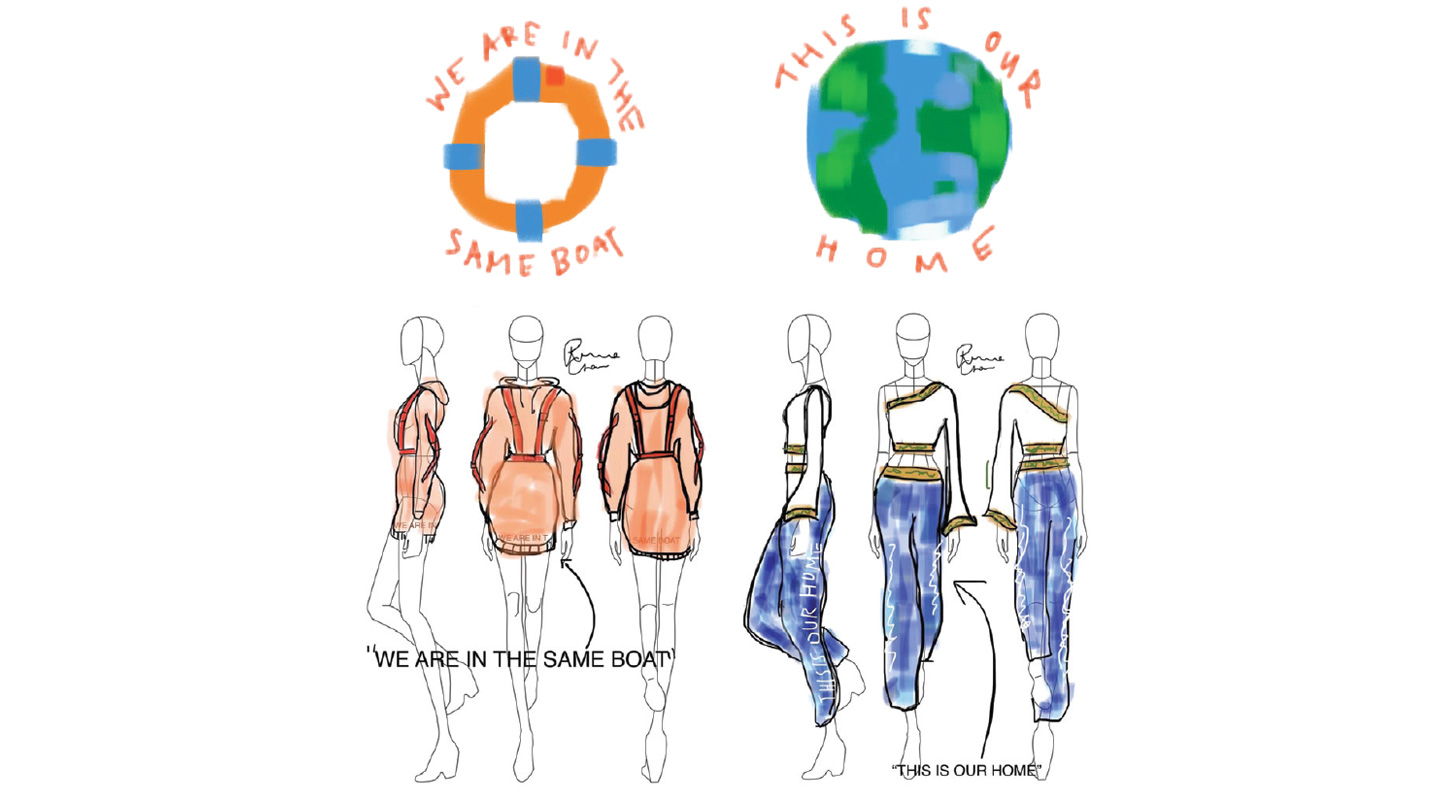 Innocent's family name Mutanga means 'being the first' in Shona. His intrepidity—or, in his words, 'the excitement he feels of solving difficult problems'—and his pioneering spirit may have been in his blood. He has a mind that turns as quickly as mercury, and his eyes would give out a lively spark whenever an interesting idea gets hold of him. Even when touching upon past hardships, the enterprising youth remained impassive. Only when talking about his family—the father he lost at a tender age, and his mother and grandmother in Zimbabwe—would the precocious anthropologist and investment banker-to-be begin to soften, when a tinge of profound, inexplicable sadness shot through his big round eyes. 'I miss my mother and grandmother. The meat roll made by my grandmother was really ho ho sik (Cantonese meaning extremely yummy).'
The memories of one's family can be savoured without any anthropological knowledge.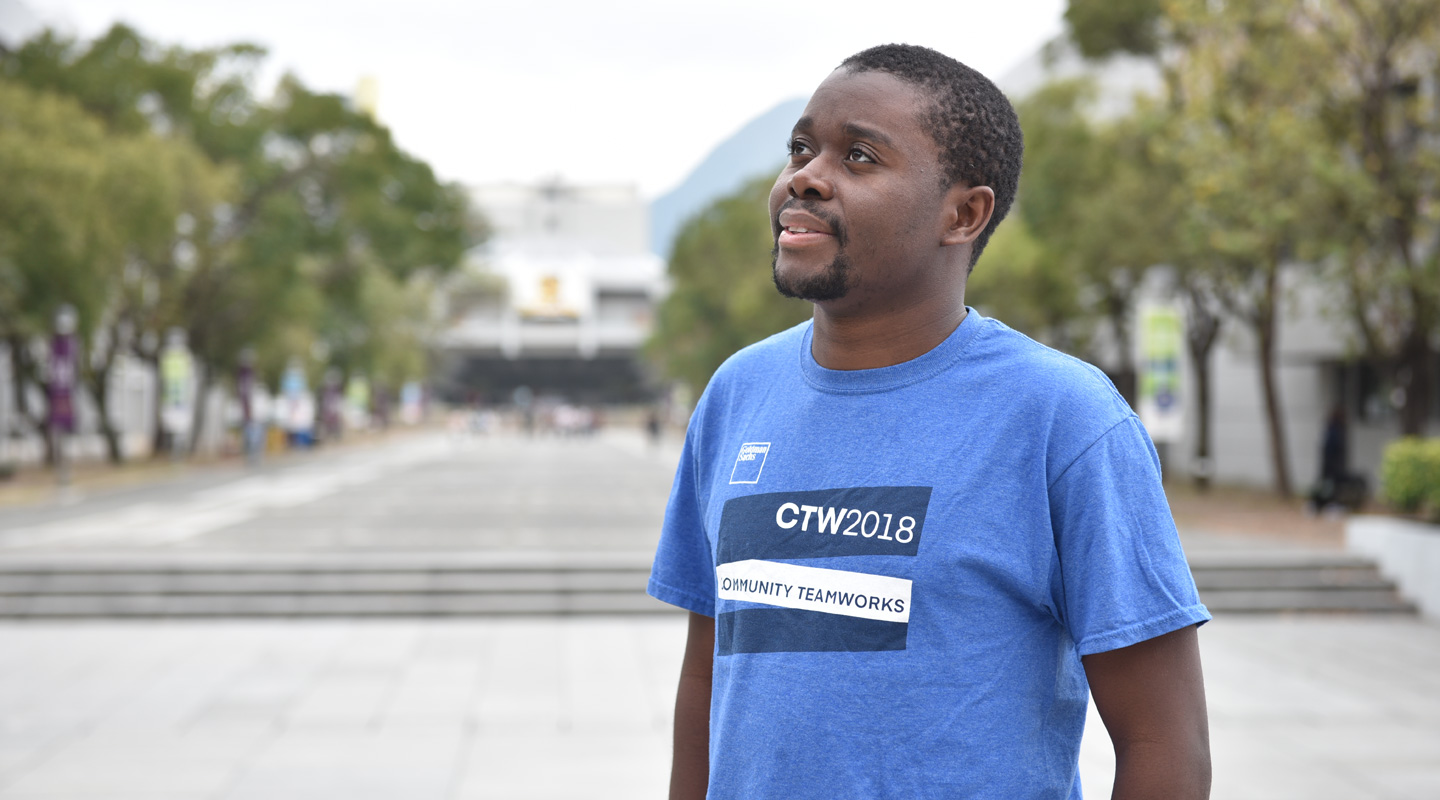 Sense and Sensibility—Myrmidon Kangara
In Greek mythology, the myrmidons are a fierce tribe fighting under Achilles in the Trojan War. For her fondness of Hellenic tales, a mother decided to name her daughter after the valorous people. From myth to reality, this daughter of Zimbabwe is little short of legendary: with mere words she subdues and inspires, but unlike the myrmidons known for their unquestioning subservience, Myrmidon is a social-minded individual who chooses law as her vocation. Possessing great oratorical skills and a strong knowledge base, she landed champion of the CUHK English Public Speaking Competition as a freshman. In the 'FLTRP • ETIC Cup' five-day four-round marathon English speaking contest held in Beijing last December, Myrmidon bested 190 top orators across the country and took home the first runner-up, just 0.8 mark behind the champion.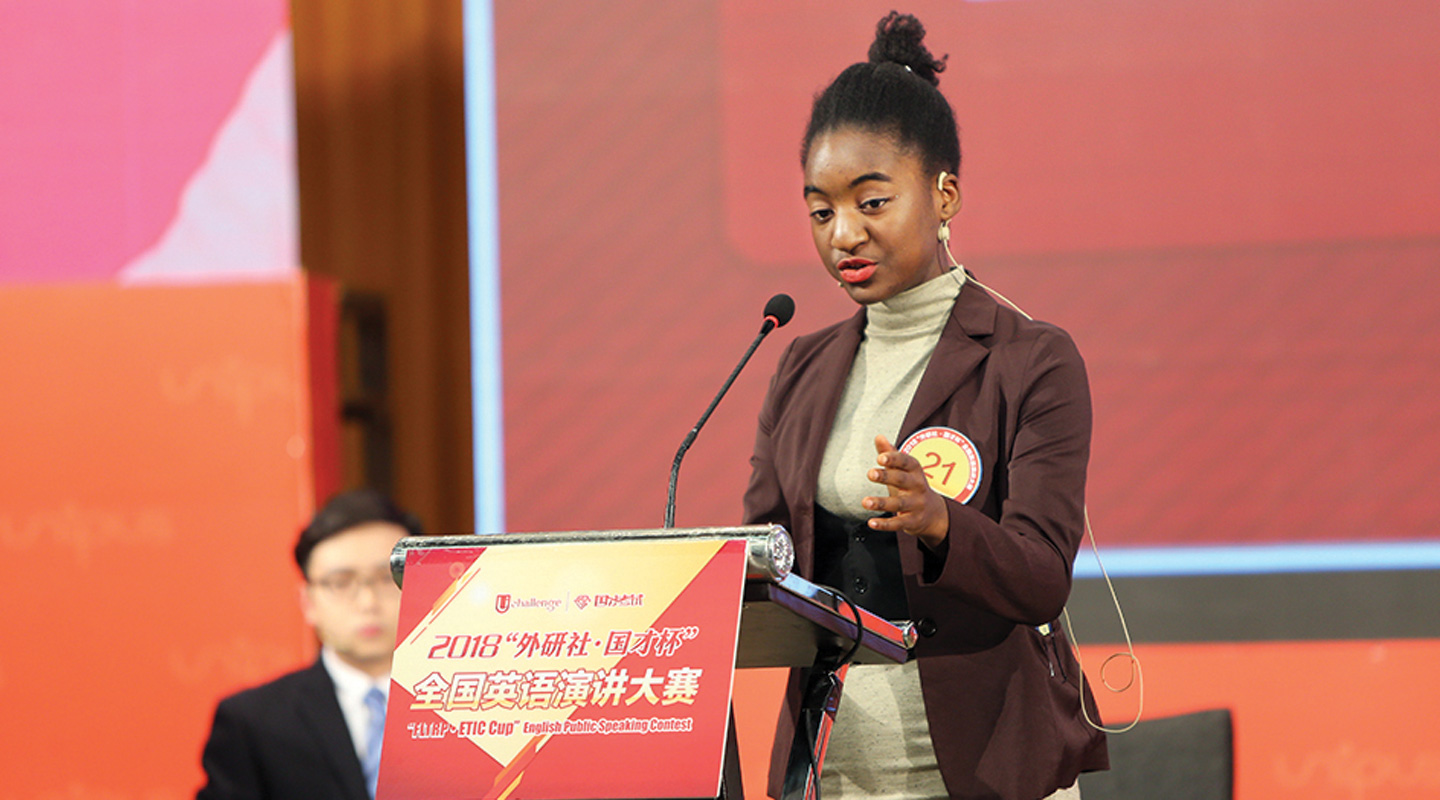 Right before my eyes, Myrmidon was mature and spoke no-nonsense. She had a crisp manner of speaking, and upon hearing compliments or when talking about life's tidbits, she would give coy smiles and infect the surrounding air with an innocent dreaminess, reminding one that she was still just a 19-year-old girl. But when she rolls up her sleeves, this girl covers so much ground that no room is left for complaint: as the interview drew to a close, the writer requested her to send in some information. The next day Myrmidon wrote in a short note, explaining that she needed some time to compile the data and they would be ready shortly. What the writer received later was a 10-page curriculum vitae detailing all clubs and activities she had joined, with all the dates, positions and responsibilities neatly put. The 20 photos she sent in all came with descriptions, together with illustrations in points clarifying the finer details arising in the interview. She did not only inspire confidence on the podium but also in everyday life.
The Responsibility to Speak Up
Few could have guessed that the queen on stage as we see now was once a Cinderella fettered miserably by her own shyness. Describing herself as 'definitely introverted', Myrmidon joined a couple of public speaking clubs in high school, though she was never an active member. Back then she came across a lot of contests and activities that she took an interest in, but she was too timid to speak in front of people and give them a try. 'As I got into CUHK, I realized the continuing of this trend would be detrimental. If I am to get out of the shell, I need to learn to speak in public.' Picking up the gauntlet of public speaking was driven by necessity, but what fuels her passion for the oratorical art is a sense of responsibility to life and society. 'I like the idea of people sharing ideas—I think many problems we have today require us to sit down, talk things over, and then go out and get it done. If you can speak in public, you can share ideas. On the contrary, if you have good ideas but remain reticent, then it is not going to do anyone any good.'
It may be more than a mental break, but how does one perfect one's skill in the art of public speaking? Myrmidon pointed out that, regular practice aside, observation also plays a crucial role. A speaker needs to learn her trade from everyday life, say in lectures, college assemblies or even from watching a movie or sit-com, paying heed to how people speak. To people who aspire to improve their speaking skills, Myrmidon suggested they should first try to get used to talking face-to-face with other people. 'They can join a club, say a hiking club, which does not need to be about debating. As they grow in confidence, they can try Toastmasters.' She stressed that socializing with others is important, as debate covers a wide range of topics and others' personal experiences can be a rich source to draw on.
Less is More, Resonance Rocks
Back to the public speaking competition, Myrmidon attributed her good result to the immense help and support she received from her coaches, the three teachers at the English Language Teaching Unit—Dr. Sarah Lee, Ms. Ella Leung and Ms. Olive Cheung. What is the biggest lesson she learned from them? 'Well, it's that in public speaking, delivery matters more than ideas. Speak slowly and to the points, do not bombard the audience with complex or too many ideas, make sure they understand or even enjoy your speech. Only when they understand what you are saying can they connect and agree with you.'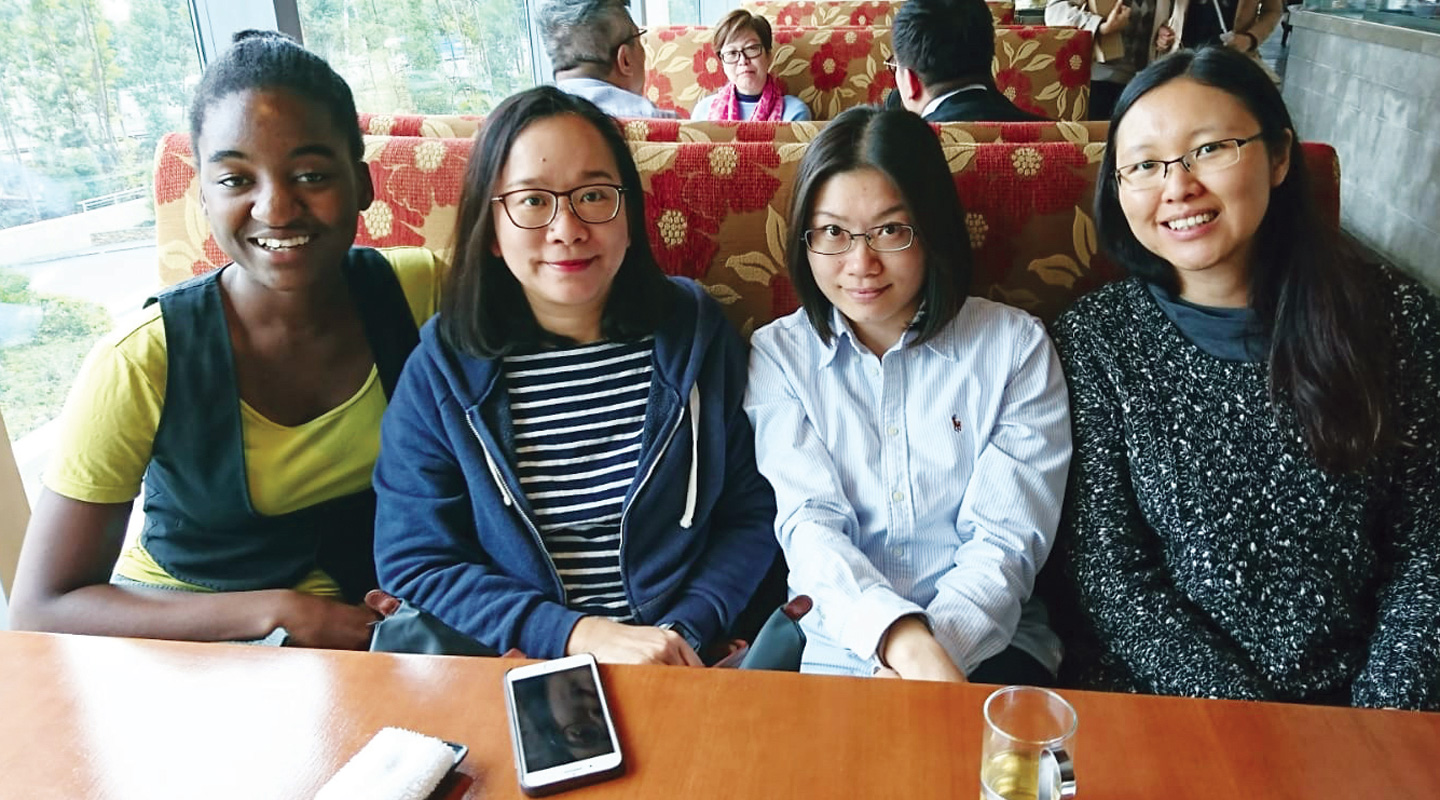 Myrmidon also took home from the mainland contest the lesson that consummate public speaking is winning the hearts of the audience. 'Let's say the monsoon is coming. If you just give a plan on how we are going to protect the people, it's not going to win over the crowd. But if you say people are drowning, let us help everyone because we are one united family, people will bond with it emotionally. Focus on the content, and more so the emotion, because at the end of the day, people are emotional beings. If you can get to their emotions, then the audience is yours.'
How Antony uses his rhetoric to turn the tides in Shakespeare's Julius Caesar is not lost to the orator and law student Myrmidon. But Brutus's sincerity and speaking from the heart in the same play are what she abides by. In the impromptu speaking round of the grand finale of the 'FLTRP • ETIC Cup' contest where the finalists were asked to explain what the world is to them, Myrmidon put forward the view that the world is a mix of sense and sensibility. Only when they go hand in hand, such as using science to rectify prejudices, or religion to resolve the moral crises brought about by scientific progresses can mankind obtain peace. How to speak in public and how to live one's life are all about treading the fine line between sense and sensibility, guided by a kind and grateful heart.
And Myrmidon possesses a kind and grateful heart. In the world of public speaking, her role models are Martin Luther King Jr., Malcolm X and the novelist Chimamanda Adichie, who impressed billions with not just their beautiful rhetorics and passions but also concrete plans which people can follow to bring about changes. An avid reader and a writer of poetry herself, Myrmidon tackles issues of social justice in her poems. Poetry and public speaking appear to stand in the pole positions of emotion and reason, but she sees the two have something in common: 'You put a lot of ideas organically into a speech, just like in a poem every word, line or even space counts.' Aren't her speeches her love poetry to the world?
Nigerian writer Chinua Achebe writes in his novel Arrow of God: 'The world is like a Mask dancing. If you want to see it well you do not stand in one place.' Going abroad and pursuing knowledge are often Siamese twins. Yet going abroad is simply the first step; what matters is to open one's heart and mind to embrace the trials and tribulations along the way. Innocent and Myrmidon have come from Zimbabwe and met at Hong Kong and CUHK. Their extraordinary stories will surely inspire many other travelogues of the soul.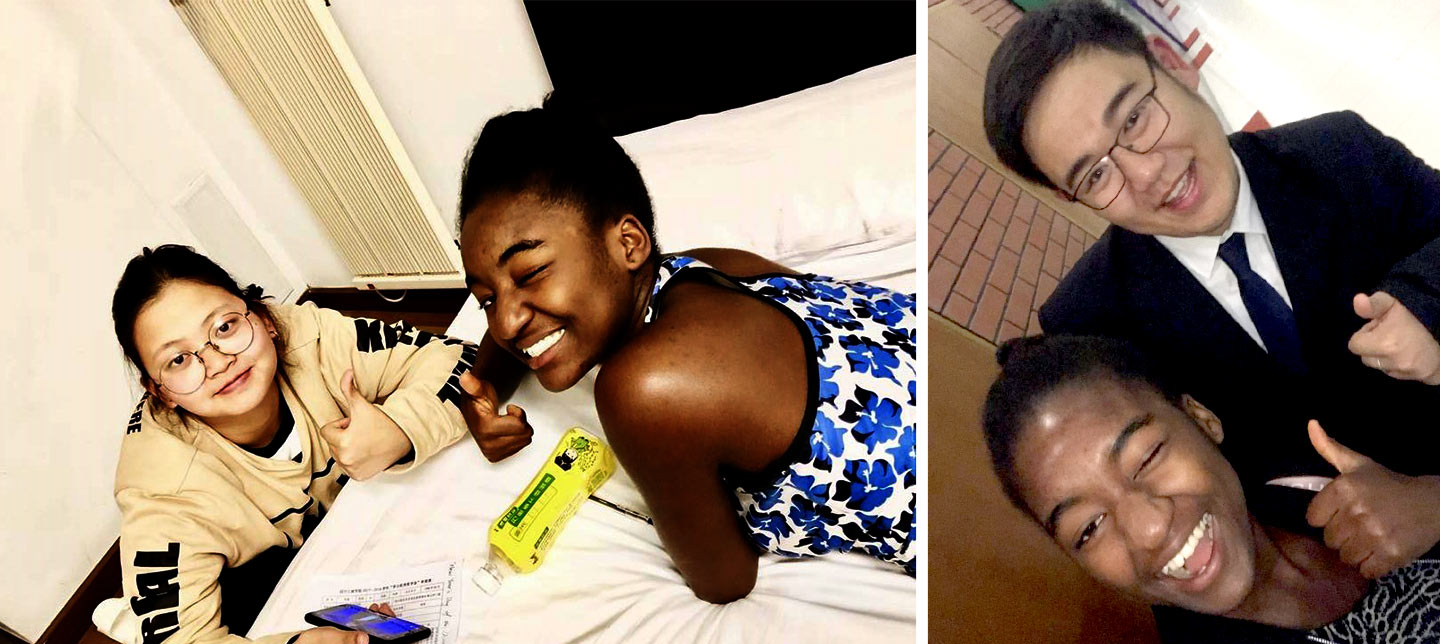 Amy L.
This article was originally published in No. 533, Newsletter in Mar 2019.