The Congregation for the Conferment of Degrees is a celebration of the values embraced by the University. The five persons conferred honorary doctorates this year...

Prominent social activist and centenarian Dr. Elsie Tu beamed as Prof. Joseph J.Y. Sung, Vice-Chancellor of CUHK, conferred upon her the degree of Doctor of Social Science, honoris causa, at the University's congregation held on 17 October. Dr. Tu was greeted by several rounds of applause from the audience.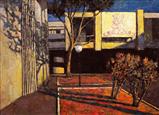 Copyright © 2020. All Rights Reserved. The Chinese University of Hong Kong.